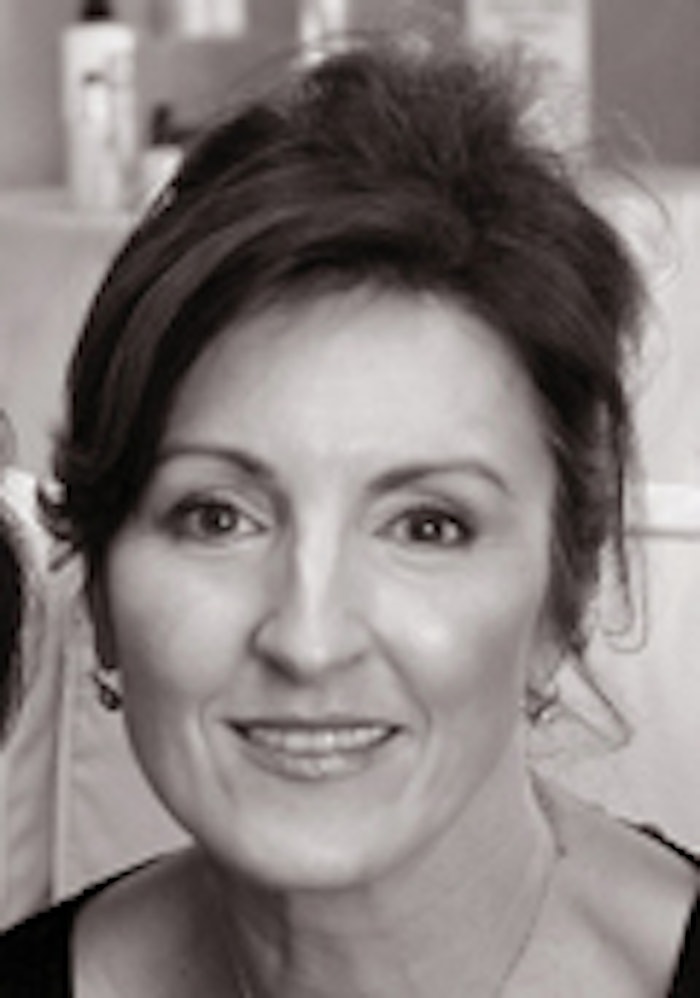 Once climbing the corporate ladder as a purchasing executive for a variety of Silicone Valley electronics companies during the 1980s and 1990s, Patricia Kaspian brought her ascent to a halt when she decided to get back to the basics by seeking a career in skin care, a profession that had been familiar to her throughout her life. Kaspian was raised with a strong skin care influence because her mother, Yvette Colombier, was the founder and owner of Yvette's Institute of Beauty, which was located in the Los Gatos, California, area for 22 years until it was sold four years ago.
"My mother is a beautiful woman, and she maintains that beauty inside and out. She is 78 and still does facials," explains Kaspian. "She made it a point to make sure my demeanor was that of someone who cared about her appearance."
A self-described Southern California girl, Kaspian also enjoyed a household and upbringing rich with French heritage, and, after spending some time as a language major at the University of California, Santa Barbara, she moved to France with her family for a year. "I attended business school in France, but I really needed to get back to the United States—that is where I felt at home," she says.
After her return, Kaspian went to San Jose State University in San Jose, California, where she earned an international business degree. Her first job out of college was in the electronics field, as a buyer at Synertek in Santa Clara, California. "It gave me a good sense of business acumen, which has been helpful in my current career, as well," says Kaspian regarding the business knowledge she accrued during her years in electronics.
"Anyone who wants to work in the spa industry should be equipped with business skills, such as knowing how to watch their cash flow and how to read a profit-loss statement. A lot of people make the mistake of jumping into this career thinking it is so lovely, but you must have the ability to know how to run a business."
Taking the knowledge she had learned in Silicone Valley, Kaspian quit her purchasing job and went back to school for her esthetic license in 1999—when she was 39 years old. "I got my license because my two sons at the time were teenagers, and the amount of time and stress I was spending in electronics was making it hard for me to give them my focus. I wanted to make my own hours and do something less intense," she says. "Going to esthetic school was humbling. I went to class with girls half my age, but it gave me a sense of how committed the people are who are in this field. You do it because you love it."
Kaspian earned her license from the Monterey Academy of Hair Design in Santa Clara, California, and immediately was able to start training at her mother's spa, taking part in educational classes offered by a variety of French skin care lines. Then, when Colombier sold her salon , Kaspian became employed at The Great Skin Company in Los Osos, California, which was recommended to her by a product line representative with whom she worked closely. "I have a terrific partner who has been in business for 13 years. We share the same philosophy about focusing on expert, world-class skin care," she says.
Along with helping run all aspects of the business as the spa's co-owner, Kaspian still practices esthetics, and her favorite part of the job is the interaction with clients. "I work with women from all fields and backgrounds, and I love the fact that I can make a difference in their skin," she says.
As well as working with clients, Kaspian is also passionate about education. "So many women are not conscious of the simple things it takes to have beautiful and protected skin," she explains. "If I can play a part in imparting this knowledge, I've made an impact." To help her do so, Kaspian shares her experience through seminars, as well as on online social networking sites and the spa's blog.
In the future, Kaspian hopes to focus on community service and become more of a leader in the skin care field. One of her favorite charities is the Court Appointed Special Advocate (CASA) program, where volunteers are appointed by judges to watch over and advocate for abused and neglected children. To benefit the cause, Kaspian is interested in offering events that help bring it attention, such as marathons and triathalons where The Great Skin Company can showcase a mineral sunscreen it retails.
She also finds inspiration in the multigenerational co-workers and clients she is surrounded by at the spa. "We live our creed. We're doing what we love. We are living proof that you can do what you need to do with the right skin care regimen," she says.
And although skin care may not be as demanding as electronics, Kaspian knows that it is not for the weak of heart. "There needs to be a passion and it shows through in the work that we do. You must give honesty and conviction to your career. You have to know it and live it."