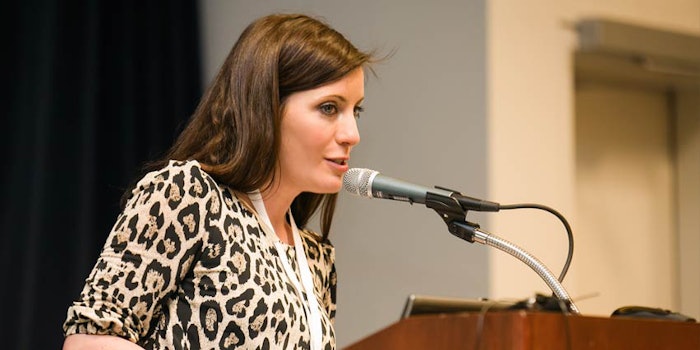 Were you at Face & Body Midwest on March 21–23, 2015? If you were, there is a chance that our paths crossed and you recognize my face. If your answer is no, you are probably wondering three things right now: who I am, where I came from and why I am here. My name is Katie Anderson, and I am the new managing editor of Skin Inc. The where and why are a tad more complicated, but let me explain.
Although Face & Body Midwest was my first spa tradeshow and conference, it was clear to me that this industry is dichotomous. There is the serene, picturesque interaction with the client in the treatment room, and then there is the behind-the-scenes scientific research and business acumen that supports the treatments. It is the latter that brings me to you.
For the past nine years, I have served as an editor for Skin Inc.'s sister publication Cosmetics & Toiletries, a cosmetic science trade journal, reading and often researching the chemistry, skin science, formulation and regulatory aspects that support the creation of a cosmetic product. I gained indespensible information on the background behind beauty, but my audience had little interaction with the consumer/client, a unique benefit to the spa industry.
I have been told that the esthetician is hungry for more science, so here I am, ready to integrate more of that information to support your treatments and business. But as the product of an art teacher and federal agent, I am quite dichotomous as well, and hunger to learn more about you and how you use that science to support your treatments and educate your clients.
This issue of Skin Inc. magazine gave me a great introduction to the two sides of every successful spa. For example, Lydia Sarfati discusses the symptoms and identification of rosacea, where she also addresses how to treat the condition both with topical products and lifestyle recommendations. Although rosacea has known triggers, the cause still remains unclear. It is clear, however, that gentle cleansing and treatment products must be used.
Shifting to chemistry, Erin Madigan-Fleck reviews the chemical classifications of essential oils, noting how they can be used to treat certain ailments. She notes, "The basis of applying essential oils for a desired therapeutic benefit requires knowing the monologue of the specific oil, and its chemotype attributes or activities."
Finally, Beth Bialko uses new ingredient chemistry and dermatological research to support client education for better UV protection. She explains that encapsulated UV filters are available to boost sunscreen efficacy while protecting against irritation.
All of these articles combine supporting science with efficacious treatment for a dichotomous, yet successful client outcome. I look forward to learning more about the treatment aspect so we can continue to marry the two.
Yours in education,








Katie Anderson
Managing Editor
[email protected]