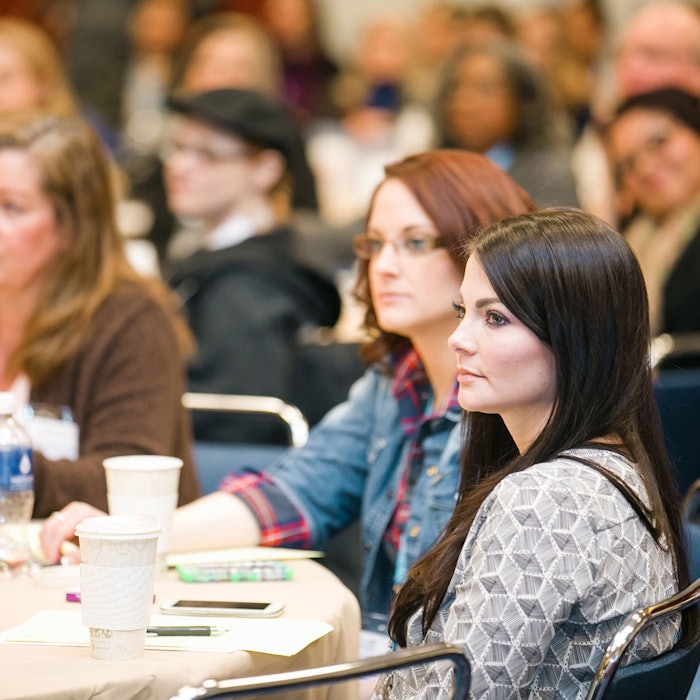 Face & Body® Midwest (FBMW), held March 21–23, welcomed more than 12,000 professionals—including facility owners, directors, managers and estheticians—to Chicago's McCormick Place.
More than 5,600 skin care professionals registered for FBMW, an increase of 7.17% from 2014. FBMW is co-located with America's Beauty Show® (ABS), and all ABS attendees had cross-over privileges—of which, just under 7,000 walked the FBMW floor.
Additionally, 122 exhibiting companies filled the three-day exhibit hall—representing the best in skin care, makeup, anti-aging, aromatherapy and hair removal products, as well as equipment and business tools. In addition to products, exhibitors offered the latest trends and techniques, providing a forum for skin care professionals to learn and explore solutions to their treatment and business challenges.
Skin Inc. magazine sponsored the Advanced Education Conference Program, designed to offer estheticians the education they need to position themselves ahead of the trends in the ever-changing spa and skin care industry. The program kicked off with a keynote from health and beauty speaker Michael Harris, "Coach Mike," who is committed to the service of helping others turn their actions into results and being a platform to launch entrepreneurs in becoming their very best. Harris addressed the biggest challenges estheticians and skin care facilities run into on a day-to-day basis, and provided strategies on how to overcome those challenges.
The remainder of the program allowed the 313 conference attendees to choose from more than 21 product-neutral classes in four subject tracks (Hyperpigmentation/Anti-aging, Acne/Rosacea, Body and Business) and an opportunity to earn up to six Illinois esthetic CEUs. Attendees dove deep into the specific topics under the guidance of industry legends and experts—including Lori Crete, The Esthetician Mentor; Rebecca Gadberry, UCLA Extension; and Michael Q. Pugliese, Circadia by Dr. Pugliese.
According to Sandy Chapin, group show director, "The high-caliber of exhibiting companies and education opportunities continue to make Face & Body Midwest a must-attend event. Attendees come to learn about the latest in skin care products and services and rely on industry suppliers offering a variety of demonstrations and techniques on the tradeshow floor."
In addition to the Advanced Education Conference Program, industry suppliers present their specific products and techniques and conduct hands-on demonstrations and lectures in the free to attendee Supplier Classes.
Sister event Face & Body California, held in San Jose, California, will be held August 22–24, 2015, and the 2016 Face & Body Midwest will be held March 12–14. For more information, visit www.FaceandBody.com.
About Face & Body
Face & Body® Midwest and Face & Body® Northern California focus on spa business solutions that attract attendees to a top-notch, product-neutral Advanced Education Conference Program, numerous networking opportunities and a leading expo. This highly regarded event has brought industry professionals and suppliers together for more than 20 years, and is presented by the spa industry's leading publication, Skin Inc.