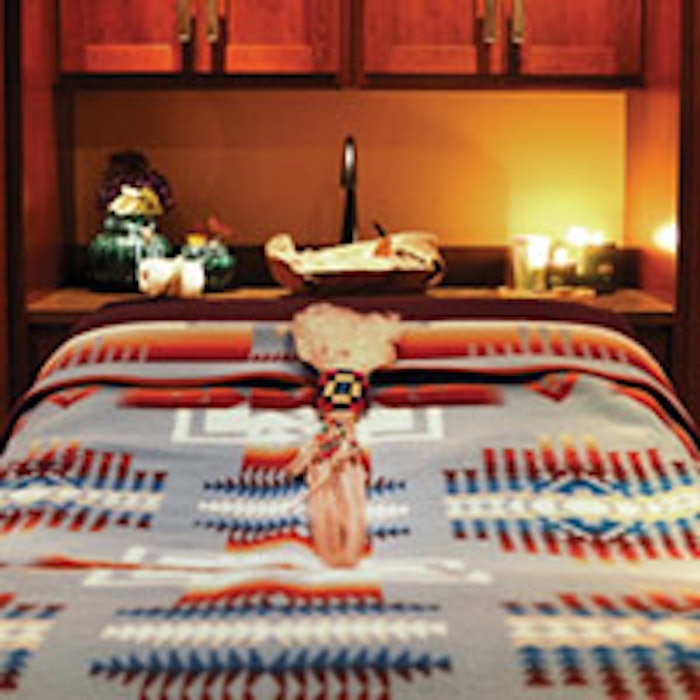 The Indigenous Spa in Akwesasne, New York has captured the interest of the community by use of Native American traditional ways and beliefs intermingled with spa treatments. Tara Tekahentakhwa Tarbell, a Native American Mohawk, opened The Indigenous Spa in July 2010 after seeing a need and opportunity to keep her native traditional roots alive by incorporating the wisdom of Mother Earth in spa treatments.
Tarbel began her spa at home, but quickly grew out her space due to her success. During the middle of her move to a larger space, she was diagnosed with kidney cancer, which forced her to slow down and re-evaluate her business and the things she thought she knew to be true. In 2014, Tarbel completed an Oncology Esthetics course with Morag Currin, pioneer of the Oncology Esthetics advanced training for spa professionals and author of Oncology Esthetics (Alluredbooks; 2014). She also created the Niawen Skin Care, Makeup and Body Care line, well-suited for those with extremely sensitive skin.
Read on for a Q&A with Tarbell, owner of The Indigenous Spa, to learn more about how she has woven her Native American traditions with the spa world.
Skin Inc.: What is unique about The Indigenous Spa?
Tara Tekahentakhwa Tarbel: Our spa treatments are all signature treatments that combine Niawen Skin Care and our native traditions.
SI: What does The Indigenous Spa do best?
TTT: We are passionate about our jobs—we love what we do—from the creation of each one of our spa treatments to the delivery of each one of them, they all have a special touch from a very special staff member. My spa is not huge—we are all about keeping it simple so when people walk into the spa, they feel at-ease and like it is their very own moment.
SI: How would you describe your average spa client?
TTT: Because of our approach to spa culture, most of our clients come looking for a more holistic approach to spa treatments. We can certainly deliver pampering, but most of our clients want to receive "The Indigenous Spa experience."
SI: What is The Indigenous Spa experience?
TTT: We strive to give clients a memorable experience by making them feel welcome and warm, and design treatments specifically for them. Our protocol involves greeting the client at the entrance with a warm aromatherapy neck wrap and a cup of herbal tea. We allow a few minutes for the client to enjoy the moment and we then take them to the treatment room where the lights are dimmed and little, special touches await: From the eagle feather on the bed welcoming the client to the treatment,
to the soothing sounds of the magical native flute. Not to mention the wonderful aromatherapy in the room. We believe in touching all of the senses—this makes a memorable experience within the treatments we deliver.
SI: Have you incorporated your oncology esthetics training into The Indigenous Spa?
TTT: First of all, the products that we use were created as a result of my experience going through cancer. Niawen Skin Care was designed to be able to be used by people with very sensitive skin. After my recovery, I decided to take the oncology course because I wanted to be able to give back to people either going through cancer or having survived it. I am in the process of establishing community volunteer work with the local hospital in my community that I will be doing at least once a month.
SI: Does The Indigenous Spa hold events or open houses?
TTT: We do a variety of events, not only in our location, but nationwide. We've brought The Indigenous Spa and Niawen Skin Care to the largest native pow wow in the country, Gathering of Nations. I am happy to say that Niawen Skin Care and Makeup is the official makeup line for Miss Indian World 2015. We also do several events throughout the year with our local chamber of commerce; we host mini-workshops and we've participated in events, such as Walk for the Cure.
SI: How do you market your spa?
TTT: Word-of-mouth is our best advertising. What our clients communicate as an experience here at the spa is what brings most our clientele. We certainly use social media, but we like to keep it simple.
SI: What are your retailing strategies?
TTT: As far as esthetics goes, I use and recommend the products from the line I developed after my illness, Niawen Skin Care ... We also have an actual retail space in the spa, along with our website.
SI: What does the future for your spa look like?
TTT: Bright and beautiful! We are growing in the directions that I intended. Right now, I am very excited about officially launching Niawen Body Care.
SI: What has the secret of your success has been?
TTT: Passion and perseverance. Never give up. Every time I look down I see my moccasins—they point forward for a reason.