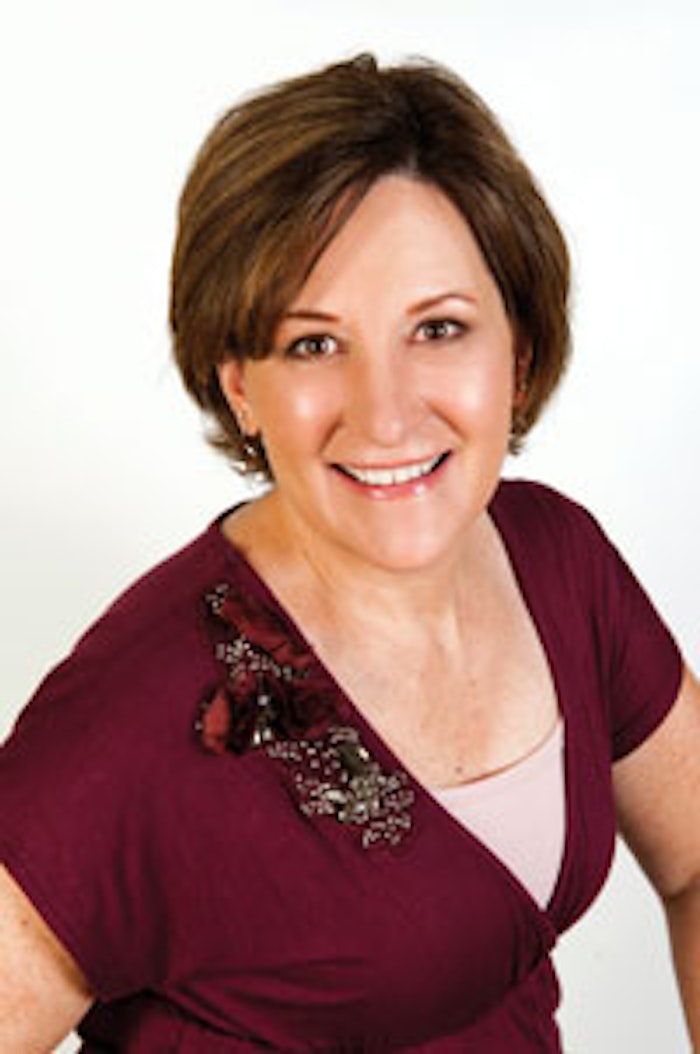 Teri Kotantoulas, owner of Face To Face Esthetics in Highlands Ranch, Colorado, found her calling in esthetics as a second career. As an office manager in the music industry in Los Angeles for six years, followed by a stint as a corporate trainer in the oil industry, Kotantoulas decided to become a stay-at-home mom after having her daughter in 1995. The family relocated to Colorado four years later because of Teri's husband's job, and set down roots. "When my daughter went to middle school, it was time for me to find something else to do. I was involved in her school when she was younger, but as children get older, parents can't be as involved in their schools," explains Kotantoulas, who found that the "something else" was esthetics. "I've always been interested in skin care and makeup, and got my esthetics license in 2008 from Colorado Advanced Esthetics in Englewood, Colorado. I attended full-time and completed my license in three months," she says.
After getting licensed, she opened Face To Face Esthetics in her home. "I was building my own business and helping people feel better about their skin," she explains. It was during that time, however, that the economic conditions in the skin care industry—and throughout the country—worsened. According to Kotantoulas, "It was tough and discouraging. The standard is that it takes three years to build a client following ... that was a little more challenging during this time, but I had support from other estheticians I network with and my family. It's not always easy, especially when you are on your own; it takes time to build self-confidence—it's a continual learning process. Sticking to it and keeping a positive attitude are what contributed most to my business staying afloat."
Now that Kotantoulas is working with a more established clientele, she shares her health-focused approach to skin care with her community. "People are realizing that they need to take care of themselves and that taking care of their skin is part of that process. I'm health-focused and address skin care from the inside out. I tend to attract clients who are of the same mindset as me," she explains. These clients find Face To Face through a variety of different marketing efforts, including Kotantoulas' involvement with her daughter's theater group. "I do makeup for its productions and video shoots," she says. Along with that, Kotantoulas teaches groups, such as local Girl Scout troops, about the importance of good skin care habits, and donates spa gift certificates to local schools for silent auctions to help them raise money.
Along with educating youth about the importance of good skin care, Kotantoulas has another cause that is close to her heart ... oncology esthetics. Only recently earning her oncology esthetics certification in August, Kotantoulas sees this as a place for her to grow in the coming years. "My mom is a three-time breast cancer survivor, my dad had basal and squamous cell carcinoma, and my mother-in-law passed away from cancer; there's a lot of background in my direct family. I see what cancer victims go through, and I see what it does to them," she says, explaining her motivation to help ease their suffering. She also makes an effort to give back every October by donating 10% of her product-and-service sales to a breast cancer-related charity. Kotantoulas recently brought on TecNiche Therapies skin care products for her oncology clients, and also uses Vital Therapy Skin Care and glo¯minerals makeup, and retails Clear My Head herbal inhalation products.
"I feel as though I'm successful with retail; I have a 50/50 split between services and retail," she says. "When I have new clients come in, they go home with samples of the products that would be right for them. About 80% of the time, they come back to buy more. I educate my clients about what these products do and what they need to do, and I teach them about the ingredients in them."
On the right track, Kotantoulas has a vision for the future, once her daughter—now a junior in high school—graduates. "I would like to expand my business and move to a commercial location," she explains. "I love helping people feel good about themselves. I love supporting my clients and seeing their attitudes about themselves change. It makes me feel as though what I'm doing is completely worthwhile—that's what keeps me going."