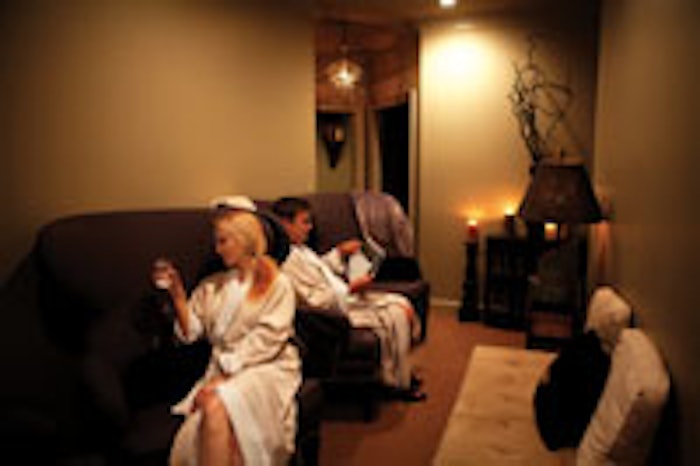 "We provide excellent customer service; we always go above and beyond," says Valdosta, Georgia-based Lemongrass Day Spa owner Michelle Lamb when asked about her secret of success. It is the continued fulfillment of this mission that helped earn Lemongrass the honor of being named Best Skin Care Spa Center at the Repêchage Spa de Beauté Awards both in 2010 and 2011.
But that isn't all it does well. As a skin care business, no stone is left unturned when it comes to continuing education, not just about spa treatments and services, but also about marketing, retail and other crucial aspects of business. In fact, Lamb recently brought several of her employees on a field trip to Atlanta to find out how a certain salon exceeded at retail. "I wanted to know. We spent the day with them, picking their brains. You learn from other people's ideas, and it helps you grow," she explains.
It is this forward-thinking mentality that helps Lamb continue to lead Lemongrass to success. The business debuted in 2006, with Lamb, a licensed esthetician and massage therapist, deciding to focus on massage, facials, microdermabrasion, chemical peels, various types of waxing, makeup applications, manicures and pedicures, and body treatments. "We don't do any hair," states Lamb, who still works as an esthetician and massage therapist, in addition to her business duties. The spa uses a custom-blended aromatherapy line called Aromatherapy from a local Atlanta supplier, along with Fake Bake for self-tanning and Repêchage as its main skin care line.
This year, Lemongrass moved to a new location in Summit Pointe, an upscale shopping center in Valdosta, which opened up a variety of opportunities for this business. "There are a lot of stores, and many of us are putting together marketing packages to generate business together within Summit Pointe," says Lamb. "If you come to Lemongrass and are getting married, you can go to the jeweler next door for rings, book your honeymoon at the travel agent, pick out your china pattern at the china store ... it's all right here in this cute little shopping center. We're really going to continue focusing on marketing packages next year, as well."
Along with these business collaborations, Lamb focuses on other marketing efforts, as well. "We are doing a radio ad about offering Repêchage's new Biolight Facial. We hit Facebook really hard and use e-mail blasts. Facebook is a great tool for when we have gaps in our schedule that need to be filled," says Lamb. Lemongrass also does bridal shows and rewards referrals with a 10% discount, all leading to an increase in client loyalty and new customers. The spa also donates to many local organizations, and Lamb is active in her local chamber of commerce.
The new location has also allowed Lamb to make some adaptations to the limitations of her original location, with an eye on profitability. "At the last location, we had six treatment rooms and here we have nine treatment rooms plus a private mani/pedi room. We also had a hydrotherapy bath, and we grew out of offering those services, so at the new location, we have more treatment rooms that can be used for a variety of services," she explains.
Lamb also goes all out to focus on her team members, and is looking forward to her annual staff recognition event. "We have classes; we have educators come in and teach the staff. We have a party every October with awards for the most up-sells, most walk-ins and more; we recognize our team members who go above and beyond. At this party, we also name an employee of the year and everyone in the spa votes beforehand. It's a great morale-booster," she says.
This vibrant day spa has no plans of slowing down in the future, and Lamb isn't letting the economy stop its progress. "My next goal: I would love to franchise," says Lamb ... who is working on this project now. "We're currently working on books and videos for franchise opportunities."
At the end of the day, Lamb insists, none of this energy or growth or recognition would be possible without the clients. "Our success goes back to customer service; doing a good job. When our clients come through the door, it's all about them," she says. It is with this focus that Lemongrass will continue to flourish for years to come.