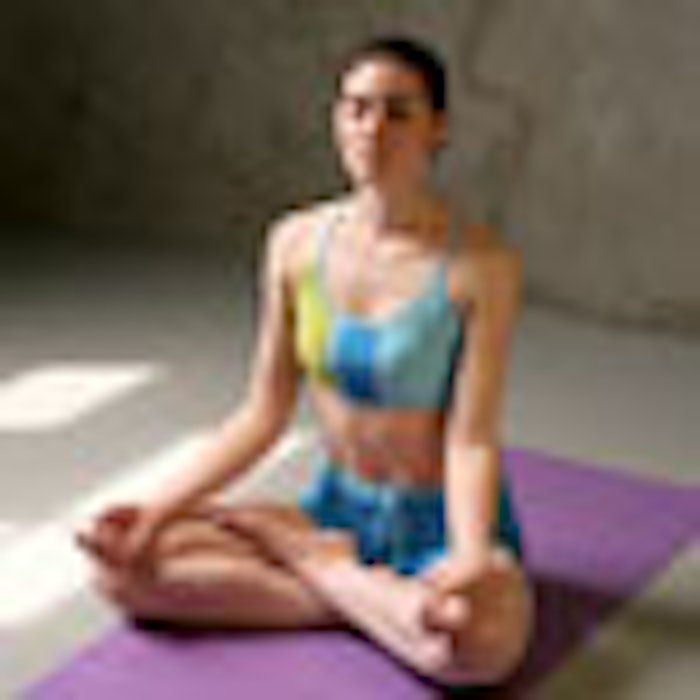 Only on SkinInc.com: Exclusive commentary from Melisse Gelula and Alexia Brue, founders of WellandGoodNYC.com, follows this news story offering four top tips on how to incorporate spiritual yoga classes in your skin care facility.
On July 26, as Congress fought over the debt ceiling, 200 people crowded into Yogamaya's temple-like studio on 20th Street to hear Radhanath Swami discuss how he lives without a bank account, eats but once a day, and sleeps on a mat on the floor.
Could this bring solace to a city full of worriers? So it seems.
As economists debate a double-dip recession, and the rest of us wonder what it means for our livelihoods and savings, yoga studios with a more spiritual bent like Yogamaya are crowded with new practitioners.
Yogamaya co-founders Stacey Brass and Bryn Chrisman are noticing an uptick of interest in their year-old studio's kirtan sessions and Sutra readings. Brass explains, "Right now, people want something to hook into, they want clarity of purpose. Even though we have to make money and provide for our families and live in the world, we organically crave a way to simplify everything and understand our existence through a higher connection."
A crisis of this kind inspired Arielle (a pseudonym), a 36-year-old media exec, who says, "My yoga practice correlates pretty directly with instability in the world and my life." She first took up yoga in the wake of 9/11; during the second Bush administration, she practiced more regularly. Then, in the midst of the Great Recession, she became a serious Ashtanga practitioner, and signed up for a yoga retreat when half her office was laid off.
Author Siobhan O'Connor regularly practices yoga at Jivamukti, arguably the city's most devout studio. O'Connor notes that some teachers emphasize the spiritual practice more than others. "This time last year, I would wager those spiritual teacher's classes were a lot less crowded than they are now, and I chalked that up to people not really liking the messages, or wanting a workout more than a sermon," she says.
But last year's sermon seems to be this year's sanity lifeline. With the unprecedented downgrading of U.S. Treasuries, the crisis in Europe, and riots from Egypt to London, yoga is proving a good coping strategy for many. "I have to suppose people are, like me, looking for a lot more than a workout from their yoga."
Only on SkinInc.com: Tips from Melisse Gelula and Alexia Brue, founders of WellandGoodNYC.com and journalists and wellness experts who have visited hundreds of spas, about how spas can begin to offer yoga classes to meet the spiritual needs of their clients. (To stay up-to-date on the latest wellness news and trends, subscribe to www.wellandgoodnyc.com.)
1. Don't fake it.
Just as your spa staff must have certain certifications, your yoga teacher should, too. Not every certified yoga teacher focuses on spirituality or weaving it into their classes as much as you might think. Did she study Ashtanga or hot power vinyasa? The two are as different as vegan and French cuisines. Do your research and hire the most appropriate expert for your clients' needs.
2. Get an expert.
Recruit a really good local teacher, or bring in a headliner who's known for devotional yoga practice. The person for the job should have a track record in teaching devotional classes, and ideally was trained in more devotional styles, such as Jivamukti, which incorporates the harmonium, kirtan, dharma readings and more. Or bring in a yoga teacher or author/expert who might want a week at the spa in exchange for lectures from her best seller.
3. Curate your classes.
Do you have strong energy worker on staff or a meditation teacher? Is there a nearby Buddhist retreat with experts who can enlighten your clients? Invite these experts to co-host a class or a class series with your yoga teacher. We've had a lot of success layering wellness elements into our Well+Good reader events, like how to use aromatherapy with an aromatherapy supplier during a class at Pure Yoga, followed by a juice after-party with a juice supplier.
4. Be specific and clear about the spiritual style.
Spas should indicate if the classes are based on modern meditation practices or a specific yoga philosophy. Is the class comprised of traditional sutra readings and chantin? Or is it mostly a vinyasa yoga practice with a side dish of spirituality? Vagueness can be frustrating for spa-goers who have a regular yoga practice at home—and to newcomers who may have preconceived notions of what the class will be.