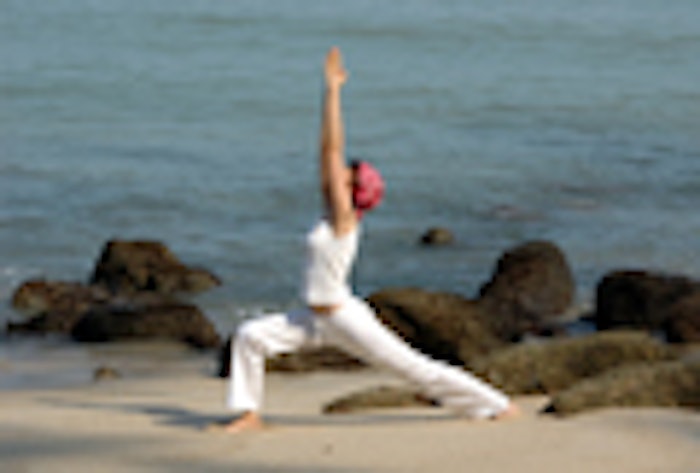 The latest "Yoga in America" study, just released by Yoga Journal shows that Americans spend $5.7 billion a year on yoga classes and products, including equipment, clothing, vacations and media such as DVDs, videos, books and magazines. This figure represents an increase of 87% compared to the previous study in 2004—almost double of what was previously spent.
Data for this survey were collected by the Harris Interactive Service Bureau on behalf of Yoga Journal. The poll surveyed 5,050 respondents, a statistically representative sample of the total U.S. population. Yoga Journal commissioned RRC Associates, a research firm in Boulder, CO, to perform the data analysis.
The 2008 study indicates that 6.9% of U.S. adults, or 15.8 million people, practice yoga. In the previous study, that number was 16.5 million. Of current non-practitioners, nearly 8% , or 18.3 million Americans, say they are very or extremely interested in yoga, triple the number from the 2004 study. And 4.1% of non-practitioners, or about 9.4 million people, say they will definitely try yoga within the next year.
The study also collected data on age, gender and other demographic factors. Of the yoga practitioners surveyed:
* 72.2% are women; 27.8% are men.
* 40.6% are 18 to 34 years old; 41% are 35 to 54; and 18.4% are 55 or older.
* 28.4% have practiced yoga for one year or less; 21.4% have practiced for one to two years; 25.6% have practiced two to five years; and 24.6% have practiced more than five years.
* 71.4% are college educated; 27% have postgraduate degrees.
* 44% of yogis have household incomes of $75,000 or more; 24% have more than $100,000.

"While the yoga population has stabilized, spending among practitioners has nearly doubled," says Patricia Fox, senior vice president and group manager of Active Interest Media's Healthy Living Group. "Yoga practitioners are a devoted consumer group supporting a thriving and vibrant market."
The 2008 study also indicated that almost half, or 49.4%, of current practitioners started practicing yoga to improve their overall health. In the 2003 study, that number was 5.6%. And they are continuing to practice for the same reason. According to the 2008 study, 52% are motivated to practice yoga to improve their overall health. In 2003, that number was 5.2%.
"Yoga is no longer simply a singular pursuit but a lifestyle choice and an established part of our health and cultural landscape," says Bill Harper, publisher of Yoga Journal. "People come to yoga and stick with it because they want to live healthier lives."
One significant trend to emerge from the study is the use of yoga as medical therapy. According to the study, 6.1%, or nearly 14 million Americans, say that a doctor or therapist has recommended yoga to them. In addition, nearly half, or 45%, of all adults agree that yoga would be a beneficial if they were undergoing treatment for a medical condition.
"Yoga as medicine represents the next great yoga wave," says Kaitlin Quistgaard, editor in chief of Yoga Journal. "In the next few years, we will be seeing a lot more yoga in health care settings and more yoga recommended by the medical community as new research shows that yoga is a valuable therapeutic tool for many health conditions."
The growth in the yoga market is also reflected in the growth of Yoga Journal. The magazine saw an increase of 5.8% in paid circulation and 9.2% in paid subscriptions in the period from July through December 2007 over the same period in the previous year, while the first two issues of 2008 were record issues in terms of ad revenue and ad pages. The magazine is also a top-selling health and fitness title at Barnes & Noble nationwide, as well as at Whole Foods.