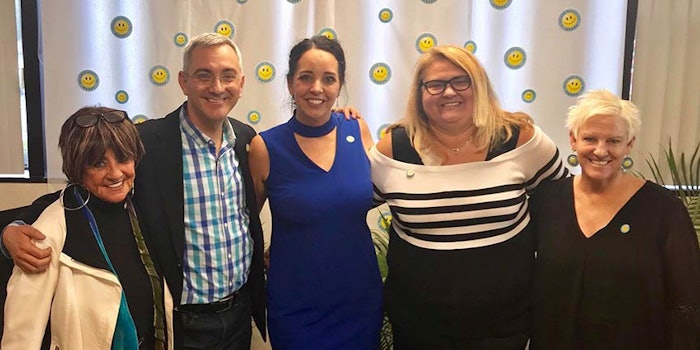 The first annual Global Massage Makes Me Happy Day was held March 20, 2018. The event coincided with the International Day of Happiness and the release of the United Nation's annual happiness report.
A Global Wellness Institute initiative, Massage Makes Me Happy saw massage therapy and spa associations, massage therapy schools, consumer and industry publications, spas, travel and leisure organizations and industry suppliers spreading the word and celebrating the day.
Events included:
A presentation by Tiffany Field, MD, founder of the Touch Research Institute, at Cortiva Institute's Orlando, Florida campus, wherein she spoke to students and industry executives on the way massage makes people happy.
A workplace wellness day at Performance Health, featuring education, free massage and complementary Biofreeze and Bon Vital products, introducing employees to the overall health benefits of massage therapy.
Said Lynda Solien-Wolf, vice president of massage & spa at Performance Health: "We loved being able to feel the warmth and joy of people celebrating Global Massage Makes Me Happy Day, and now our mission is to continue this celebration all year round."
Related: The Nordic Countries are Doing Well(ness): 2018 World Happiness Report