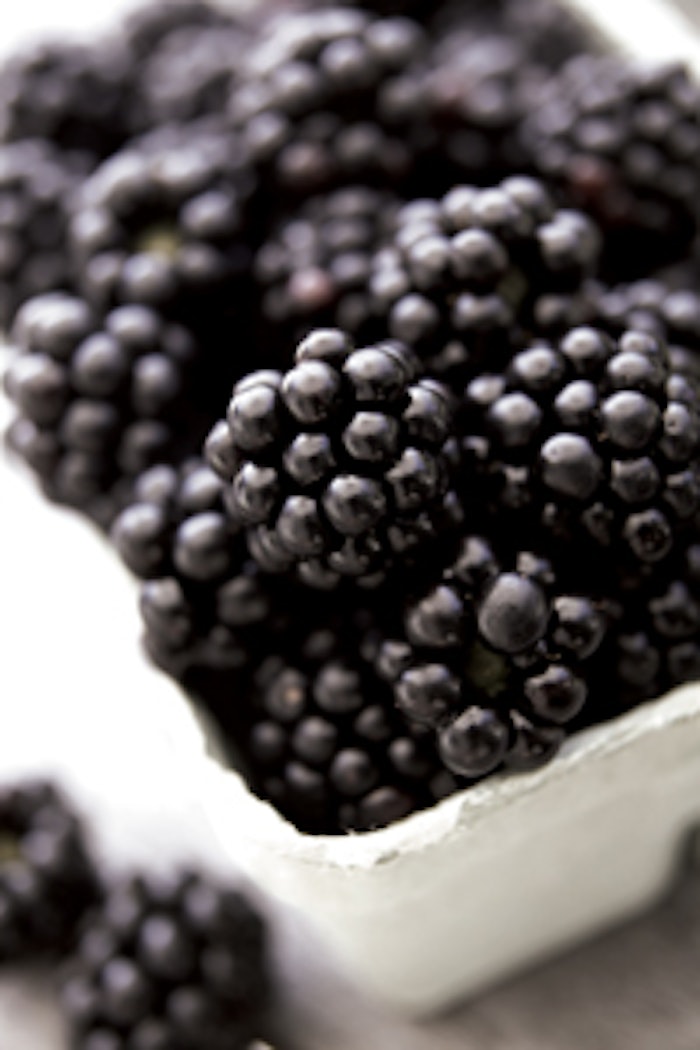 I am always tempted by blackberries; not only by their sweet, rich flavor, but also by their sculptural beauty, which is completely natural and yet so incredible.
One of the reasons the berries are so lovely is due to the fact that they are an aggregate fruit composed of many smaller fruits called drupes, which feature an outer, fleshy body that surrounds a seed. The peach is also another example of a drupe.
Abundant in North America, the British Isles and Western Europe, blackberries bloom from mid- to late-June and are grown on a bush that is usually prickly.1
In the kitchen
Blackberries contain large amounts of anthocyanoicides, found in the pigment that gives the fruit its color. Anthocyanoicides are powerful antioxidants that help reverse cell damage caused by free radicals.
The blackberry fruit and leaves contain vitamins C and E, as well as selenium, and blackberry leaves are often used in tea to treat a variety of ailments, including diarrhea and inflammation of the mouth and throat.1
The fruit is used in a variety of dishes as a component in dressings or sauces, and is also featured in salads and desserts. This lovely berry is a favorite of spa cuisine chefs and is included in the following recipes:
Berry, Berry, Berry Good Smoothie—Panama City Health Club & Spa, Panama City, Florida;
Three Berry Crepe—The Heartland Spa, Gilman, Illinois;
Crispy Duck Breast, Caramelized Shallot & Date Bulger Pilaf and Blackberry Jus—Golden Door, Escondido, California;
Cherry-Blackberry Smoothie—Canyon Ranch Health Resorts throughout the United States; and
Grilled Zucchini with Blackberry Compote—See this recipe from Spa Chef Steve Sicinski and Executive Chef Steven Bernstein of Mii amo, a destination spa at Enchantment, in Sedona, Arizona.
In the spa
Blackberries contain antioxidant-rich anti-aging ingredients and are anti-inflammatory. Because of this, they are often used in bath and body products, as well as in lip formulations.2
Blackberry leaf extract has it own skin benefits. Specifically, it features collagen- and elastin-boosting properties, allowing the extract to help fight against the formation of wrinkles, acting as a matrix metalloproteinase (MMP) inhibitor.
This helps the leaf extract be suitable for use in anti-aging formulations for the face and body.3
Spa services feature the fruit and leaves in a variety of ways, including:
The Blackberry Juniper Chamomile Scrub, an exfoliating scrub that stars the vitamin C content of blackberries—Elaia in the Hyatt at Olive 8, Seattle;
The Blackberry Signature Massage, which uses warmed, custom-made blackberry oil—Blackberry Spa at The Inn at Berry Hill, South Boston, Virginia;
The Linden Ritual, including a body wrap made of blackberry leaves, linden flowers, black birch, sage, eucalyptus and rosemary—Linden Spa at The Inn at Perry Cabin, St. Michaels, Maryland;
The Galiano Blackberry Experience, featuring a one-hour blackberry vinotherapy massage—Madrona del Mar Spa at Galiano Oceanfront Inn and Spa, Galiano Island, British Columbia, Canada;
The Blackberry Retreat is a reflexology-based hand treatment using a blackberry salt exfoliation and blackberry vanilla body butter—Springs Eternal Spa at Omni Bedford Springs Resort & Spa, Bedford Springs, Pennsylvania;
The Beaute Nueve Cells Renewal finishes with a serum mask containing blackberry for rejuvenated skin—Alyce Esthetique Day Spa, Lake Oswego, Oregon; and
The Blackberry Mist Body Treatment, completed with a blackberry-infused massage—See the step-by-step how-to from The Farmhouse Spa at Blackberry Farm, Walland, Tennessee.
Professional skin care formulations also feature the benefits of both the fruit and leaves in many different products.
One Minute Manicure's Spa Treatment Moisture Scrub–Blackberry Vanilla exfoliates, re-conditions and moisturizes skin.
Ole Henriksen's blue/blackberry enzyme mask is a fragrant, repairing gel mask that smooths and polishes the complexion.
SkinMedica Aesthetics' TNS Essential Serum is an anti-aging formulation that includes blackberry leaf extract for its ability to inhibit MMPs.
Naturopathica's Pear Fig Polishing Enzyme Peel is a pore-refining treatment that includes blackberry leaf.
And Éminence Organic Skin Care's Blackberry Pore Refining Serum acts as a gentle astringent to refine pores.
The real blackberry
In a world where the word "blackberry" is as commonly thought of as a hand-held mobile device as it is a luscious fruit, it may be time to remind clients about the real meaning of the word.
Consider re-introducing the sweet-yet-tangy berry into your spa treatment and cuisine menu offerings, tempting both the skin and tongue and making your clients forget about that other type of blackberry for awhile.
REFERENCES
1. www.whole-food-supplements-guide.com/blackberry-fruit.html
2. www.CosmeticsandToiletries.com/formulating/ingredient/moisturizer/7961772.html
3. www.SkinInc.com/skinscience/ingredients/10604742.html
4. www.botanical.com/botanical/mgmh/b/blaber49.html
(All accessed Feb 9, 2010)