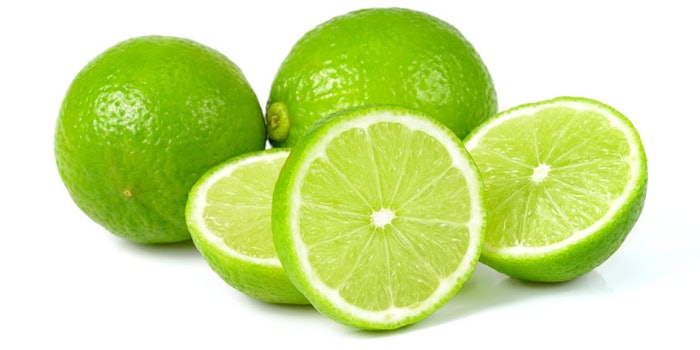 Lime has always been one of my favorite flavors; its tangy tartness dances on the tongue and livens up any dish—or drink, for that matter. The summer before I went to college, I visited a friend in Oklahoma and had my first experience with a drink called cherry limeade. There really is nothing like this drink; it's as refreshing as lemonade, but with a different kick, and is still something that I crave on summer days.
Who can deny the element limes add to alcoholic beverages—what would a margarita or mojito be without lime? And a Corona seems naked without the juicy green wedge crowning the bottle. Limes always have me thinking summer thoughts and, in the middle of winter, the treats of summer are where my mind wanders.
In the kitchen
Limes, or Citrus aurantifolia, grow on trees in tropical and subtropical climates, are 1–1.5 inches in diameter, oval-to-round in shape and have a thin peel that ranges in color from yellow to green. The largest producer of limes is Brazil, followed by Mexico and the United States, with its lime production taking place mainly in southern Florida.1 There are many different types of limes, but the main varieties are Mexican and Persian. They are an excellent source of vitamin C and are enjoyed in a variety of ways, including in soups, marinades, dressings and desserts.2
Spa cuisine chefs use lime to flavor and star in many dishes and drinks, including the following:
Vietnamese Beef Salad, a savory dish with a marinade and dressing featuring freshly squeezed lime juice—Mountain Trek Fitness Retreat and Health Spa, Ainsworth Hot Springs, British Columbia, Canada;
Thai Tuna Seviche Salad, including coconut-lime chutney and spicy chilies—SpaTerre, The Hotel Viking, Newport, Rhode Island;
Beer Steamed Shrimp Cocktail with Avocado Vinaigrette & Mixed Greens, including lime juice in the vinaigrette—Golden Door, Escondido, California;
Lime Soup with Tortilla Strips and Chicken—The Heartland Spa, Gilman, Illinois;
CaCactus Drink, an antioxidant-rich prickly pear drink with lime—Laja Spa at Casa de Sierra Nevada, San Miguel de Allende, Guanajuato, Mexico; and
Lemongrass and Lime Leaf Broth with Jasmine Rice and Fresh Vegetables—See this recipe from The Spa Ritual in Calgary, Alberta, Canada.
In the spa
Limes also offer solutions to many spa challenges. Lime oil is extracted from the peel of the fruit and is used in body oils, cosmetics, hair oils, toothpastes, soaps and deodorants, to name a few.3 Also, because limes are high in vitamin C, a powerful antioxidant, lime oil and products containing it can help smooth skin and reduce the appearance of dark spots.4 Lime oil has an astringent quality that helps improve skin tone, and its antiscorbutic, or scurvy-preventing, properties, help detoxify and clear skin of waste material, which is especially useful in fighting cellulite. It can assist with poor or compromised circulation and can help clear oily skin as well, not to mention it has an uplifting scent that adds to any skin care treatment or product5, including:
The Margarita Scrub, which is a natural exfoliating treatment featuring a blend of lime, orange, apple and tangerine essential oils with tequila, sunflower oil and salt—The Spa at Four Seasons Hotel, Los Angeles at Beverly Hills, Los Angeles;
The Desert Spa Lemon-Lime Facial, which revives tired skin—The Desert Spa, Cabo San Lucas, Mexico;
The Key Lime Salt Body Scrub, which polishes dull skin with a lime-scented salt scrub and finishes with a coconut-lime body cream—The Spa at Cheeca, Cheeca Lodge & Spa, Islamorada, Florida;
The Wild Lime Blossom Scalp Treatment, which uses fresh citrus oil to replenish hair and invigorate the senses—Stowe Mountain Lodge, Stowe, Vermont;
The Citrus Salt Glow, which combines lime and lemon essential oils with Australian sea salts for an uplifting exfoliation—Jurlique Spa at Mayfair Hotel & Spa, Coconut Grove, Florida;
The Mayaimi Tropical Feet Treat—For this step-by-step how-to from Canyon Ranch Hotel & Spa at Miami Beach, Miami Beach, Florida, log on to www.SkinInc.com/feettreat, and;
The Green Tea and Lime Leaf Body Exfoliate with Vichy Treatment—See the step-by-step how-to from Cooper Spa at Cooper Aerobics Center in McKinney, Texas, to test this offering for your own clients.
Lime is an extremely popular ingredient in professional skin care products as well, due to its tangy scent and even more tantalizing benefits. It's included in the following products:
Beauty Secrets' Ytsara Detox Body Mask contains 18 herbs and essential oils, including kaffir lime, to assist with the elimination of toxins.
Youngblood Mineral Cosmetics' Minerals in the Mist blends of pure essential oils, minerals and vitamins for hydration and protection, including Restore, which features lime, grapefruit and rosemary.
Yon-Ka Paris' Crème 93combats excess T-zone shine and revitalizes skin using ylang-ylang and lime.
Elemis' Exotic Lime and Ginger Salt Glow features lime peel to energize, cleanse and purify the skin.
Bubalina's Tropical Lime line uses lime essential oil to stimulate cell renewal while smoothing and softening skin.
Biotone's Green Tea & Lime Leaf Salt Glow helps soothe anxiety, improve circulation and restore depleted energy.
Keyano Aromatics' Coconut Lime collection provides protection, hydration and skin-soothing aspects for facials, body treatments and pedicures.
Prime lime
Its refreshing scent, tangy flavor and incredible skin benefits can bring a splash of summer to the winter days at your spa. Invite clients to try a variety of lime-based treatments and tastes from your spa, quenching their thirst for that summer feeling by coming through your doors.
REFERENCES
1. www.britannica.com/EBchecked/topic/341295/lime (Accessed Oct 5, 2009)
2. www.sunkist.com/products/limes.aspx (Accessed Oct 9, 2009)
3. www.organicfacts.net/health-benefits/fruit/health-benefits-of-lime.html (Accessed Oct 9, 2009)
4. health.howstuffworks.com/skin-care/cleansing/products/lime-in-skin-cleansers.htm (Accessed Oct 9, 2009)
5. www.dermaxime.com/lime.htm (Accessed Oct 9, 2009)
6. www.fruit-guide.com/lime (Accessed Oct 9, 2009)
7. encarta.msn.com/text_761562301_0/Lime_(fruit).html (Accessed Oct 5, 2009)