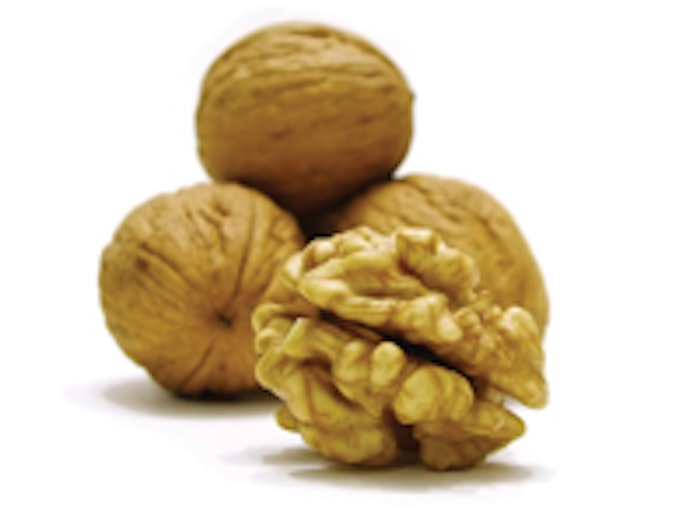 At the edge of the fence in the far back corner of my parents' yard—a yard mainly consumed by a big white garage and a vegetable garden, and adorned with colorful flowers in the summer—sits a majestic black walnut tree.
My brother and I spent many summer evenings leaning against its scratchy bark, sweaty hands covering our eyes, counting to 20 for raucous games of hide-and-seek with the neighborhood kids. And the squirrels that inhabited the sprawling monstrosity loved to play the same game with our miniature dachshund Daisy. To this day, the tree drops green-husked walnuts every other spring, to the irritation of my father, who stoops to pick up each one, dropping them in a plastic bucket making a hollow thump with each. Having never worked to remove the nuts from their green coating, we never took advantage of the incredible super food growing in our own backyard.
Walnuts have earned this prestigious honor because they are an excellent source of omega-3 essential fatty acids, a special type of protective fat that the body doesn't manufacture naturally, and the potential health benefits include cardiovascular protection, better cognitive function and anti-inflammatory results.1 There are three main types of commonly consumed walnuts: English, White and Black. The English walnut is the most popular type in the United States due to its thinner shell and pleasant flavor.1 Brimming with richness, walnuts can be used in a variety of dishes, including in breads, desserts, salads, paninis, and with various meats, in stuffings and with multiple types of cheeses.
In the kitchen
This healthy nut is also a tasty treat, with its mellow, earthy flavor complementing many dishes and becoming a favorite of many palettes. Spa chefs use this crunchy delight in many different ways.
At Portland, Oregon's The Dragontree Holistic Day Spa, the Lincoln Panini combines walnuts with pear, spinach, chevre and olive oil, while the Desiree Panini includes turkey, brie and walnuts. At New Age Health Spa in Neversink, New York, the Lentil Walnut Loaf with Leek-Pear Puree is served as an entree; and Spicy Chicken and Walnut Lettuce Wraps can be enjoyed at Lake Austin Spa Resort in Austin, Texas. Cal-a-Vie Health Spa in San Diego offers a Tarragon Walnut Wild Rice Salad with Chicken; and Orange Walnut Bread is a delicious breakfast treat at Rancho La Puerta in Tecate, Baja California, Mexico. Also, check out the tempting recipe for Vineyard Waldorf Salad from Chef Mike Terry of South Coast Winery Resort & Spa in Temecula, California.
In the spa
The omega-3 essential fatty acid content of walnuts makes their consumption a good method to use when fighting inflammatory skin issues, such as eczema and psoriasis.1 Eating walnuts also helps improve skin smoothness because walnut oils contain lineolic acid, which helps maintain skin structure.2 Also, their shells are often ground up for a natural and effective exfoliation ingredient, and walnut leaf extract can be used in skin care products for its astringent and conditioning properties.3
The Chocolate Bean Polish is a prenatal treatment offered at The Spa at the Hotel Hershey in Hershey, Pennsylvania, that combines cocoa bean husks and walnut shells for a skin-softening service, as does the Bamboo Lemongrass Scrub that blends bamboo and ground walnut at the Watermark Hotel & Spa in San Antonio, Texas. At New York City's Sweet Lily Natural Nail Spa & Boutique, the Honey Walnut Manicure features a moisturizing honey walnut hand mask; and the Body Polish at Per Se Aveda Lifestyle Salonspa in West Hartford, Connecticut, combines kelp, aloe, lavender and walnut shells to detoxify the skin. The Woodlands Walnut Shell Body Polish at Barnsley Gardens Resort in Adairsville, Georgia, gives skin a lustrous, silky glow; and see the step-by-step how-to for the Honeysuckle Ginger Dew Treatment from Springs Eternal Spa at the Omni Bedford Springs Resort & Spa in Bedford Falls, Pennsylvania, which features a smoothing black walnut scrub.
Skin care products often use many different parts of the walnut to improve their formulas, as well. Nikali's Walnut Sugar Scrub polishes away dead, flaky skin, and Éminence Organic Skin Care's Pear & Poppy Seed Microderm Polisher includes fine walnut for its vitamin E content and gentle exfoliation. Szép Élet's ilike organic skin care offers Herb Infusion Serum that includes walnut leaf extract to help calm inflammation, and SpaTeen Blemished Skin Cleanser from Pevonia Botanica uses micronized walnut shell powder to help cleanse and refresh skin. Dramatic Radiance TRF Cream from DDF contains walnut shell extract to help revitalize fatigued skin; and Torn Ranch features Dark Chocolate Blueberry Walnut Clusters from its Mind and Body Collection for a sweet treat to offer in the relaxation room.
A pick-me-up
As an ingredient that is equally beneficial both inside and outside the body, you'd be nuts not to add walnuts to your spa's menu as part of a tasty lunch treat or to your treatments for a revitalizing pick-me-up. And though picking up walnuts is something my dad won't have to do anymore as my parents transition into a new home and new phase in their lives, as they age, hopefully they will enjoy the benefits of this nutty wonder that graced their backyard for so many years.
REFERENCES
1. www.whfoods.net/genpage.php?tname=foodspice&dbid=99
2. www.womenfitness.net/herbs/walnut.htm
3. www.ebookslife.com/glossary.aspx?ID=297
4. www.walnuts.org/walnuts101/history_cultivation_processing.php
5. www.walnuts.org/pdfs/California_Walnut_Trivia.pdf
(All accessed July 10, 2009)