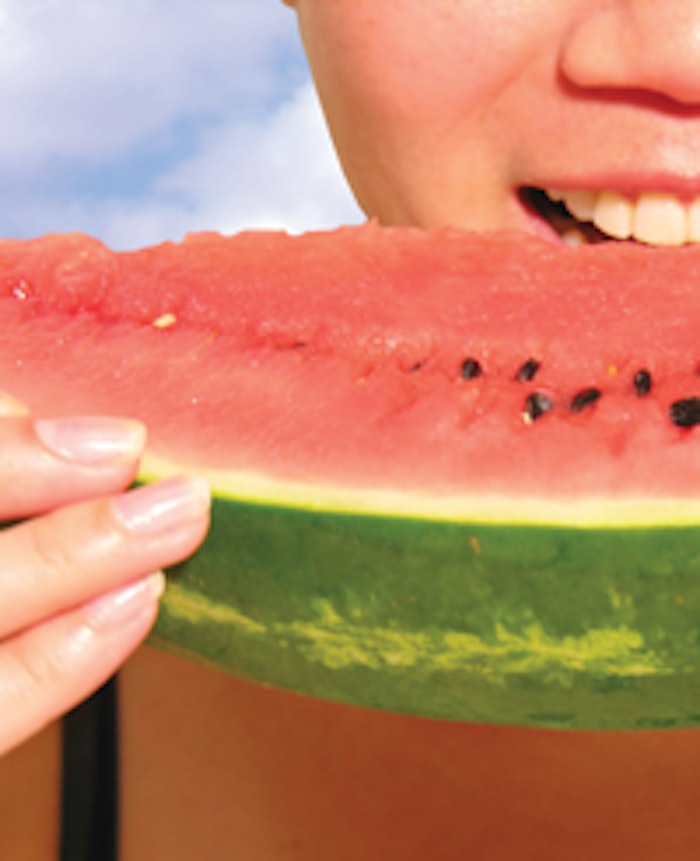 Who doesn't have an affection for this fruit that is the epitome of summer?Juicy, sweet with a bright pinkish-red flesh dotted with black and white seeds, watermelon is difficult to eat and prepare without getting messy—but that's sometimes part of the fun. A fruit that can be as delicious as candy, the mere mention of it conjures visions of blue skies, green grass and sticky fingers. But because of its novelty, watermelon's nutritional and skin care benefits often can be overlooked.
Watermelon is the lycopene leader in fresh produce, having higher concentrations of lycopene than any other fresh fruit or vegetable, even fresh tomatoes. It also promotes cardiovascular health, and a two-cup serving is an excellent source of vitamins A, B-6 and C.1
Thought to have originated in the Kalahari Desert of Africa, approximately 200–300 varieties of watermelon grow in the United States and Mexico, and the most popular are seeded, seedless, mini or personal-sized, and yellow- or orange-fleshed watermelons. The United States ranks fourth in overall watermelon production, with Arizona, California, Florida, Georgia and Texas ranking as production leaders.2
In the kitchen
Watermelon is commonly used in salads, soups and desserts, as well as being enjoyed all on its own.
It is a favorite of spa cuisine chefs and is used is a variety of seasonal dishes, including the Jumbo Lump Crabmeat and Watermelon Salad at Aji Spa's café at the Sheraton Wild Horse Pass Resort & Spa in Chandler, Arizona; and the Chilled Watermelon and Mint Soup at Sense, A Rosewood Spa at Little Dix Bay in Virgin Gorda, British Virgin Islands. At the Canyon Ranch Grill in Miami Beach, Florida, guests can enjoy the Seared Watermelon With Tomato Salad with Red Wine Vinegar Syrup and Basil Seed; and Rancho La Puerta in Tecate, Baja California, Mexico, serves the Watermelon and Roasted Baby Beets Salad with Goat Cheese and Fennel. Also, try the recipe for Watermelon Consommé With Black Pepper and Olive Oil Sorbet from Executive Chef James Overbaugh and Sous Chef Brandon Weaver of The Peninsula Beverly Hills, home of The Peninsula Spa.
In the spa
Watermelon seed oil and watermelon extract are both highly sought-after ingredients in spa products and treatments. Watermelon seed oil, also known as ootanga and kalahari oil, is rich in omega-6 and -9 essential fatty acids, is highly moisturizing, and helps dissolve sebum buildup and restore elasticity.3 It is often used in baby formulations, creams, lotions, soaps and eye creams.4 Watermelon extract also aids in protecting some cell structures from damage by UV-induced radicals and decreases redness after UV exposure. It helps protect the skin against daily stress induced by UV light and free radicals too, and is used in pre-sun products and body lotions, as well as day, night and sun care creams.5
Keystone Lodge & Spa in Keystone, Colorado, offers the Coco-Luscious body therapy that finishes with a hydration drench of Watermelon and Papaya Body Butter Souffle; and the Luscious Body Wrap at Black Bear Resort in Port McNeill, British Columbia, Canada, includes a full-body massage with watermelon, papaya and virgin coconut oils to help replenish firmness and moisture. At the Ace Hotel Spa in Palm Springs, California, the Good Body Polish concludes with an application of cooling cucumber and watermelon seed body tonic; and the tween and teen set can enjoy a Watermelon Foot and Hand Scrub at Gi Gi's Elite Spa in Chicago. Also, check out the step-by-step how-to recipe for the Made Fresh Daily Cucumber and Watermelon Body Treatment from The Spa at Rancho Bernardo Inn in San Diego.
Watermelon is commonly found in professional skin care products, as well, including Benev's GF-DNA Serum, designed to help diminish the signs of aging and sun damage by accelerating DNA repair; and the Foot Soak & Rub from Elements by L'Auterre, which features watermelon seed oil that absorbs into the skin to help restore moisture. Éminence Organic Skin Care's Watermelon Papaya Body Butter capitalizes on watermelon's high antioxidant and vitamin content to help fight free radicals, and Cura Anti-Aging Night Serum from Isabella Pelle Beauty & Skincare Co. includes watermelon extract to help protect cells against UV damage and stress.
Bask in the benefits
Believe it or not, with all its sticky-fingered, fun-in-the-sun goodness, watermelon is equally good for the body, both inside and outside. Worship summer by adding some colorful—and extremely nutritious—watermelon to your menu, letting your clients bask in its benefits.
REFERENCES
1. www.watermelon.org/watermelon_nutrition.asp (Accessed May 1, 2009)
2. www.watermelon.org/watermelon_funfacts.asp (Accessed May 1, 2009)
3. www.cactusandivy.com/Ingredients.htm (Accessed May 1, 2009)
4. http://www.massagemag.com/News/massage-news.php?id=5855&catid=124&title=the-benefits-of-watermelon-seed-oil (Accessed May 1, 2009)
5. www.cosmeticsandtoiletries.com/formulating/ingredient/active/4307582.html (Accessed May 4, 2009)