From Executive Chef Michael O'Dowd of the Sheraton Wild Horse Pass Resort & Spa in Chandler, Arizona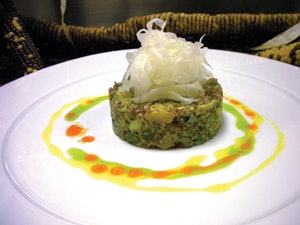 Makes 8 servings
24 ounces Red Inca quinoa
1 ounce young fennel, shaved paper thin
2 avocados
3 tablespoons fresh lime juice
4 teaspoons cilantro, minced
4 teaspoons Iitoi onions, minced (scallions can be substituted)
8 ounces pineapple, diced
3 teaspoons chipotle vinegar
Mineral water
Sea salt to taste
Cracked black pepper to taste
Preparation
1. Cook quinoa in rapidly boiling mineral water until cooked through and tender.
2. Strain through a chinoise and refrigerate until completely cooled.
3. Sauté diced pineapple on high heat until golden brown and caramelized, then cool in refrigerator.
4. Scoop the pulp out of the avocado and fork into a mash consistency. Add lime juice and refrigerate.
5. Add onions, shaved fennel, cilantro and chipotle vinegar to quinoa, then add pineapple and mashed avocado, and fold together.
6. Season with sea salt and cracked black pepper.