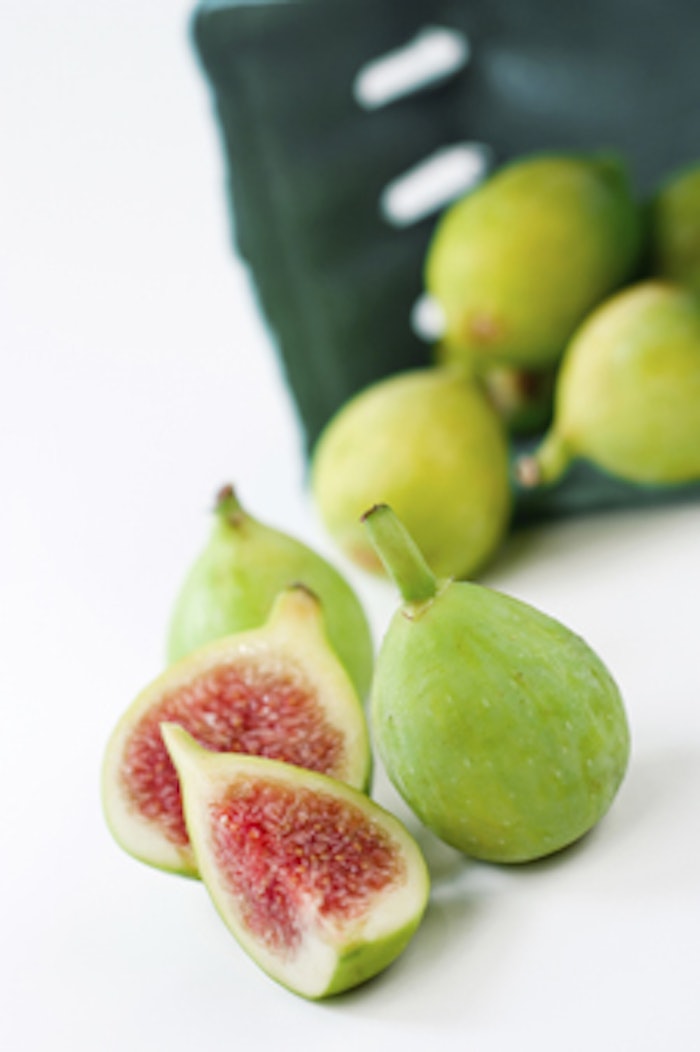 Chances are, figs were not the most common fruit at your dinner table when you were growing up. Although it is well-known, the fig carries a perception of being a rare treat, something to be enjoyed only once in awhile. This idea is maintained because of the fruit's relatively short growing season, as well as its even shorter shelf life—it should be eaten within two days of being picked.1
In the kitchen
There are more than 150 varieties of figs, and they should have a rich, deep color and be plump and tender without being mushy when chosen. The fig grows on the ficus tree, which is a member of the mulberry family, and it has a sweet, chewy flesh, smooth skin and crunchy seeds. The majority of figs are dried, but fresh ones are a treat that can be obtained from June to September.1
Fig leaves are edible as well, and have anti-diabetic properties that can reduce the amount of insulin needed in people with diabetes. Figs also are good sources of potassium, fiber and calcium, and are largely produced in California, Turkey, Greece, Portugal and Spain. They can be enjoyed in appetizers, jams and jellies, desserts, and salads, as well as just by themselves for a sweet indulgence.1
The fig is also a mainstay on spa cuisine menus and is featured in Baked Apples with Fresh Figs and Vermont Maple Syrup from Green Mountain at Fox Run in Ludlow, Vermont; as well as in Fresh Figs with Balsamic Glaze from Mountain Trek Fitness Retreat & Health Spa in Ainsworth Hot Springs, British Columbia, Canada. At Spa Gaucin at the St. Regis Monarch Beach in Dana Point, California, the Mediterranean Meltaway Couple's Suite Retreat features a 20-minute Espresso Bath for two accompanied by Italian wine and a fig and cheese tray. Also, the Buttermilk Fig Cake is a sweet option at Lake Austin Spa Resort in Austin, Texas; and check out the recipe for the refreshing Fresh Spinach and Balsamic Fig Salad from Executive Chef Andrew Roenbeck at Boca Raton Resort & Club in Boca Raton, Florida.
In the spa
For the skin, fig works as a mild exfoliator to remove dead skin cells from the surface, similar to the activity of pineapples.2 Also, fig bud extract has recently been used as an active ingredient for slimming and improved circulation.3
At The Spa at Pebble Beach in Pebble Beach, California, guests can enjoy the Mediterranean Olive & Fig Scrub signature treatment that features an application of olive, fig and shea butter for smoother skin; and the Citrus and Fig Manicure and Pedicure at Spa Luce in Hollywood, California, hydrates and rejuvenates hands and feet. At Estancia La Jolla Hotel & Spa in La Jolla, California, the Olive Stone and Fig Vichy Body Scrub finishes with a fig and cassis body butter; and the Pomegranate & Fig Spa pedicure is an anti-aging and revitalizing signature treatment at Peony Nail & Day Spa in Scarsdale, New York. Ethos The Spa in London, Ontario, Canada, offers the Black Fig and Olive Wrap that exfoliates to leave skin renewed and smooth; and also see the step-by-step how-to for the Cranberry Fig Body Polish from Spa Terre at Paradise Point Resort & Spa in San Diego.
Professional skin care products are no strangers to the wonders of fig either. Linden Leaves' Fig Licorice Body Lotion provides daily moisture replenishment, and Cuccio Naturalé's Pomegranate & Fig Butter Blend Anti-Aging Formula includes time-released emollients for increased staying power and hydration. Skin Authority offers Olive, Fig, Shea Butter Body Cream that detoxifies, replenishes and protects skin; and the Black Currant & Fig Scentsations Wash is offered by CND. Also, the Cranberry Fig Sugar Scrub from Bella Luccé is designed to dissolve and eliminate expired cells.
Finding fig
As a treat that has been revered since biblical times, the fig is a small fruit with a big reputation. The delicacy's inclusion in your spa offerings will add to your efforts to make clients feel as if they are in a special sanctuary where the average fruit just won't do.
REFERENCES
1. www.whfoods.com/genpage.php?tname=foodspice&dbid=24
2. www.chetday.com/blog/2005/05/figs-for-healthy-skin.htm
3. www.skininc.com/skinscience/ingredients/25480874.html
4. www.inmamaskitchen.com/FOOD_IS_ART_II/food_history_and_facts/fig_walk.html
(All accessed Dec 3, 2008)