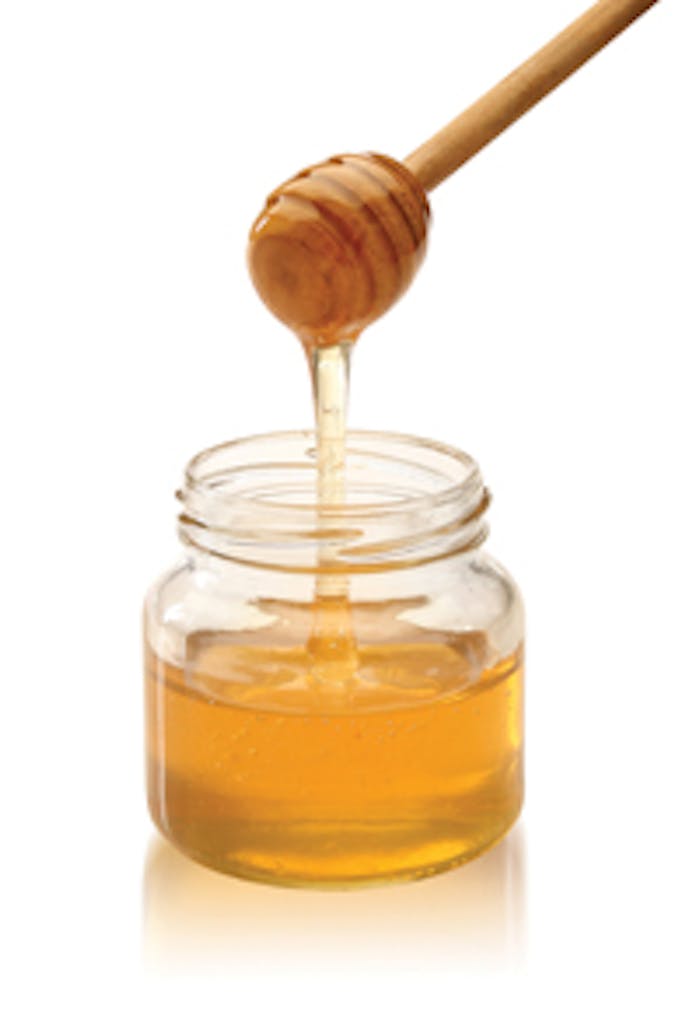 Honey, a sticky, sweet substance manufactured by bees, has long been cherished as a priceless beauty secret by some of history's most infamous women. From Cleopatra's legendary milk and honey baths taken to maintain youthfulness to Queen Anne of England's honey and oil mixture for lustrous, shiny hair, honey has been making women beautiful for centuries.
In the kitchen
Along with being a beauty staple, the sticky substance also is a natural sweetener primarily composed of fructose, glucose and water. More than 300 unique kinds of honey are available, with the color and flavor depending on the bee's nectar source, and including such diverse types as Clover, Eucalyptus and Orange Blossom. Generally, the lighter the color, the milder the flavor.
Honey also contains a variety of flavonoids and phenolic acids that act as antioxidants to scavenge free radicals; darker honey types usually contain a higher antioxidant content. Available in many forms, including comb, cut comb, liquid, naturally crystallized, and whipped or cremed, this sweet concoction can be used in multiple ways on a spa cuisine menu.1
Sundara Inn + Spa in Wisconsin Dells, Wisconsin, features a honey balsamic vinaigrette in its Grilled Portabella Mushroom Wrap and a honey horseradish vinaigrette on its Tenderloin Salad. For a main course, the Honey Dijon Chicken can be enjoyed at Tennessee Fitness Spa in Waynesboro, Tennessee, and the Honey and Sage Baked Peaches With Honey, Pistachio and Blue Cheese is a treat served at Red Mountain Spa in St. George, Utah. A delightful addition to any indulgence, the Yogurt Granola Parfait at Boca Raton Resort & Club in Boca Raton, Florida, includes Greek yogurt layered with natural honey, berries and granola, and the Zinfandel Parfait with Toasted Almonds from Green Mountain at Fox Run in Ludlow, Vermont, combines wine, honey and yogurt. As a tempting dessert, the Bath House Spa in New Forest, Hampshire, England, offers Grilled Figs with Honey and Toasted Almonds, and for a play on a classic favorite, see Honey Banana Bread from head chef Jimmy LeSage at New Life Hiking Spa at The Inn of the Six Mountains in Killington, Vermont.
In the spa
Although honey is often used for its all-natural appeal, it actually has many skin care benefits to offer. The substance is a humectant, meaning that it attracts and retains moisture, making it an obvious choice for cleansers and creams. Honey is also an anti-irritant, which is useful for sensitive and baby skin care, and research is currently underway to develop a process using honey to create alpha hydroxy acids, which help exfoliate skin for cell renewal.1
At Taupo DeBrett's Hot Springs Spa in Taupo, New Zealand, the Hot Honey Wrap body treatment features a full-body honey wrap and a hydrating manuka honey facial while the Hydrating Body Treatment from SKINsations Spa in Sacramento, California, combines warm honey, brown sugar and milk 'n' honey buttercream to hydrate and pamper. The Professional Milk and Honey Manicure can be enjoyed at the Alesandra Salon & Spa in Boynton Beach, Florida, and the Salt & Honey Pedicure from Mountain Body Spa in Park City, Utah, is a treat for tired, sore feet. At Samasati Nature Retreat near Puerto Viejo, Costa Rica, the Honey Papaya Scrub exfoliates, deeply cleanses and nourishes skin resulting in a glowing appearance, and at Daintree Eco Lodge & Spa in Daintree, Queensland, Australia, the Walu BalBal, or Shine Face, is a spa facial featuring bush honey that transports your senses to a time where sacred rainforests harbored ancient wisdom and therapeutic botanicals.
Honey is also featured in a variety of spa products that take advantage of its natural skin benefits. Heat Spa Kur Therapy Development Inc.'s Abano Honey Almond Scrub cleanses, moisturizes and exfoliates skin, while Haken's Honey Scrub exfoliates and replenishes the body. Arbre Skin Technology's Seaweed Marine Algae, Honey & Nutra Oil promotes slimming and detoxification, CA Botana's Ambrosia Aromatherapy Honey-Almond Mask balances, restores and rejuvenates complexions, and the Sugar 'N Honey Body Glow from YG Laboratories smoothes away roughness, cushions skin and makes bumpy skin smoother.
A sweet addition
Antioxidant-rich, moisturizing, exfoliating and delicious, honey will make a sweet addition to any treatment or retail area. Check out the variety of ways you can incorporate this delicious beauty secret into your spa menu, and let your clients enjoy the wonders of honey that have been treasured by history's most amazing women.
REFERENCE