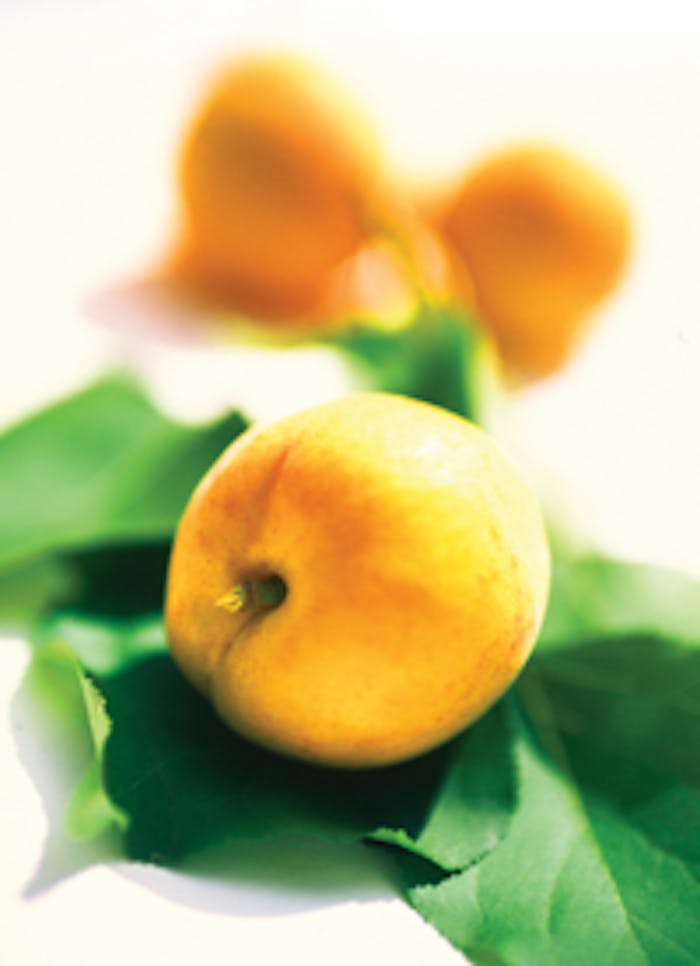 With its orange, velvety skin and sweet taste, the apricot is one of the first fruits to signal the beginning of summer.1 A member of the rose family, the wild apricot was discovered on the mountain slopes of China and, in the 18th century, Spanish explorers planted the golden fruit in the gardens of Spanish missions in California. Even today, the state is responsible for more than 95% of the United State's apricot harvest.2
In the kitchen
Apricots can be enjoyed in a variety of ways—fresh, canned, frozen and dried—and are often included in a range of dishes, from appetizers and garnishes to entrées, sauces and desserts. Rich in beta-carotene, fiber, and vitamins A and C, apricots help strengthen the immune system and nurture healthy skin.1, 3
At Samadhi Spa & Wellness Retreat in Daylesford, Victoria, Australia, the Samadhi Breakfast includes toasted muesli with chewy apricots and cranberries. To satisfy a sweeter tooth, the Honey Vanilla Cheesecake from Green Valley Spa in St. George, Utah, is garnished with a tasty apricot orange topping, and the Oak Café restaurant at the Ojai Valley Inn & Spa in Ojai, California, serves Grilled Apricots and Cinnamon Meringues with Apricot Honey for a tasty dessert. And check out the recipe for delicious Apricot Couscous from Spa Chef Amie Reavis at the Château Élan Winery and Resort in Braselton, Georgia.
In the spa
Not only does apricot consumption result in improved skin health, it also softens and enhances skin tone when applied cosmetically. The fruit is used to make soaps, creams and deeply moisturizing skin care products,4 and the oil from the apricot kernel also is extremely beneficial for the skin. It is particularly good for dehydrated, delicate, mature, sensitive and inflamed complexions, and the oil is also easily absorbed. Its vitamin A content helps increase elasticity and is used to reduce stretch marks, as well.5
At Glenelly Inn & Cottages in Glen Ellen, California, the invigorating Apricot Body Scrub uses a blend of ground apricot kernels, herbs and essential oils to exfoliate and stimulate circulation, and the Apricot Seed Body Polish at Red Sage Spa in Saratoga, Wyoming, combines buffing beads, loofa and apricot seeds to refine and smooth sensitive skin. At The Spa at the Carneros Inn in Napa, California, the Sweet Ripened Apricot and Chardonnay Manicure and Pedicure treatment can be enjoyed, and the Organic Herbal Back Treatment at the Senator Inn & Spa in Augusta, Maine, exfoliates with apricot kernels, grape seed and green tea to promote clear skin. Also, the Essensa Apricot Body Glow Treatment at Lafayette Park Hotel & Spa in Lafayette, California, combines apricot seed, aloe, soy and cornflower to leave skin soft and hydrated.
Professional skin care products also use the benefits of this tasty fruit. The Apricot Cleansing Lotion from Ole Henriksen effectively and gently cleanses the face, and the Apricot Whip Moisturizer from Éminence Organic Skin Care refreshes the complexion and reduces the visual signs of aging through the use of apricot juice. Essensa's Apricot Scrubbing Gel is a soap-free exfoliator for the face and body that smoothes and conditions the skin, and Essie's Apricot Cuticle Oil is a soothing massage oil that seals in moisture and hydrates nails and cuticles. Karin Herzog's Vita-A-Apricot is an anti-aging facial cream that smoothes and tones, giving radiance and energy to the skin, and Elemis' Soothing Apricot Toner gives a fresh sensation and radiant appearance to extra-sensitive, delicate and hormonal skin.
A taste of summer
With the multitude of skin care benefits associated with this succulent fruit, its appearance on your spa menu will be refreshing and welcome. After all, who doesn't like a little taste of summer once in awhile?
REFERENCES
1. www.whfoods.com/genpage.php?tname=foodspice&dbid=3
2. www.apricotproducers.com/html/consumhis.htm
3. www.califapricot.com/general_information.html
4. www.yourskin101.com/natural-skin-care/apricot/aspx
5. www.dermaxime.com/apricot-kernel-oil.htm
6. www.apricotproducers.com/html/consumfstfct.htm
(All accessed May 5, 2008)