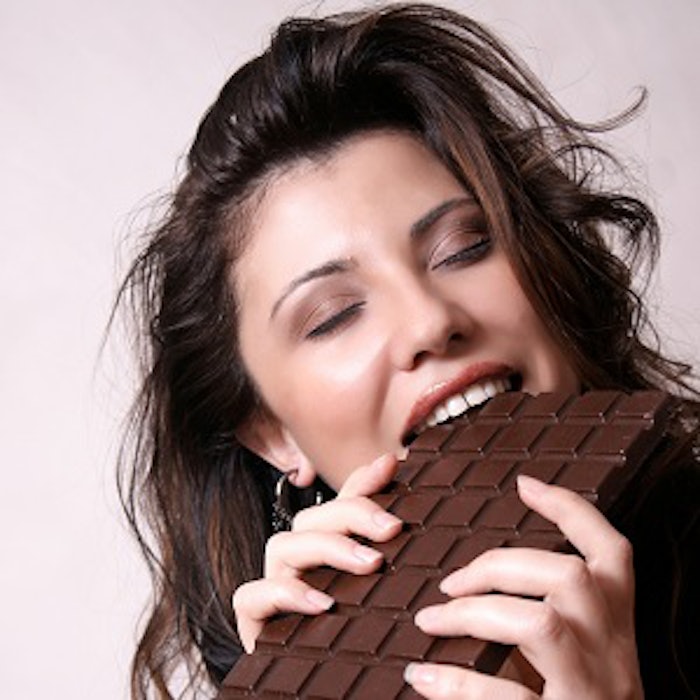 The creamy sensation of melted chocolate is an enticing thought. Rich and luxurious with each and every bite, the sweet flavor fills your mouth—and hopefully doesn't melt in your hand. This feel-good treat has many therapeutic benefits, and it also is believed to elevate sexual desire as an aphrodisiac—although it only contains small amounts of a mild mood elevator called phenylethylamine. The smell of chocolate actually may relax you by releasing endorphins.
Facts
Processed chocolate, especially milk chocolate, is high in calories because it is made with sugar. However, the treat also contains protein, riboflavin, calcium and iron, and is chock-full of flavonoids, which are naturally occurring compounds found in fruits, vegetables, red wine and tea. The cocoa butter in chocolate contains oleic acid, a monounsaturated fat that also is found in olive oil and may raise high-density lipoprotein, or HDL, otherwise known as "good cholesterol." Adding nuts, such as almonds and peanuts, increases the nutrient content of the treat as well.
In the kitchen
Chocolate often is the key ingredient in many sweets, from drinks to cakes and everything else in between. Dipped fruits are popular, such as chocolate-covered strawberries, and ice cream sundaes look naked without a little chocolate syrup. Spas around the world include chocolate on their dessert menus. Royal Parc Evian in Evian-Les-Bains, France, features Guaraja Chocolate Cream—a rich baked cream served with grated white chocolate. The Chocolate Chip Cookies found at the Golden Door in Escondido, California, use prune purée as a nutritious alternative to butter. Red Mountain Spa in St. George, Utah, offers clients No Butter Brownies to satisfy their cravings. Or drizzle Nonfat Chocolate Sauce from Rancho La Puerta Spa Resort in Tecate, Baja California, Mexico, to enhance any dish. See the recipe for Cocoa Seared Scallops With Burnt Orange Sauce, courtesy of The Spa at The Hotel Hershey in Hershey, Pennsylvania.
In addition to these tasty delights, there are a number of ways to add chocolate to any service. Chocolate candies and a low-fat chocolate shake or cup of hot cocoa can add value to any spa package. For group events, offer clients a low-fat fondue bar to enjoy after their treatments. Make sure to provide a variety of healthy dipping options, such as fruits and cheeses.
In the spa
Chocolate is becoming an increasingly popular ingredient for a wide array of skin care products. From body care to scented candles, the scrumptious aroma is satisfying consumers without the calories. Karin Herzog offers its cocoa fix with a Chocolate Cleanser that delights the senses while removing dirt and makeup. Aqua Dessa Spa Therapy's Chocolate Espresso Body Scrub is enriched with antioxidants, and its Chocolate Milk Foam Shower Gel purifies and pampers. Give your skin a healthy sun-kissed glow with Fake Bake's Sheer Chocolate Mousse, or pick up some SlimDelices Slimming Chocolate to help curb cravings.
The sweet treat has become common as a spa treatment option as well. The Spa at The Hotel Hershey in Hershey, Pennsylvania, is well known for its unique chocolate body services. Begin with a cool Chocolate Bean Polish that gently exfoliates using cocoa bean husks and walnut shells, and then soften skin with a Cocoa Body Moisturizer. Next, truly relax with the Chocolate Fondue Wrap that covers the client in warmed moor mud and uses the essence of cocoa to revitalize and nourish the skin, followed by a body brushing and fondue application.
Dip into some Chocolate Indulgence with this scrub and wrap combo at The Spa Hyatt at the Hyatt Regency Chesapeake Bay Golf Resort in Cambridge, Maryland, where clients choose between chocolate mint-, chocolate raspberry- or chocolate cake-infused body oil. The menu at Gauthier Total Image Spa in Sherman Oaks, California, features six decadent chocolate-based services, including Dripping in Chocolate—a scrub, body wrap, manicure and pedicure combination, complete with a chocolate biscotti and a cup of hot chocolate. And at Transition Salon & Day Spa in Escondido, California, the menu highlights a chocolate delight services section that includes wraps, hydrotherapy treatments, body polishes, salt glows, pedicures and paraffin dips.
Make it with chocolate
Tempting, alluring and delicious, chocolate enhances any spa menu. Dip into chocolate, and discover the possibilities.