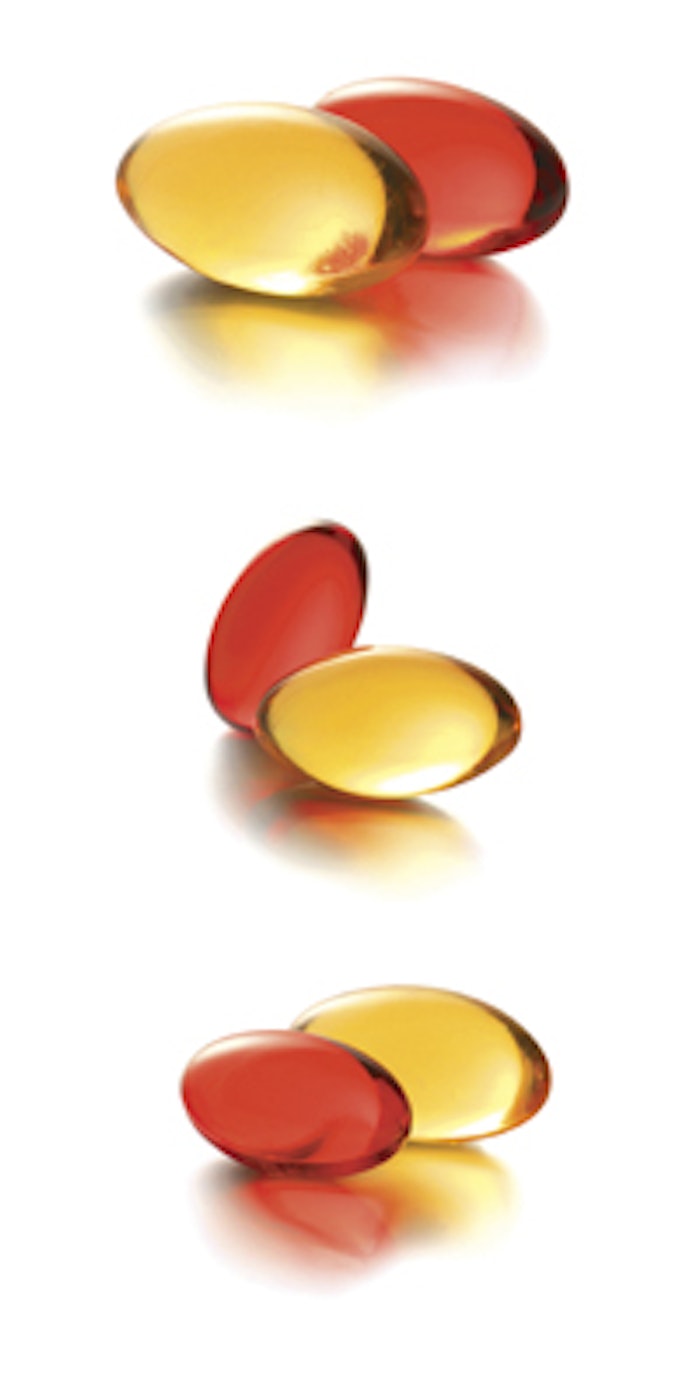 Let's face it—some things in life are inevitable, and aging is one of them. With today's new techniques and knowledge, people are now able to go on the attack to prevent it or slow it down. This generation of people is refusing to bend to something that billions have accepted gracefully in the past. The best approach when fighting aging is through an integrated lifestyle involving a synergy of prevention activities, including how diet, exercise, environment and sun protection can help prevent or delay the signs of aging and even extend lifespans.
One important tactic to slowing down the aging of the body is providing antioxidants, essential fatty acids and vitamins through diet. But, according to legitimate scientific studies, the American diet is seriously deficient in providing these critical nutrients to stop or slow down the aging process.1, 2 So, should eating habits be overhauled to correct this deficiency? Experts say that just eating to correct the chronic lack of two of the essential nutrients—vitamin E (400 IU daily) and chromium (50 mcg daily)—would require a daily intake of 5,000 calories; an amount that would lead to massive weight gain and the accompanying contraindicative effects.3, 4 And will 5,000 calories really do it? How many calories will really be needed to provide these nutrients?
Visible signs of aging
Aging is not difficult to detect. The visible signs are lack of hydration, appearance of fine lines and wrinkles, rough texture, hyperpigmentation and thinning of the skin. Your skin is aging right before your eyes, so most people become specifically interested in a targeted strategy for its age management. You can effectively guide your clients to maximum results in this track of care.
To do so, you must know the skin well—as the largest organ of the body, it works 24/7 to maintain a protective barrier between the body and its environment; to protect from the sun, and to act as a depository and dispensary for toxins and acid waste. The skin is abused and overworked.
Until now, the strategy has been to apply topicals as defense against aging, and it's working, thanks to the ingredients developed in recent years. These nurture and exfoliate, soften and hydrate, bringing repair and a new youthfulness to the skin. But, a vast amount of the skin's basic nutrition comes from diet. It is possible to go even further in managing skin aging by improving what is consumed.
The winning team
Can age management programs reach their full potential by addressing only the external aspects of the skin? Many believe that reaching maximum anti-aging potential for clients' skin requires multiple or combination therapies to correct and repair the abuse it experiences. These could include the topical attack, through targeted products; the internal attack, through diet to provide nutritional support for becoming stronger and more youthful; and professional treatments. The combination of these prevention and repair therapies will provide a winning strategy against active aging.
The plan also includes education and communication between clients and a well-informed skin care professional concerning supplements. The skin care professional also recommends appropriate topicals, performs the needed professional services, and educates clients about the supplements that will nourish the skin from within to fit the specific needs of clients.
Informed recommendations. Ethical and caring manufacturers need to fully educate their clients about the supplements they offer, according to the manufacturer's philosophy of health. Skin care professionals should recommend supplements only for the health of the skin and be educated about that type of supplementation. It is also important to suggest further research into supplementation to interested clients. Training from a high-quality manufacturer should be sufficient if a spa wishes to provide supplements within its skin care offerings.
Legal issues. Supplements are typically safe, and are not regulated by the U.S. Food and Drug Administration (FDA) or any other government agency. Also, their recommendation does not require the blessing of a health care professional because they are not medications, merely additional nutrients. Skin care professionals are recommending, not prescribing. However, if a client has health issues, it is suggested that they be referred to their physician for an opinion before adding supplements to a health care regimen. If they have further questions concerning supplementation, refer them to a registered dietician or their physician.
Hiring experts. Most spas that offer skin care services as its primary business won't add a nutritionist or registered dietician when initiating the recommendation of supplements because their sales are designed as support for their skin care services. Overall wellness is usually not a primary focus of the typical spa. However, a trend is on the horizon and actively happening in wellness-focused spas to hire these professionals to provide advice about clients adopting overall lifestyle nutritional strategies. These recommendations are far beyond those regarding supplementation for skin support. However, if a spa's clientele is interested in developing these overall strategies, and the spa wishes its supplement business to be a larger part of its retail sales, they may consider hiring these specialists to enhance this part of its business. Spas that focus on skin care will not usually need these experts.
Contraindications. Generally, there are no contraindications for supplements designed for the skin, although certain vitamin A supplements can be contraindicated for some clients. Recommended skin care professionals should be trained in how to detect and deal with contraindications. Pregnancy and lactation are two contraindications that most training programs will name. Also, as always in the treatment room, when recommending any nutritional supplements and topical skin care products, a client under a physician's care must inform their physician and gain approval for the products' use. A thorough new client sheet and client health alerts on their records should aid a skin care professional in gathering important information, as well as asking the ongoing question, "Has anything changed with your health since I last saw you?"
Testimonials
Estheticians using the combination therapy approach are excited about the results. Josh Maniscalco, lead medical esthetician at the office of Gervais Fechette, MD,
New York, says he will never go back to the old way of treating clients. "It's changed the way I perceive skin care," says Maniscalco. Supplements fly off the shelves because of the physician's endorsement of their benefits, as well as the education Maniscalco provides. But, best of all, with this topical, professional and nutritional synergy of care, the results are obvious, says Maniscalco.
Urszula Targonski, esthetician, Ici Paris, Peachtree City, Georgia, says supplements improve skin conditions noticeably for her clients. "As soon as they try them, they see the improvement and come back for more," she says.
"Every client is a potential purchaser of supplements and we must take the time to recommend to them, to aid them in healing and health. Our society doesn't eat correctly due to the abundance of available processed food. This diet produces acidity in the body that leads to disease, and the supplements change that," says Lena Zaliukaite, esthetician, Abramson Facial Plastic Surgery, Atlanta.
Benefits of supplementation
Taking skin-specific supplements can result in many positive skin changes, such as:
Supplementation can stimulate circulation and prevent blotchiness.
Antioxidants combat free radical cell damage, soothe the skin and calm irritation.
Supplementation can diminish wrinkles, and promote tone and firmness.
Improve the glow and appearance of healthy skin, hair and nails.
Additionally, good quality supplements provide excellent benefits to the overall body. It's only through providing healthful nutrition first for the rest of the body that nutritional support for the skin can be achieved. The skin is the last stop for nutrients.
Choosing a supplement line
The spa must first realize that clients are already purchasing supplements somewhere, so the line must offer unique advantages to its purchase by offering strong efficacy in the area the purchaser is targeting. In this case, that would mean age management, as well as overall health.
There's plenty of hydrating and age management skin care supplements out there that will help keep skin in great shape, but the person choosing the vendor should also resource a supplement to lower inflammation and deliver antioxidants to the facial area in an efficient manner. The supplement should also support the body and skin's inherent ability to remove toxins.
Good age management supplements are a mixture of various natural ingredients that are targeted to benefit skin and body health. All work together to improve the condition of the skin. Of course, supplements should be from a reputable vendor with the appropriate educational and marketing support.
Go the extra mile
You can recommend excellent topical products to your clients, along with professional services, to help reduce fine lines, wrinkles and improve skin texture. But you should consider going the extra mile by recommending supplements to enhance their fight against aging, from the inside out. This combination therapy plan will provide them the tools to fight the visible signs of aging while supporting overall health.
1. J Carper, Stop Aging Now! The Ultimate Plan for Staying Young and Reversing the Aging Process. HarperCollins Publishers, New York (1996)
2. M Lam, Five Proven Secrets of Longevity, Chapter 3, Anti-Aging Nutritional Supplements. Online book www.drlam.com
3. M Lam, Five Proven Secrets of Longevity, Chapter 9, Anti-Aging Diet. Online book, www.drlam.com
4. JF Balch and PA Balch, Prescription for Nutritional Healing. Avery Publishing Group, Garden City Park, NJ (1997)