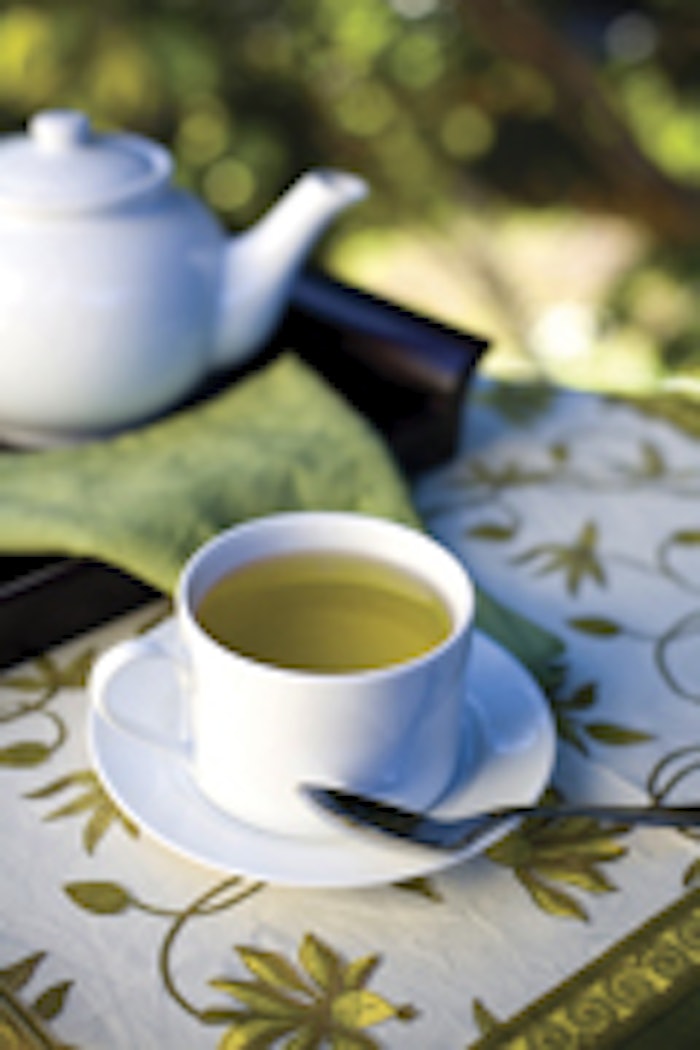 The mystical, restorative properties of the green tea leaf have been touted for centuries. Originating in China, green tea is made from the leaves of the Camellia sinensis plant, similar to black and oolong tea, only green tea leaves are not fermented before steaming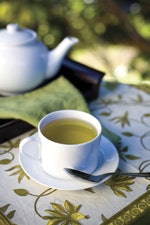 and drying; they remain fresh, which explains their green coloring.1 Although green tea has been popular in Asia for centuries, its acceptance has recently become more widespread in the Western world, where black tea traditionally has been the tea of choice. Green tea only has about 25% of the caffeine content of coffee, but does contain two caffeine metabolites. It also has been credited with a variety of health benefits, although the scientific evidence has yet to provide concrete proof that it is the cure-all some claim.2 It is, however, loaded with polyphenols—noted free-radical fighters—including epigallocatechin gallate (ECGC) in particular—which have been linked to skin cell rejuvenation.3

In the kitchen
     Of course, green tea is most commonly consumed in its most popular form—as a beverage that usually consists of one teaspoon of green tea per six ounces of water. Brewing times and temperatures vary with the variety of green tea used, though usually lower quality green teas are steeped hotter and longer, while higher quality teas are steeped cooler and shorter. If steeped too long, green tea can become bitter and astringent.2
     This healthful, tasty beverage also is beginning to be used by many spas in a variety of different ways, from desserts to sauces and everything in between. At Maroma Resort and Spa in Riviera Maya, Mexico, Oven-roasted Peaches, Cold Green Tea Broth and Spices are served as a main course, as is the Green Tea Poached Salmon offered at The Inn at Perry Cabin in St. Michaels, Maryland. Sundara Inn & Spa in Wisconsin Dells, Wisconsin, features green tea noodles along with steamed veggies and herbs in its Harvest Roll wraps, and for a decadent dessert, check out the Signature Green Tea Ice Cream from Chef Patrick Meany at Stevenswood Spa Resort in Littleriver, California.

In the spa
     Green tea's polyphenols are catechins, which are antioxidants by nature. One of the main catechins in green tea appears to be an effective agent against skin inflammation and cancerous skin changes,1 and these benefits have not been ignored by the spa industry. At The Eurasia Spa in Scottsdale, Arizona, The Ritual of Japanese Soaking features a relaxing tub treatment using green tea and milk to restore moisture to the body and balance to the soul. The Custom Green Tea Fitness Facial at The Spa at PGA National Resort in Palm Beach Gardens, Florida, features a green tea peel for silky smooth skin; and at Skindulgence, The Urban Retreat, in Port Moody, British Columbia, Canada, the Body Bliss service includes a green tea salt scrub for a renewing experience. The White and Green Tea Facial at The Lodge at Woodloch in Hawley, Pennsylvania, features essential oils and an antioxidant infusion for mature skin; and the Spring Inspiration Mandara Journey from the Four Seasons Hotel Bangkok in Thailand, includes a green tea scrub, splash and bath to induce deep relaxation. Also, at Lake Ozark, Missouri's Spa Shiki, the full-day Shiki Bliss experience kicks off with a Green Tea Facial; and Houston's ZaSpa's Serendipity Ritual includes an indulgent green tea body wrap as well as green tea to sip.
     In skin care lines, the inclusion of green tea can illicit a variety of responses, ranging from anti-inflammation to aromatherapeutic benefits. Naturopathica's Green Tea Wasabi Mask delivers softer skin devoid of irritation and free-radical damage, while Carol Priest Natural Cosmetics' Intense Green Tea & Vitamin E Facial Day Balm hydrates, soothes and protects skin from free radicals. Give your clients a healthy treat with Bissinger's Green Tea Gummy Pandas, which are a yummy way to provide antioxidants; and Chellá Professional Skin Care's Chell-x Complex, a component in its skin care products, combines green tea, grape seed extracts and pomegranate to protect and defend the skin.

Ancient, yet revolutionary
     Whether sipping, savoring or indulging in green tea's benefits, your clients can enjoy this polyphenol dynamo in your spa in a variety of ways. Ancient, yet revolutionary, it may take decades to identify every body benefit this leaf can provide, but don't wait that long to consider including it on your skin care and cuisine menus. 
1. www.webmd.com/news/20000817/green-tea-could-be-good-for-your-skin-study-finds (Accessed Jan 7, 2008)
2. en.wikipedia.org/wiki/Green_tea (Accessed Jan 7, 2008)
3. www.biopsychiatry.com/greentea (Accessed Jan 7, 2008)
4. www.teamuseum.org/tea.php (Accessed Jan 11, 2008)
Signature Green Tea Ice Cream
From Chef Patrick Meany of Stevenswood Spa Resort, Littleriver, California

Makes 4 servings

1/4 cup very hot water
1 tablespoon concentrated green tea powder
2 cups heavy cream
1/3 cup sugar
1/4 cup milk

1. Pour very hot water into dry tea powder in an appropriate bowl and set aside in the refrigerator to chill.
2. Fire the cream with milk in a large saucepan over low heat until small bubbles form around the edge of the pan. Do not allow cream to come to a boil.
3. Remove from heat and gently stir in the sugar to dissolve.
4. Cool to room temperature.
5. Gently mix the green tea mixture and the cream/sugar mixture, and chill in the refrigerator overnight.
6. Freeze in one or two batches in an ice cream machine, according to the manufacturer's instructions.
7. When finished, the ice cream will be soft and ready to eat.
 Recent cuisine columns and articles:
Spa Cuisine: Blue Love by Cathy Christensen--February 2008
The Stomach and the Soul by Cathy Christensen--January 2008