One of my very favorite baby pictures of my eldest son features his little 8-month-old self sitting in his high chair sporting green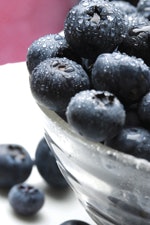 jammies dotted with jungle animals, and he is absolutely covered in blueberries.
       He has always loved them and still eats them like they are small blue pieces of candy. Little does he know, the blueberry is one of the furthest things from a sugary confection, and is in fact one of the elite members of an exclusive club known as the superfruits.
       This category of functional fruits provides a combination of nutrient richness, antioxidant strength, health benefits and manufacturing versatility.1 Not only is the blueberry good for internal functions, it also provides incredible anti-aging benefits and can even help relieve skin conditions.
       Several varieties of this native North American berry exist, and all are heralded for their antioxidant content, including highbush and wild blueberries. Maine is the largest producer in the world, supplying North America with 25% of all of its blueberries.1

In the kitchen
       The blueberry's healthiness is matched only by its delicious, sweet taste, and it is often included in a variety of dishes and toppings, such as jellies, jams, pies, muffins, snack foods and cereals.1 It is also a favorite of spa cuisine chefs due to its incredible taste and free-radical fighting notoriety.
       At Green Mountain at Fox Run in Ludlow, Vermont, guests can kickthe day off right with Old-fashioned Oatmeal-Blueberry Pancakes, and Kohler Waters Spa in Kohler, Wisconsin, features a Flax Energy smoothie that blends blueberries with other fruits and flaxseeds for an energy-boosting snack. Sanctuary Camelback Mountain Resort and Spa in Paradise Valley, Arizona, takes a different twist on the fruit by pairing a blueberry glaze with three peppercorn-crusted duck breasts as an entrée, and for another unique and lively accompaniment, see Blueberry and Mango Chutney from Executive Chef Todd Berry at The Westin Kierland Resort & Spa in Scottsdale, Arizona, home of Agave, The Arizona Spa.

In the spa
       Along with their age-fighting abilities, blueberries also help revitalize the skin and speed up healing time for skin peels. They have shown an ability to reduce scarring in wound and burn treatments as well,2 and blueberries have been sited as a weapon against the onslaught of eczema due to the chlorogenic acid content of the plant's leaves, which acts as an antimicrobial agent.3
       At Sanctuary Day Spa in Aptos, California, the Blueberry Body Wrap combines blueberries, kelp and herbs toaid in cellular metabolism, and the Blueberry Jessner Peel offered at Natural Balance Massage & Wellness Center in Brooklyn, New York, is designed to dry out acne while using blueberry extract to help reduce the inflammation normally associated with peels. The Blueberry Enzyme Peel Facial at Oakland, California's Isis Health Center cleanses and polishes by sloughing damaged skin cells, and The Cliff House Signature Facial from The Cliff House Resort & Spa in Ogunquit, Maine, rejuvenates and restores skin using the spa's all-natural blueberry skin care products, including a take-home Blueberry Smoothie Mask.
       Skin care products are also hooked on this blue wonder and use it in a variety of ways. CosMedix offers a Blueberry Jessner Peel as a pre-peel application and its Blueberry Smoothie as a refreshing, exfoliating scrub. The Aspen Club & Spa in Aspen, Colorado, provides its own signature Bell Mountain Wild Blueberry Peel to help firm and rejuvenate environmentally damaged skin, and the Blueberry Antioxidant Mask from MyChelle hydrates and fights free-radical damage on stressed skin. Éminence Organic Skin Care also offers a Blueberry Soy Night Recovery Cream that has age-defying and rejuvenating overnight affects.

Get the blues
       Clients will benefit from any and every way you provide this fruit on your spa's menu. Truly living up to its name as a superfruit, the blueberry satisfies the taste buds, the skin, internal health, and is a fun, easily enjoyed treat for all ages.
REFERENCES
1.  en.wikipedia.org/wiki/Blueberry
2.  "Blueberry as Both a Superfood and Skin Care Treatment" by David Maillie, www.healthguidance.org/entry/4654/1/Blueberry-As-Both-A-Superfood-And-Skin-Care-Treatment.html
3.  "Eczema Skin Care—Get Better Skin Now With 5 Easy Tips" by Sylvia Johnstone, ezinearticles.com/?Eczema-Skin-Care—Get-Better-Skin-Now-With-5-Easy-Tips&id=673164
4.  www.blueberry.org/blueberries.htm
(All accessed December 12, 2007)
Blueberry and Mango Chutney
From Todd Berry, Executive Chef, The Westin Kierland Resort & Spa,
Scottsdale, Arizona


Makes 4 servings
1 tablespoon olive oil
1 minced shallot
1/4 cup rice wine vinegar
1/4 cup sugar
1/2 cup honey
1 pint fresh blueberries
1 dried mango
1 pinch cayenne pepper
2 tablespoons fresh mint, chopped

1. In medium sauté pan, heat olive oil over medium-low heat.
2. Add shallot and sweat until soft.
3. Add vinegar, sugar and honey. Stir until incorporated.
4. Increase heat to medium-high and add blueberries, mango and cayenne pepper.
5. Reduce until mango is soft and sauce is at desired thickness.
6. Remove from heat and stir in mint.
7. Serve with pork, chicken or white fish, and pair with your favorite side dishes.