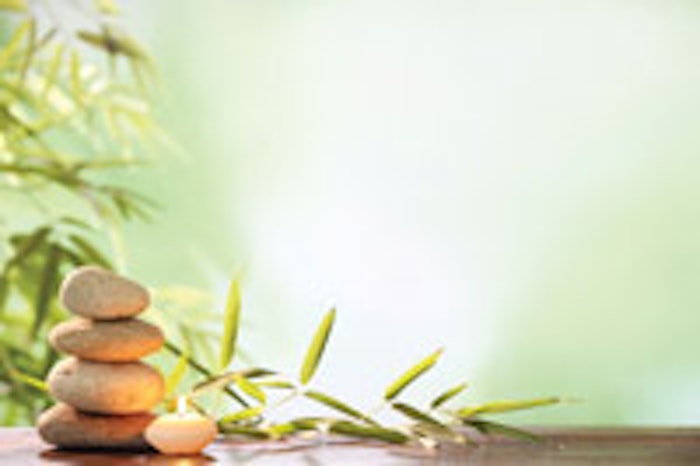 Skin care professionals are in the business of wellness; but, do you embody this not only in your personal life, but also internally and externally in your business? Wellness is more than a buzzword; it's a culture for many people and also a way to make a lasting, valuable boost to your bottom line.
The state of wellness
New research from the group The State of Worksite Wellness in American via a national survey research project named The States of Wellness proves that many businesses and corporations are making efforts to salvage their employees from burnout.
87% of business leaders perceive the benefits of worksite wellness.
Employers overwhelmingly agree that worksite wellness initiatives help workers develop healthier lifestyles (96%), increase productivity (84%), lower health care costs (84%) and reduce absenteeism (78%).
As named by employers, the top three health challenges facing employees were: obesity (52%), stress/mental health (51%) and lack of exercise/fitness (51%).
The project findings were released in December 2012 and included a nationwide online survey of human resource (HR) executives. According to Tom Mason, who oversaw the project, "Employers are realizing that wellness initiatives represent a solid business strategy with myriad benefits. It wasn't that long ago when a business might dismiss wellness as having an unproven return-on-investment (ROI) or being beyond its administrative capacity."
Your role in workplace wellness
HR departments are busy and, although many HR execs realize corporate wellness is important, they often spend their time putting out personnel fires, making it a challenge to place a concentrated focus on wellness. Make it easier to encourage wellness by positioning your skin care facility as a strategic wellness partner for businesses in your area.
Become an expert on corporate wellness. Before reaching out to companies in your area, become an expert on corporate wellness concepts by familiarizing yourself with current research and articles. Become knowledgeable about the benefits of launching wellness initiatives so you are armed with facts to overcome objections. Being current on this information will boost your confidence when you become ready to start contacting these organizations and, by having the answers ready, they will be more likely to trust you.
Consider creating a co-op of resource partners. Let's say your facility offers skin care and massage services, as well as hair and nails. That's a great start, but there is much more to a complete wellness regimen. There's a good chance you already know and trust certain chiropractors, acupuncturists, nutritionists and fitness instructors. Gather information from trusted resources and create an integrative network so you can spearhead an initiative that offers the company an easy way to encourage wellness in their employees.
Consider charging a fee or splitting costs with the providers you select. If you can go in with a comprehensive on- and off-site plan and a full list of resources, you have the opportunity to help the company begin to focus on wellness. Use your initial discussions with corporations to determine their needs, and then figure out ways to assist them in reaching their goals, while at the same time benefiting your skin care facility.
Offer gift certificates as employee rewards. Ask the HR person if rewards are purchased for employees. If so, offer gift certificates from your facility and your partners as employee perks. Work it out so you receive a percentage of any certificates you sell for your strategic wellness partners.
Create employee packages that benefit businesses located near your facility. Many jobs result in certain ailments. Do your homework and figure out what needs the company you are approaching will most likely have, and then customize packages and services to address these needs. For example: There's a tire manufacturing plant near your skin care facility. Through research, you figure out that many of the employees develop carpal tunnel, have skin issues due to chemical exposure and work nontraditional shifts. With this information, you can create packages that specifically address their issues and work within their schedules. Respond to their concerns fully in your materials, and explain the benefits of utilizing the services you select.
As professionals in a wellness-based industry, you surely agree that a focus on wellness is important and offering wellness programs to other organizations may be a viable new revenue source for your business. However, many skin care facility owners haven't considered the importance of wellness for their employees or clients. If this is the case, then the following tips are a great place to start.
Wellness on the inside: your team
As leaders, it is important to eliminate incongruences in your internal (employee) and external (client) communications. It's doubtful that Nike would ever consider partnering with a leading potato chip company on a health promotion. If you are in the business of well-being, you must make it your business to ensure everything you do supports this intention.
Your team is the backbone of your facility, so be sure to encourage their wellness first. Obviously, not all businesses can afford to build a new cafeteria or a state-of-the-art gym for team members to access, so optimize what you have.
One often-overlooked area you can start with is the break room. If an odd assemblage of dirty coffee cups, magazines from 2009, fat-laden snacks and a broken-down fridge filled with moldy-somethings sounds familiar, then you've got a juicy opportunity to enhance the space you already have.
Become strategic around your break room. This is where your skin care professionals go to recharge their batteries, so make sure it is clean, stocked with healthy snacks and that there is access to upbeat information. Transform the break room with the intention of incorporating a purposeful focus on health and well-being. Ideas to consider include the following.
Make healthy snacks available, and encourage healthy recipe sharing and sampling.
Detoxify by removing negative communications, clutter and chemicals.
Provide upbeat information regularly, including positive client comments, team awards, sales info and re-booking successes.
Keep the space clean and fresh-looking and -smelling.
Provide the latest research tips and articles in an education hub to help skin care professionals remain educated and confident about the services they are providing.
Create a one-a-day program during which an easy-to-incorporate health tip is encouraged and posted daily. Examples: "Today, drink four full glasses of water during work hours," "Today, stretch for five minutes in between each treatment," or "Today, eat a fresh fruit or vegetable as a snack." The ideas should be easy and relatable.
Ask employees what they would like to see in the break room to enhance their well-being.
Be more strategic with incentives. Money is not the only motivator when you are managing skin care professionals. Instead, incentive programs keep morale up and bring a healthy dose of competition. Following are some healthy ideas.
Keep rewards healthy-minded by partnering with yoga studios, bookstores, farm-to-table restaurants, organic gardeners and others to help communicate your wellness intention. For example, bring in yoga pros to offer meditation and stretching classes weekly or monthly, or arrange for your facility to work with an organic farm co-op for fresh veggie deliveries weekly.
Encourage spa/skin care treatment swaps with spas and centers in your area. Several destination spas do employee swaps in order to share information and ideas. The trades are not only a great incentive for the personal well-being of therapists, they also present the opportunity to bring new ideas back to each spa.
Trade services internally. How many times have you heard employees say: "I have not had a massage/facial in three years?" Make services available and become proactive in making sure therapists are taking advantage of that benefit. Treatment trades are particularly important when adding new products and services.
Depending on your location, make bicycles or a stationary bike available to team members for riding around the area or for taking time for fitness in the break room.
If your facility offers fitness classes, allow therapists a special rate on classes and/or free classes ... or partner with a local gym.
Offer friend and family nights. These events could focus on the launch of a new product line. Allow bookings at special rates for friends and family, set up wellness stations and offer product giveaways.
Support your message
Along with working with local corporations on wellness intiatives and embodying wellness in your own workplace, don't forget the importance of taking care of yourself. Leaders must practice what they preach. People will follow what they see, so don't let them see a leader who is not sleeping, not working out and eating unhealthy foods. As leaders, it is important to embody health and well-being, so ensure your actions support your skin care facility's internal message.

After 15 years in corporate America, Debra Koerner followed her passion for wellness and co-launched imassage, Inc., began consulting in the spa industry and became the executive director of the Destination Spa Group. She is also the host and executive producer of The Journey into Wellbeing television series on PBS. She can be reached at dk.journeyintowellbeing@gmail.com.