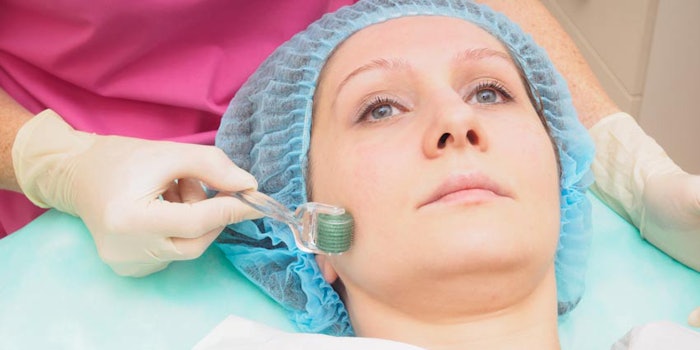 Can estheticians perform microneedling unsupervised? The answer to that question, like many regulatory issues in the medical spa industry, can vary depending on the state in which an esthetician practices. For the much of the United States, however, the answer is likely... "no." 
Microneedling, also known as collagen induction therapy (CIT), is a minimally invasive treatment used to rejuvenate the skin. A device with fine needles creates tiny punctures in the top layer of the skin, which triggers the body to create new collagen and elastin.  
Is This Medicine? 
An esthetician's license does not permit him/her to perform medical treatments; he/she may only perform procedures for the purpose of beautification. Many medical spas look at this standard and assume that estheticians can perform microneedling; however, many state regulatory boards are specifically classifying microneedling as a medical treatment, regardless of whether the needles penetrate the outer layer of the skin. 
"This isn't new—estheticians cannot penetrate the skin." Kristy Underwood, executive director of the California Board of Barbering and Cosmetology
Illinois and California, for example, specifically listed microneedling as medical treatment in 2016, because they classify the device as medical equipment. At the American Med Spa Association (AmSpa) Medical Spa Boot Camp in San Jose, California, last year, Kristy Underwood, executive director of the California Board of Barbering and Cosmetology, gave additional details as part of a 30-minute Q&A. 
"This isn't new—estheticians cannot penetrate the skin," said Underwood. "They also can't use any metal needles, period. [California] estheticians are prohibited from using metal needles." She added that they cannot use anything that might be disapproved by the U.S. Food and Drug Administration (FDA), cautioning people against a certain device until more information came out from the federal government related to its use. 
Watch the full Q&A session in the video below. 
Supervision and Delegation of a Physician
In some states, however, there are ways in which individuals holding esthetician licenses can perform certain medical procedures. As noted in the video update above about the Illinois regulation, for example, the state differentiates between an esthetician and a person who is performing medical procedures under the supervision and delegation of a physician. 
This means that if the patient is examined by a physician or a mid-level practitioner (such as a nurse practitioner or a physician assistant), then an individual working in a medical spa may perform microneedling. 
It is very important to note for estheticians that if you are going to do this procedure under this caveat, you cannot represent yourself as an esthetician while doing so. This means flipping over your esthetician name tag and taking down any certification you might have hanging on the wall. Literally. 
The state allows you as a person to perform this procedure under proper medical supervision, however, your regulatory board does not cover this under your license.  
What Counts as Supervision? 
This sounds onerous, and it certainly involves more of a pain point than a facial or another skin care service; however, depending on your state, this does not have to be a deal-breaker for offering microneedling services in your medical spa. The supervising physician doesn't have to be in the room watching the professional perform the procedure and, in many states, does not have to see the patient before every treatment—just the first one. Many fully compliant medical spas don't even have a physician on-site every day, but instead, pick a day or two for new patient exams. 
Know the Law 
Regulations can vary greatly, depending on where your business operates, so it's very important to know the laws specific to your business. When in doubt, consult an attorney in your state familiar with esthetics.