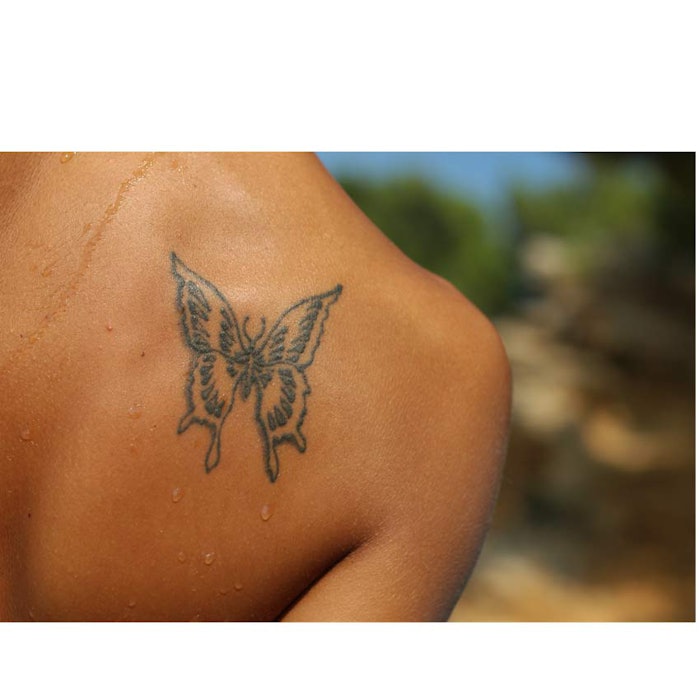 There is a growing trend of people wanting their ink to be erased. According to research firm IBISWorld, spending on tattoo removals is still growing and is expected to reach $83.2 million in 2018. Below are three options for tattoo removal recommended by the American Society for Dermatologic Surgery (ASDS), one that can be adopted in a medical spa and two that take place in a medical facility. Keep this information handy to educate clients who want to remove their ink.
1. Dermabrasion
Using a rapidly rotating device, a dermatologic surgeon removes the surface and middle layers of the tattoo. This outpatient procedure can be done at a lower cost than other treatments, and the ASDS considers it a tried-and-true method in many cases. However, dermabrasion may cause various minor side effects, including:
 Redness, swelling or bleeding

 Changes in skin color including

hyperpigmentation

,

hypopigmentation

or

blotchiness

 Infection, although rare, may occur.

Dermabrasion that is performed too deeply may cause scarring.
2. Laser Therapy
Laser therapy — also called laser surgery and laser rejuvenation — has become the preferred treatment for tattoo removal since it offers a low-risk option with minimal side effects, according to the ASDS. High-intensity laser beams break up the pigment of the tattoo, and the type of laser used generally depends upon the pigment colors.
Different lasers or different settings of the same laser are needed for different colors, and a Q-Switched laser is commonly used to remove tattoos. The laser selectively targets and removes the tattoo without damaging the surrounding tissue, which the ASDS said greatly decreases scarring. The downfall is that most tattoos do require multiple treatments.
The ASDS said side effects are generally minor, but may include:
Skin discoloration

Infection
Lack of complete pigment removal
Some scarring
A raised or thickened scar may appear three to six months after tattoo is removed
3. Surgical Excision
Surgical excision, or surgical removal, is a more invasive option for tattoo removal, although it is highly effective for smaller tattoos and offers improved precision, according to the ASDS. However, it is more costly than the other two procedures. The cost for surgical tattoo removal can range from several hundred dollars up to thousands of dollars. Because tattoo removal is considered an esthetic or cosmetic procedure in nature, it generally is not covered by medical insurance. Some small tattoos might be good candidates for surgical removal, while others are considered too large to remove with a scalpel. The dermatologic surgeon removes the tattoo using a scalpel and closes the wound with stitches. This technique proves highly effective in removing some tattoos and allows the surgeon to remove the inked areas with great precision, the ASDS said.
Side effects are generally minor, but may include:
Skin discoloration

Infection
Lack of complete pigment removal
Some scarring
A raised or thickened scar may appear three to six months after the tattoo is removed
What your clients need to know
According to the ASDS, here are some things to note:
P

rofessional tattoos made with some of the newer inks and pastel colors may be difficult to remove entirely.

Removal of homemade tattoos, often applied with an uneven hand, may be more difficult to remove.
Deeper blue and black ink colors are particularly challenging.
Newer tattoos often tend to be more difficult to remove than older ones.
Complete tattoo removal is not always possible.
Some level of scarring or skin color variation is a strong possibility. 
When to Pause
Tell your client to not consider tattoo removal if she has certain autoimmune system disorders, pigmentation problems, active acne, warts, unstable diabetes, active rosacea or other undiagnosed lesions, the ASDS said. 
What to Suggest After the Procedure
A client's skin may feel sunburned and tight following tattoo removal. Suggest a moisturizing cream or lotion and direct clients to avoid the sun. Remind them it is important to wear a sunscreen with an SPF factor of 30 or higher to avoid excessive scarring. The application of cold packs and taking prescribed pain medications or antibiotics will assist in continued recovery, the ASDS said.
These are just a few tips to help begin the conversation of educating your client about tattoo removal. If your business is not equipped to offer these types of treatments, be sure to recommend to your client a consultation with a specialist who is board-certified in dermatology or in another specialty with equivalent training and experience. For tips on finding a dermatologic surgeon in your area, visit www.asds.net.
Further reading: Are Tattoos Toxic?