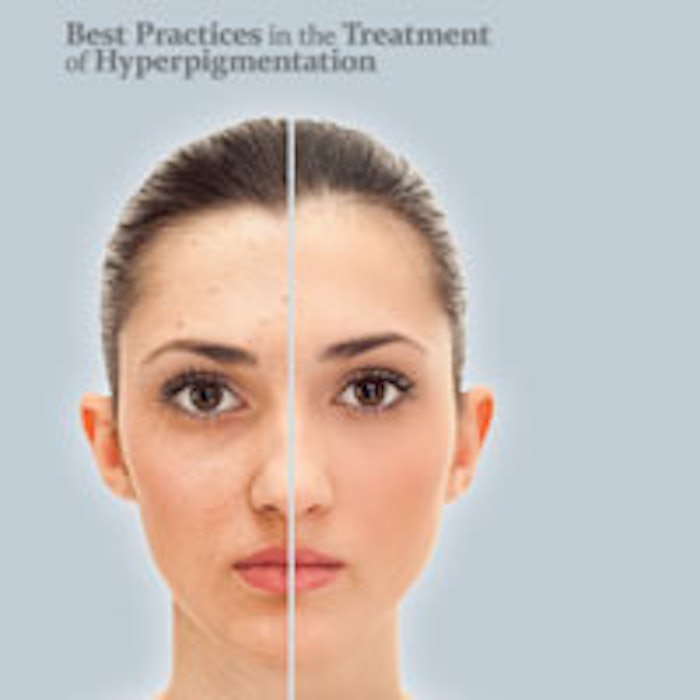 Hyperpigmentation is not only a prevalent condition; it's one that can also be particularly stubborn to treat. In fact, both skin care professionals—who lament the challenges of treating hyperpigmented skin—and clients—who suffer through years of unsuccessful attempts at eliminating it—are challenged by this condition.
Hyperpigmentation affects women and men of all ethnic groups, and features areas of darkened skin. Although it is most common in middle age and beyond, hyperpigmentation can also be seen in much younger clients. Directly caused by either overactive melanocytes, the cells responsible for producing melanin (melanotic hyperpigmentation), or a proliferation of the melanocytes themselves (melanocytotic hyperpigmentation), hyperpigmentation presents no medical threat. However, it can sometimes be a symptom of disease or illness. What's more, individuals with facial hyperpigmentation may become so concerned with the aesthetic implications of the condition that depression and anxiety may ensue. Thus, the condition deserves serious attention, including a diligent approach to skin analysis coupled with a willingness to apply creative treatment approaches.
Causes of hyperpigmentation
There are three main types of hyperpigmentation, each of which is categorized by their cause.
Post-inflammatory hyperpigmentation (PIH). This occurs following skin injury from acne lesions, psoriasis, burns, friction and even certain professional skin care treatments. It begins to fade as the skin regenerates itself—a process that can take months or more. On the positive side, PIH generally responds well to treatment.
Lentigines. These are commonly known as liver spots or age spots. Although they do become more prevalent with age—they are found on 90% of light-skinned individuals over the age of 601—they are not directly caused by the aging process. Rather, lentigines are related to UV exposure.
Melasma. This is caused by hormonal fluctuations, common, for example, during pregnancy, with thyroid dysfunction, and through use of birth control pills and hormone replacement therapy. It affects an estimated five to six million women in the United States alone and can often be difficult to treat.2
Although not considered a main cause, certain illnesses, as well as the use of certain prescription medications, may cause hyperpigmentation.
Skin analysis
To increase the likelihood of successful treatment, a detailed skin analysis is crucial. Not only should skin care professionals investigate the severity of the condition, they should also look for clues as to the origin of the problem to determine if a separate issue must first be treated. Although the following steps are standard in the skin analyses practices of many skin care professionals, their importance in the evaluation and treatment of hyperpigmentation should be underscored. Subjective information collected from clients helps pinpoint a lifestyle, medical or genetic cause of hyperpigmentation. Key topics to investigate include the following.
UV exposure. Questions surrounding these topics may pinpoint UV exposure as a cause of hyperpigmentation, while determining if the skin care professional should be on the lookout for signs of melanoma.
Use of tanning beds and unprotected UV exposure
Frequency of sunscreen usage
Likelihood of burning when exposed to the sun
Current and past medical conditions. There is a wide array of medical conditions that may contribute to hyperpigmentation, including Addison's disease, Cushing's disease and hypothyroidism.
Current or recent pregnancy, or current or recent use of birth control pills or hormone replacement therapies. Such questions may identify a hormonal cause of hyperpigmentation. If hyperpigmentation appears in a symmetrical, masklike manner, and the client confirms a hormonal cause, professionals can be nearly certain of melasma.
All oral and topical medications used within the past six months, and prescription and over-the-counter products used to specifically treat hyperpigmentation. Hyperpigmentation is a side effect of a number of medications, including certain antibiotics, cancer drugs, antiseizure drugs and more. Additionally, some topicals used in the treatment of hyperpigmentation, such as hydroquinone, have the potential to cause paradoxical hyperpigmentation.
Current or recent dermatological or plastic surgery consultations and treatments. When a medical professional is involved in the treatment of the client's condition, it's important that the client regularly communicate updates regarding prescriptions and diagnosis so the skin care professional can ensure the most appropriate treatment is being implemented. Some clients may choose to share a copy of their dermatological medical records with their esthetician.
Anticipated results
The following options present an opportunity to set realistic expectations while helping skin care professionals determine how aggressively to treat conditions. Of course, in-depth methods of analyzing the overall condition of skin are now available. Although these comprehensive systems can certainly be beneficial, an investment in expensive equipment is not a prerequisite to the successful treatment of hyperpigmentation.
Fitzpatrick skin type. Treatment of hyperpigmentation is heavily determined by the client's Fitzpatrick skin type, with lighter skin being easier to treat, and those Type V and higher requiring a more delicate approach.
Wood's lamp. For those with a Fitzpatrick skin type lower than V, a Wood's lamp is extremely beneficial in helping to determine the severity of hyperpigmentation, and whether it is isolated to the epidermal layer or goes deeper to the dermis. When the dermis is involved treatment becomes more challenging because topicals are usually ineffective.
Magnifying lamp. With the skin under a magnifying lamp, most locations of hyperpigmentation can be determined, as can patterns in its appearance. Additionally, the use of this tool allows the skin care professional to determine other issues that may be resolved as part of the treatment protocol. If sensitive skin is determined, active ingredients proven to cause irritation should be avoided.
Treating the condition
The field of ingredients and treatments proven effective in reducing hyperpigmentation has expanded significantly within the past 10 years. This development improves the likelihood that even those with challenging cases can realize improvement. There are two categories of treatment: topical agents and nonsurgical skin procedures. Although good results can be achieved using either approach, the best results are accomplished via a combination of the two.
Most commonly, active ingredients in topical formulations work by affecting tyrosinase, the enzyme found in melanocytes that stimulates the production of melanin. Such ingredients are beneficial when melanin production must be regulated, as in melasma, in which the ongoing use of a skin lightener is necessary. When excess pigment production is no longer an ongoing issue, discoloration may simply need to be cleaned up. Such circumstances are best treated through professional treatments and the use of alpha hydroxy acids (AHAs) or retinol to exfoliate and rejuvenate the skin. Among the topical agents available to skin care professionals for the treatment of hyperpigmentation are the following.
Hydroquinone. This is frequently referred to as the gold standard for hyperpigmentation and with good reason: It has been used for more than 50 years and is the only U.S. Food and Drug Administration (FDA)-approved product for skin lightening. It is often formulated with antioxidants, retinoids and hydroxy acids to improve results. Unfortunately, it can be irritating to certain individuals and may cause serious reactions when used in high concentrations.
Azelaic acid. This was developed for the treatment of acne. However, it has proven to be beneficial in the treatment of hyperpigmentation, especially PIH from acne lesions.3 In one study, it demonstrated results similar to 4% hydroquinone, but without its side effects.4
Kojic acid. This is a naturally occurring derivative of certain fungal species that features an efficacy similar to hydroquinone. In fact, hydroquinone and glycolic acid can produce better results when kojic acid is added to the formulation.5 The drawback is that it has the potential to cause contact dermatitis.6
Mandelic acid. This AHA is derived from almonds and is used in the treatment of several skin conditions, including all types of hyperpigmentation. It is often combined with salicylic acid and administered as a peel, in which case it has fewer side effects than a glycolic peel and has demonstrated better efficacy.7
Niacinamide. Instead of affecting tyrosinase, niacinamide works by preventing the transfer of melanin to keratinocytes, the cells in the outermost layer of the skin. An active form of niacin (vitamin B3), it has been shown to significantly decrease hyperpigmentation,8 including melasma,9 and is associated with only mild side effects.
The effectiveness of a topical is highly determined by the vehicle that is used in the formulation. Melanocytes are located at the basal layer of the epidermis and, therefore, absorption is essential to efficacy. By combining topicals with nonablative professional procedures, such as microdermabrasion, laser skin resurfacing, intense pulsed light (IPL), radio frequency and superficial chemical peels, as well as ablative procedures, such as dermabrasion, laser treatments and medium-to-deep chemical peels, better results can be garnered more quickly. Of course, care must be used when implementing ablative procedures. Melanocytes are dendritic cells, meaning they have tentacles, or dendrites, that extend their reach. Not only can the inflammation caused by some of these procedures lead to greater hyperpigmentation, they can also disrupt dendrites, thereby re-stimulating hyperpigmentation.
Prevention is key
With all clients, especially those undergoing treatment for hyperpigmentation, a discussion about preventive measures is vital. The necessity of daily sunscreen application cannot be emphasized enough. Too often, clients are the cause of recurrent hyperpigmentation due to a nonchalant attitude toward sun exposure.
Furthermore, following treatment for hyperpigmentation, a more focused approach to daily skin care should be implemented. Clients can much better maintain the positive effects of treatment through the use of professional skin care product lines that include proven active ingredients coupled with effective delivery systems. As is recommended for all individuals, a regimen involving four steps—cleanse, exfoliate, moisturize and protect—should be standard.
REFERENCES
1. SJ Day, Understanding Hyperpigmentation, A continuing medical education (CME) Monograph (Jan 15, 2004)
2. AG Pandya and IL Guevara, Disorders of hyperpigmentation, Dermatol Clin 18 1 91–98 (Jan 2000)
3. AS Breathnach, Melanin hyperpigmentation of skin: melasma, topical treatment with azelaic acid, and other therapies, Cutis 57 1 Suppl 36–45 (Jan 1996)
4. LM Baliña and K Graupe, The treatment of melasma. 20% azelaic acid versus 4% hydroquinone cream, Int J Dermatol 30 12 893–895 (Dec 1991)
5. JT Lim, Treatment of melasma using kojic acid in a gel containing hydroquinone and glycolic acid, Dermatol Surg 25 282–284 (Apr 1999)
6. M Nakagawa and K Kawai, Contact allergy to kojic acid in skin care products, Contact Derm 32 1 9–13 (Jan 1995)
7. VK Garg, S Sinha and R Sarkar, Glycolic acid peels versus salicylic–mandelic acid peels in active acne vulgaris and post-acne scarring and hyperpigmentation: A comparative study, Dermatol Surg 35 59–65. (Dec 2008)
8. T Hakozaki, et al, The effect of niacinamide on reducing cutaneous pigmentation and suppression of melanosome transfer, Br J Dermatol 147 20–31 (Jul 2002)
9. J Navarrete-Solis, et al, A double-blind, randomized clinical trial of niacinamide 4% versus hydroquinone 4% in the treatment of melasma, Dermtol Res Pract (Epub) (2011)
Ahmed Abdullah, MD, is CEO, founder and formulator for Lexli International, Inc.,a line of professional aloe-based skin care products. A board-certified plastic/reconstructive surgeon and a leading aloe researcher, Abdullah is an expert on the restorative and medicinal effects of aloe vera, and travels the world educating licensed skin care professionals and consumers alike about the proper ways to utilize aloe in skin care applications. He is an associate clinical professor in plastic surgery at the University of North Dakota School of Medicine and a member of the International Aloe Science Council (IASC). A diplomat of the American Board of Surgery and the American Board of Plastic Surgery, he serves on the ethics committee of the North Dakota Medical Association and is a fellow of the International College of Surgeons.