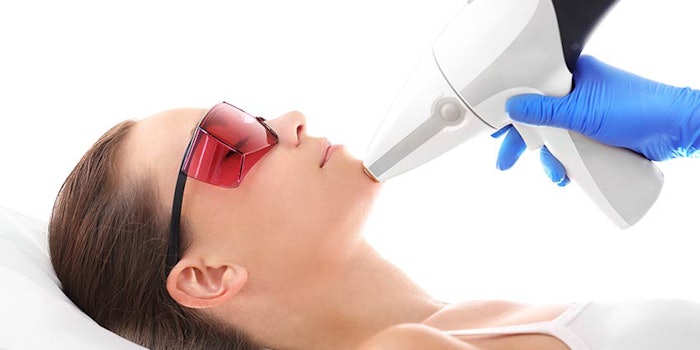 There was a time when the word "laser" would conjure images of intergalactic battles or super spies. Today, however, it's just as likely to be associated with beautiful skin and efficient hair removal—an association that is likely to keep on growing.
According to a new report from Data Bridge Market Research, the global esthetic/cosmetic lasers market is expected to reach a CAGR of 10.4% during the 2017-2024 forecast period.
Related: How to Laser for All Skin Colors
The market accounted to $696.95 million in 2016. Growth drivers include an aging population; an increase in the adoption of non-invasive esthetic procedures; increased disposable income; technological investments; and increasing beauty consciousness, among others.
Potentially hindering growth, however, are sever safety regulations and the lack of reimbursement for cosmetic laser-based procedures.
The market is segmented by type: standalone lasers and multiplatform lasers. On the basis of application, segments include hair removal; skin rejuvenation; vascular lesions; acne and scars; pigmented lesions and tattoo removal; and leg and varicose veins. The end user market is segmented into private clinics, hospitals, cosmetic centers and medical spas.
The report covers data from 28 countries across multiple geographies, including market shares for Europe, North America, Asia Pacific, South America and the globe; North America is anticipated to have dominated the market in 2017.
Major players have adopted various strategies such as new product launches, clinical trials, agreements, partnerships and acquisitions to solidify their place in the highly fragmented market.