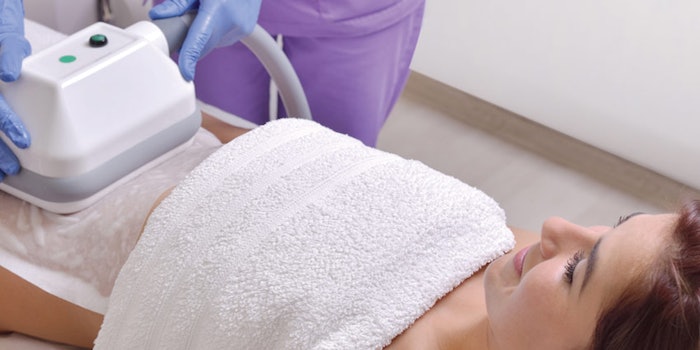 Most of us, practitioners and clientele alike, have that stubborn place in our body that we just can't tone no matter how hard we work out. This used to be oddly camouflaged with clothing in years past, but modern technology has allowed us to slim those trouble spots for good.
Medical spas today are incorporating new and exciting technology that allows practitioners to remove unwanted fat non-invasively, often with heat or cold. The problem, of course, is that many spa professionals do not understand these devices well enough to speak to clientele about them and educate them on their choices. If you can't keep track of which device does what, possibly because they are all named something with sculpt or shape, provided here is a guide to some of the most popular medspa sculpting treatments.
Buyer Beware
It is important to note that with many non-invasive sculpting technologies, major fat reduction is not feasible. Therefore, they are typically recommended for those with a minimal amount of fat. "In the non-invasive arena, a lot of the results are dependent upon the technician doing the treatment, as well as on patient selection. If a facility is using a non-invasive sculpting device on an obese person, that patient will not be happy. Non-invasive sculpting achieves the best results when it is done on a person who needs a small amount of reduction in one area and when it is done by a technician who has advanced training on that machine," explained Lisa Jenks, M.D., owner of Genesis MedSpa.
1. Cryolipolysis
Lipolysis is the dissolution of fat cells by nonsurgical means, and cryo is extreme cold, leading to a treatment that dissolves cells with extreme cold. Often known through the trade name CoolSculpting, cryolipolysis involves placing fat between two panels that cools it to +5 to -11° celsius to cause cell death of subcutaneous fat tissue without damaging the outer layers of the skin. The dead fat cells are excreted through the liver after several weeks, often allowing clients to not see the full results until three months post procedure.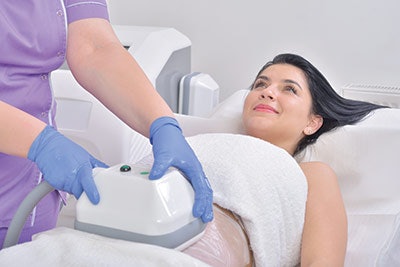 "Right now, the standard by which all others are measured is still cryolipolysis through CoolSculpting. CoolSculpting, while not for many patients, does offer excellent results in the right patient population, and they have nearly a decade of clinical success behind them," noted Alan Durkin, M.D., plastic surgeon and owner of Ocean Drive Plastic Surgery & Medspa.
Average fat reduction comes in around 20-25%, with short-term side effects being pain, bruising, redness and tenderness. It should be noted that a small percent (<1%) of the population experience paradoxical adipose hyperplasia, where they acquire an increase in volume of fat cells with cryolipolysis.
It's also important to note that cold temperatures are similarly used by Zerona, which uses a cold laser to emulsify fat and move it to an interstitial place. The main difference is that cryolipolysis kills the fat cells whereas the cold laser liquefies them and moves their content elsewhere for elimination by the body. Cold laser also requires a number of treatments over a two week period to be effective.
2. Ultrasound
While some doctors prefer using cold for non-invasive slimming, others choose to go the opposite route and address fat cells with heat. Ultrasound specifically has been employed in medspas and plastic surgeons' offices for cellulite and fat reduction. Ultrasound uses high frequency sound waves to heat the tissues below. In the case of devices such as Valeant Pharmaceuticals' Vaser Shape, two beams of ultrasound are sent to the fatty tissue to heat up fat cells, redistribute fat and promote blood circulation. Lymphatic massage is then employed to move excess waste and fluid out of the body. Although Vaser Shape is known to reduce the appearance of cellulite, it also is paired with more invasive body shaping procedures to promote faster healing, reduce pain and reduce swelling. Jenks uses Vaser Shape in her medspa, but has seen great results pairing it with minimally invasive liposuction through a device called Vaserlipo.
Other devices utilizing ultrasound include Liposonix and UltraShape. Whereas Liposonix claims to use high intensity ultrasonic energy to destroy fat cells, which are then excreted as waste in the body, UltraShape claims to use focused-pulsed ultrasound for fat destruction. The pulsed ultrasound destroys the walls in fat cells, which then release triglycerides to be processed by the liver and eliminated by the body.
3. Ultrasound and Liposuction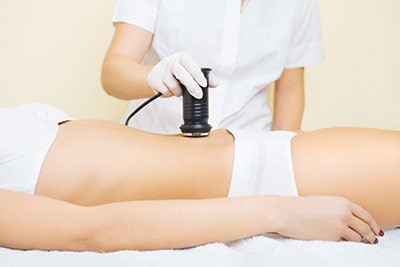 By utilizing ultrasound first, the liposuction needed to remove fat cells is much less. "The ultrasound energy is used to disrupt the fat cells, which means less energy is needed to suck them out of the body, resulting in less trauma and faster healing time," explained Jenks. The procedure begins with an injection of fluid to numb and expand the volume of the area. Small incisions are then made, and an ultrasound probe is inserted to shake fat cells loose. The fat cells mix with the fluid and a suction cannula is inserted to suck those fat cells out. The procedure is outpatient, and recovery usually takes about two to three weeks. Jenks has seen great results with the procedure, noting, "The best overall results are attained with minimally invasive liposuction that is paired with ultrasound or laser to reduce the trauma on the body. I use Vaserlipo and get beautiful results on all body parts." She added that there are some additional benefits with the procedure. "This ultrasound energy also helps to tighten the skin over the area. By using certain sized probes, we can also "sculpt" as we are sucking the fat out. In addition, we can purify the fat and reinject it into areas that need more volume, such as the breasts, hips or buttocks."
4. Electromagnetic Technology
One new approach to body sculpting that both Jenks and Durkin are excited about is high intensity electromagnetic technology, known as EmSculpt. "EmSculpt uses a proprietary electromagnetic field technology that not only reduces fat, but it also increases muscle mass," added Durkin. Two paddles are placed on the abdomen or buttocks, and the technology causes the supramaximal muscles to contract. By contracting the muscles, fat is burned naturally. Currently, the technology's target area is limited, but that may soon change. "Right now, it is being done on the abdomen and buttocks for a beautiful lift," added Jenks. "A hand piece is coming out soon to allow treatments on the inner and outer thighs, and another is in the works, which will treat upper arms. There is nothing else on the market that increases muscle, which obviously leads to a much tighter, more toned appearance than if only fat is removed," Jenks furthered. Aside from the lift and fat reduction, the treatment is non-invasive, and patients can return to their daily activities immediately. Both Jenks and Durkin have been impressed with the studies done on the technology. "Over 70% of patients report improvements after usage, so while this is a new, first-in-class device, the early results appear to be fabulous," explained Durkin. Jenks continued, "Several well-done studies with MRI and CT scan results validate increased muscle tissue and decreased fat in the treated areas."
5. Laser Lipolysis
We all know that lasers have a multitude of uses in esthetics, from hair removal to skin lightening, and fat reduction is one of those uses. In treatments such as SculpSure, applicators are applied to the skin to deliver laser light to fat cells. That laser lights heats the fat cells and damages them while simultaneously cooling the skin. The body then gets rid of the damaged fat cells in the following weeks. The treatment is non-invasive, and there is no downtime. It is approved by the U.S. Food and Drug Administration for the abdomen and love handles.
Low level lasers are used to rid the body of fat by way of i-Lipo. The device uses low levels of laser energy to stimulate the fat cells to break down the stored triglycerides into free fatty acids and glycerol. The fatty acids and glycerol are then used by the body during metabolism. Exercise is recommended after i-Lipo to assist in eliminating the body of the fatty acids.
6. Radio Frequency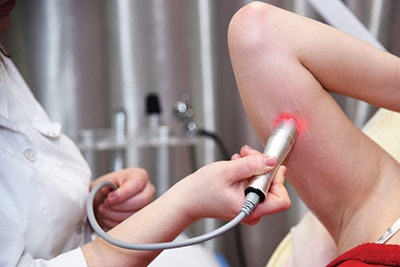 Fat reduction with radio frequency works in a similar way to ultrasound, heating up fat cells to high temperatures with radio frequency waves to destroy the cells without affecting the surrounding tissue. One example is Vanquish, which heats fat cells to 120° F using a device that is positioned over the client without touching their skin. Clients feel a warming sensation, and the treated area can be red and warm immediately after. There is no down time with radio frequency, but weekly treatments are recommended over four weeks to achieve optimal results. Like many of the other non-invasive fat reduction techniques, radio frequency was designed to help eliminate a few stubborn inches off a clients waistline and not for major fat reduction. Durkin finds radio frequency to be an effective form of non-invasive body contouring. "Vanquish is a great product, but they have not marketed it well. Radio frequency as a modality for fat removal is very effective," he added.
Radio frequency is combined with infrared light to heat fat cells in the VelaShape, which follows the heat with a vacuum and massage roller to tighten skin and stimulate the growth of collagen and elastin.
Choose Wisely
As you can see here, there is no shortage of technology and devices for body contouring and the reduction of cellulite. However, just because a client seems to be a candidate for a technology doesn't mean that they are. Make sure clients choose esthetic doctors that weigh all the options with them and detail lifestyle and skin care treatment both pre- and post-treatment. As their skin care provider, make sure you also know post-treatment care to ensure your client optimal results and recovery.