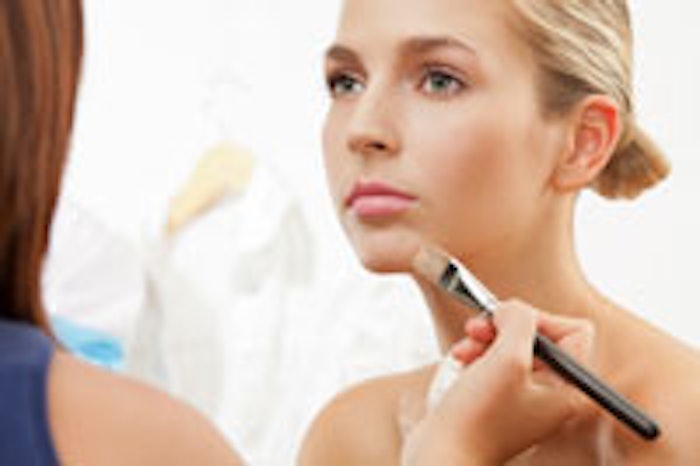 Make Up For Ever is launching Foundation Nation, a campaign to help women address the most common foundation makeup challenges. The brand commissioned The NPD Group to conduct a comprehensive study on foundation, a leading makeup subcategory in the U.S. according to The NPD Group's BeautyTrends 2012 annual sales report, finding consumer satisfaction gaps in foundation products and performance.
The Make Up For Ever study revealed 73% of women say it's challenging to find the right foundation, and the No. 1 challenge associated with foundation itself is finding the right shade, according to 54% of women polled. It also found that 62% of women have problems applying foundation, and 52% stated that they aren't using a tool during application, which is likely to be causing at least part of their issues. Lastly, 72% of women admitted that they do not change their foundation shade each season, even though skin coloring can change by up to four shades at different times of the year and cause a noticeable foundation mismatch.
"We are not surprised that the study identifies shade matching as the biggest foundation concern among women, but as a brand that values education and empowerment, we don't want to simply offer a one-size-fits-all solution to this challenge," said JP McCary, general manager of Make Up For Ever, The Americas. "Make Up For Ever is setting out to teach women how to solve all their foundation concerns by choosing the right formula, the right shade, using the right application technique and the right tool, regardless of the brand they choose to buy."
To address these issues, the beauty brand is hosting more than 100 events at Sephora stores across the United States and Canada from September 20, 2013, through October 5, 2013, to help women learn how to solve their biggest foundation challenges. (Find a list of dates and locations here.) During the events, the brand's professional artists will be on-hand for complimentary, 15-minute foundation lessons to empower women to put their most flawless face forward. During each one-on-one session, artists will help clients diagnose their biggest foundation issue and then learn how to solve it by teaching proper complexion application techniques. A makeup artist will do one-half of the client's face, and then have the client do the other half in order to learn how to do it on her own. This proprietary education technique was developed by the brand and is taught in its Make Up Schools across the country. Participants will also be matched for their ideal foundation based on undertones, skin type, desired coverage level and finish. And for those unable to attend an event, Make Up Forever has created a tutorial video that demonstrates how to solve some of these top issues, as well as a complexion quiz.
"Brands continue to expand their shade range and introduce advanced new formulas to meet the needs of every consumer, but despite the wide selection, 735 of women who use foundation say it's challenging to find the right one, perhaps due to a lack of foundation education," remarked Karen Grant, vice president and global beauty industry analyst for The NPD Group. "We have been noticing a trend of brands offering in-store education, online tutorials, and shade matching tools to better inform the consumers."