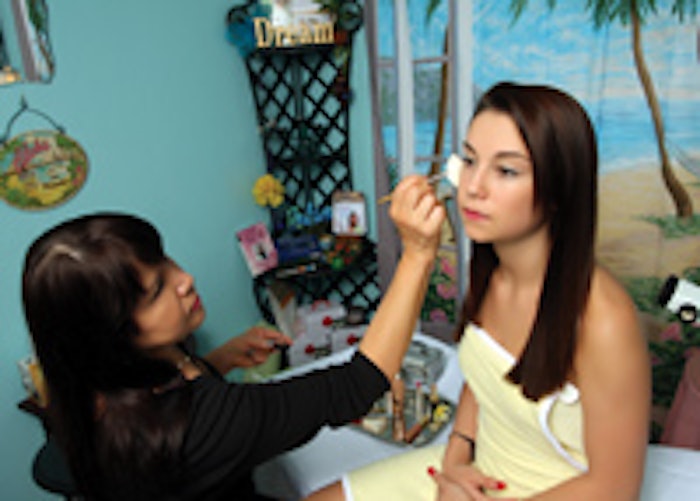 Photography: Chris Dent, Studio City; Makeup: Noreen Young; Model: Kelli English
A facial does not have to begin and end without showing and sharing some beauty secrets with your clients. Many facial clients don't want to go home after their spa visits without makeup because they may have to go back to work, run errands, meet a friend for lunch or carpool. Therefore, a bare face is not always an option.
Keep in mind that you just never know what clients want to buy beyond moisturizer and eye cream, so leave your options open. Give it a whirl, and try some professional cosmetic application tricks for prettier skin with a little color for the complexion.
Makeup touch-ups
There are a variety of products that can make your clients' skin radiant and finish their faces with a dash of color, including the following.
Tinted moisturizer
Mineral loose makeup
Powder foundation in a compact
Vitamin E lip conditioner
Lip and cheek stains
Clear brow gel and mascara
Tinted brow gel
Powder or cream cheek tint
Concealer
Lip, face and cuticle salve
Loose face powder
Rice face powder
Professional brush sets
Disposable makeup brushes
After completing skin care treatments, be sure to make a tray or flat basket available containing the beauty supplies you plan to use on the client. Ask a few questions about what makeup she would prefer for a quick touch-up, or simply do one; let her know it can be as soft and simple as she would like. The client will really appreciate the extra-mile efforts that you can include in your service fee or offer for free. You may also offer a handy touch-up kit after facials for clients to use themselves that is also available for sale in your retail area. Promote it as a travel kit or the latest purse necessity. If priced right, clients will love it and so will your bottom line.
For the kit, all you need is an acrylic display or a makeup case filled with some beauty treats, along with disposable brushes and mascara wands. Otherwise, place makeup options, such as lipticks and nail lacquers, within reach of the checkout area because they often result in impulse purchases.
Touch-ups also can spark retail sales, and are win-win situations for both the spa professional and the client. Examples of comments you can make to your clients to translate these facials into retail sales for makeup include:
"Claudine, I just started offering complimentary touch-ups after facials. If you'd like, I can apply a dash of color to your complexion so you can meet your friends for lunch and look polished and pretty. It'll take just a few minutes."
"Chrissie, we just got a shipment of some gorgeous new lipsticks and one color has your name on it. Would you like to try it?"
If you don't retail makeup, you are missing pretty substantial profits. These are challenging times for businesses, and it is important to consider all available ways to increase revenue and your daily bottom line. Consider the benefits of offering a one-stop shopping experience to clients and meeting most of their beauty needs.
Application
The four key products you need to apply during touch-ups and have available for quick purchases include tinted moisturizer, lip stain, cheek stain and concealer. See Treatment Step-by-Step: Easy Makeup Application After Facials.
Some spa professionals may prefer not to apply makeup on clients' faces after facials; however, it can complete her look, making it polished and refined. Clients love the way they appear after they are touched up, and it complements great skin care. The makeup will look better, and the skin will reflect it, too. Once they try it, they'll love it and begin thinking of your spa as a one-stop-shop for all their beauty needs.
Noreen Young is an educator and a skin therapist who owns her own beauty business in Florida. She is a highly sought-after speaker in the spa industry and a frequent contributing writer to spa trade publications. Young is also a television beauty reporter/contributor and a health columnist for the Florida Times-Union newspaper, has worked as a spa consultant, and with fashion designer Diane von Furstenberg, The Larry King Show, Wrangler Jeans—Italy and Revlon Roux professional products.