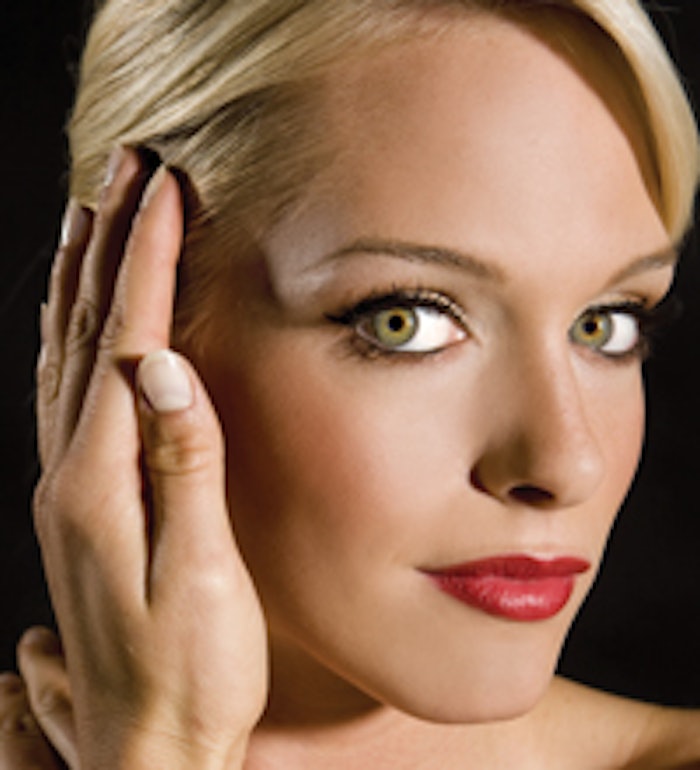 A bold flash of color is something many people are looking for these days and they aren't being let down in the realm of makeup. The hues for eyes, lips, cheeks and skin this fall are offering a much-needed jolt of energy, blending well thought-out basics with smart swaths of red, blue, purple, green, pink, orange and yellow.
"I call fall a study in contrasts. The colors are more unique and thoughtful than we usually find for autumn," says Leatrice Eiseman, the executive director of the Pantone Color Institute and founder of www.morealivewithcolor.com. Acknowledging the season's pensive mood but also noting a touch of newer things on the horizon, J. Scott Berry, a professional makeup artist, and southeast regional manager and skin care and spa consultant with Repêchage, says, "Colors are more sophisticated. I'd sum up the look as a return to basics with a new millennium flair."
Eiseman adds, "Fashion designers are acknowledging the tricky economic time by using dependable, fundamental basics, but people also don't want to do the same old, same old, which is a great place for cosmetics to come in and offer more of an opportunity to use color."
Of course, spa professionals and makeup artists are in a perfect position to provide clients with the additional brightness new seasonal colors can bring, so now is the time to invest in key new makeup items for autumn.
Radiant complexion
"As an esthetician, I'm most thrilled about the sheer foundations this season," says Berry, who also owns J. Scott's Skin Care & Day Spa in Leesburg, Florida. Well-maintained skin—always a top priority in spas—is being showcased for the fall, and letting the complexion be one of makeup's main features helps spa professionals display some of their favorite techniques. "The look is really an incredible, perfect skin foundation, so if the skin is healthy, it looks beautiful, and you can just let it shine through," Berry explains.
To even out a facial palette, neutral hues in warm beiges, cool taupes and creamy tans provide great base tones. "They're classic shades that go with everything, and they're great bookends for the more vibrant colors of blue, red and purple," Eiseman notes.
Clean, flawless skin also shows off a woman's personal coloring, but it needs the right prep work, too. "Making makeup look great on the skin is definitely all about exfoliation and hydration," says Tricia Campbell, director of education for jane iredale—The Skin Care Makeup. "You need a good moisturizer and a good eye cream; eyes need as much hydration as possible."
Additionally, a simple step can help cosmetics stay in place. "Makeup disappears as you wear it throughout the day," Berry explains. "You can avoid this by simply applying a primer underneath foundation and eye shadow. It's a quick, two-second step that helps the makeup last so much longer." Kimberley Frey, creative director for Brush Up With Barbara and Mineral Mine, agrees, saying, "Foundation primer is a perfect way of prepping the skin for cosmetics. It helps so the makeup doesn't grab, caking up in places. It just glides right on with a primer."
Properly maintained, well-treated skin offers a healthy, vibrant aspect to any makeup look and, with an even, smooth complexion, the possibility to highlight certain colors and features on the face is even greater. Creating that beautiful base of flawless skin is always one of the most vital aspects of a good cosmetics look, but it is essential with this autumn's focus on the skin.
Shining eyes
The eyes are the facial feature where some of the boldest, brightest, most unique colors take the stage this fall. Serious base shades in brown, green and gray are lightened up with pretty pops of pinkish reds and bold purples for the eyelids, while deep shades of blue and indigo are offering a particularly powerful punch in the liner department. Berry comments, "There are a lot of earth tones, but they're not the earth tones of several years ago, which were pretty dull. These have some vibrancy, even if they are a little more matte, especially on the eyes."
Warm browns, earthy greens and yellow golds will help to ground the more vivid eye shadow hues, as will an enriched shade of gray. "The iron shade is a strong gray with undertones of brown. It's very versatile and looks great against almost any skin tone," Eiseman explains, noting that iron also matches well when mixed with little bursts of pinkish orange and dusty deep pink on the lids.
Another strong shadow shade—purple—also isn't going anywhere, although it's not quite the smoky hue from seasons past. "It is very practical that purple is sticking around because people can reuse the purple products they already own," says Eiseman. "To make it look new, you can use it in different ways—contrast it with a lighter, brighter color, or wear it in a different way."
Those seeking a darker, smokier look don't have to go far in this season's cosmetics shades to find a little more edge. "Eye shadows for the fall include a sheer pink, a taupe nearly nude shade and a smoky, metallic gray. Metal and rich metallic shades are really big for the fall," Campbell notes. Eiseman also sees a metallic sheen to the season, though she says she's noticing golds, silvers, bronzes and coppers in more burnished, delustered states.
Eye liner—always a staple to help eyes stand out—is showing up in interesting colors this season, but there is one in particular that's a must. Campbell explains, "A key color for fall this year is blue—it is the new black when it comes to the eyes. Using a blue eye liner on the inside rim of the eyes really helps them pop, opens up the eye and makes the whites of the eyes appear brighter." Eiseman also sees the presence of blue in the season, saying, "It's not too bright, more subdued, but it's a classic spring color that is showing up in the fall, which really helps bridge the seasons and brings more versatility from the spring to the rest of the year."
This autumn's blue brings a little more moodiness than the traditional spring pastel tints, though. In fact, to create a bold evening look, Campbell suggests the following: "Take a blue eye pencil to cover the lash line and use it lightly all the way up to the lid crease. Then, for a night out, add a twilight gray shadow over the top of it for really intense, smoky eyes."
Multiple shadows and shades aren't always necessary for a bold, sought-after eye, however. "You don't have to have three separate eye shadows to get a three eye shadow-look," says Berry. "With just one shadow, you can apply a base loosely with a large brush. Then, with the same color and using a small brush, you can create some contouring along the brow bone and in the crease. Next, you can wet that same shadow to use as a liner, applying it along the lash line with a very fine brush."
Frey also suggests refreshing eyes after a long workday, saying, "A shadow or liner color's intensity is really what changes from day to night in makeup, and to make sure your eye makeup doesn't get washed out, an eye liner sealer can be used. It can help intensify the same color from a more work look to an evening one while still using the same shades."
Jeweled lips
Full and vibrant for autumn, lips are getting an infusion of color courtesy of shades such as pinks touched with rose and orange, nutmeg-tinged copper and the stalwart red. "I love red lips," says Berry. "Vibrant, bright colors on the lips have been trying to sneak in since about 2002, and American women really hadn't been buying it, but more and more, they are coming around. Nothing is more than attractive than red lips, and it doesn't have to be fire-engine red, but just some good, bright color." With cooler hues prevailing on the eyes, the mouth is a feature on the face that can harbor warmer color. For example, a bold rose red color is something Eiseman is also enjoying this fall. "It's not a bright cherry red, but a more vibrant, rosy hue. It's a great color coming into the holidays," she explains, calling it a happy marriage of pink and red. Additionally, she notes, "It's really flattering next to the skin."
Seeing a quieter side of autumn's lips, Campbell says the metallics will also be moving down from the lids to the mouth, but in a more lip-appropriate, warmer tone. "With the blues, silvers and metallics on the eyes, a great nutmeg, coppery lip gloss gives the lips just the right glittery sheen with a touch of smooth color," she explains. However, she notes, "You can do a more dramatic lip too, maybe a really deep berry, to pair with really silvery-sheen eyes."
Pairing the right lip color with the right eye color is really the target to hit this fall, with some of the best matches being the hues opposite each other on the color wheel. Eiseman suggests a more goldenly pink hue on the lips to match eyes in deeper purple, or going with a rose red to match with iron gray-shaded lids.
Pairing the bolder colors also requires a delicate touch with the texture, Frey notes. "I think the matte lip is coming back around. It's one of those things where everything old is new again," she says. "However, it's not powdery matte; it's more like a lip stain that is geared toward a more natural look." The fresh pinks, reds and copper tones of lip glosses, stains and sticks will help the mouth look lively this autumn—it's just a matter of finding the shade that suits each client best.
A fresh flush
Lending some life to cheeks for autumn, blush is making a bit of a comeback this season. Helping the face achieve a healthy glow, shades of dusty rose, mocha, peach and sheer pink are appearing on the apples and along the cheekbones. Notably, blush is a step many women skip, possibly because they don't know the right application techniques. "Women are afraid of clown cheeks," Berry says, and explains it's important to use a soft touch when applying blush. "Also, when you put on blush, smile. When you smile, there's a clear line of where you should apply blush along the cheekbone."
Of course, proper application means nothing if you aren't using quality colors, and Campbell recommends playing up a freshness in the cheeks using shades of pink and peach for the fall. Additionally, Frey offers, "Using a tawny light color on the cheeks can be a good way to move from summer to fall." And for a fresh flush, Berry recommends blush in hues of muted mocha, rose and mauve. He also suggests using techniques that highlight different hues. "If you use a brighter color, which I recommend when you're trying to make the face look thinner, use a softer touch. For both deeper tones and bright colors, you want to sweep the color along the cheekbone downward to the apple of the cheek," Berry explains.
Cheeks can also be some of the best places to use multipurpose makeup products. "Some can even be used on three different places—the eyes, cheeks and lips—so one product can really go a lot farther," says Frey. "A color such as a rust or a beige brown can move to all three depending on how you treat it on each feature. Maybe you'd just go a little darker on the eyes with it and a little lighter on the cheeks."
As a way to give the face a fabulous finish, Berry suggests using a shimmery powder. "I'm a big fan of finishing powder," he says. "It's like a softer version of a bronzer, and you can dust it on right over blush, eye shadow—really the entire face—and get a nice pop of color and freshness. It helps the original makeup last longer, too."
However, even if the color you choose isn't the perfect match, trial and error highlights one of the best aspects of makeup. "Blush can be a women's best friend. And if it doesn't look good, you can just wipe it off and start again," Berry laughs.
Luminous color
This fall really offers makeup options for anyone's taste, from metallically sheened natural hues in iron and earth tones to deep, bold touches of red, purple and blue. "The uniqueness of the season is going to come from the different ways the colors are combined," says Eiseman. "It's time to do something experimental—go for the unusual, the unique. Build a beautiful mosaic out of the colors. You want to do what flatters the skin tone the most. To only use warm colors on warm skin tones and cool colors on cool skin tones is really doing a disservice to a woman, I think. You need to have a balance of temperatures."
This season's shades are great to mix and match in whatever ways a person prefers. "Everything is so versatile," Campbell notes. "You can use a nude or nutmeg pencil to line the lips to go with a coppery gloss, and use gold or silver to line the eyes for a shimmery pop."
You can also use the variety of hues to revamp the look of a client who doesn't have too much to spare for a whole new color palette. "The bolder colors are great as highlights, and they also acknowledge the more conservative mind-set of the consumer," Eiseman explains. "Using the color combinations helps give people something new."
Really, the key for this fall is to follow what looks best in a bold way. "If you add a little color to the face and know how to do it right, it can give someone a whole different—and a much better—day," Berry says.