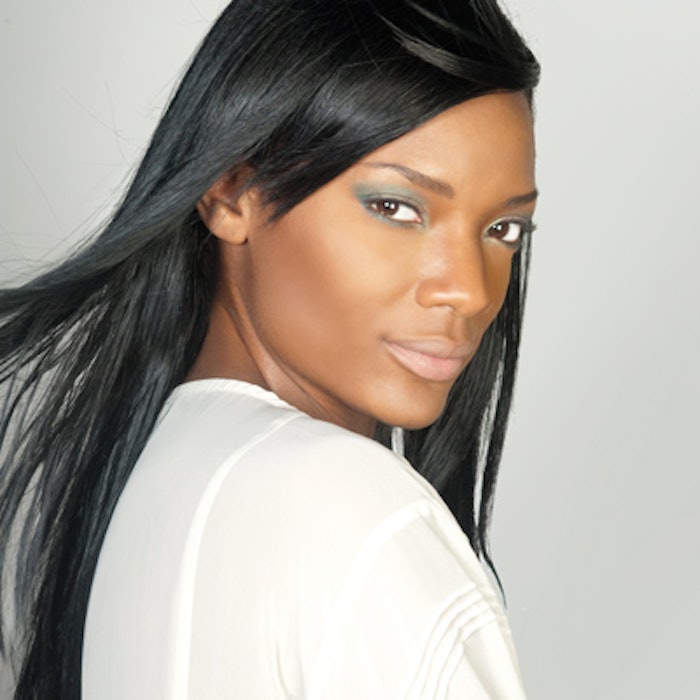 Dawning in the midst of a gloomy economy, spring, the traditional season of renewal, may not seem as refreshing this year. However, the incoming cosmetics colors—richly undertoned neutrals that blend with bold shades of blue, red, pink, green and yellow—may be just the thing to break through the gray gloom.
In fact, cosmetics have been acting as pick-me-ups during hard times for years. "Makeup is still an affordable luxury. There's the popularity of talking about women in the Depression wearing red lipstick, but really that was all they had then; there was no variety of pigments," explains Kevin Mendelson, makeup artist with jane iredale—The Skin Care Makeup. "Makeup reflects people's choices now and can be a statement of the individual." Alphonse Wiebelt, makeup artist, and co-founder and vice president of brand development for Being TRUE Cosmetics, also sees the theme of change making an individualistic impact. "This year we are facing a time where our opinions count, and we all have something we stand for. It is not a time to blend in," he says.
Leatrice Eiseman, executive director of the Pantone Color Institute and founder of www.morealivewithcolor.com, agrees, noting that the array of exciting hues now available in shadows, lipsticks, blushes and even mascaras can help keep things interesting for those providing cosmetics services. "Makeup has got to offer alternatives," she says, and makeup artist and beauty expert Candace Corey adds, "You can use this spring's products in different manners, and that's something special for the season."
"It's about what looks good and works for different skin tones, and makeup is more experimental and doesn't cost as much, so you can play with more options," Eiseman explains. "We can't ignore that elephant in the room—the economy—but when you are going through bad times, people don't aspire any less to looking good."
All eyes on you
An entire palette of colors will be glimpsed gracing the eyes this spring, giving the face a fun spark. However, some of the shades will also take on a bit of an edge. "There's going to be the usual spring pastels and pretty, bright pinks, but they're being mixed in with a little darker, smoky eye," says Philip Luque, a makeup artist with Youngblood Mineral Cosmetics. "It is softer and cleaner for the spring, though. Use a soft brush to apply any color, and don't pack it on." Wiebelt suggests using a neutral tone a shade lighter than the client's natural skin tone for a base, sweeping the bolder color across the lid and along the bottom lash line, and blending the two together for a seamless effect.
Along with the smoky eye, a certain twinkle has also crossed over into spring. "We're still seeing shimmer and touches of sparkle in products—that's not going anywhere," says Mendelson. "We're also seeing a lighter texture version of matte. It's not a lot more matte, but kind of a satin matte that's soft and not flat." Those looking to break into more bold hues with a glittery bent this spring can turn to an old standard: gold.
Eiseman expects to see gilded eyelids for the spring, with just a light gold or silver dusting for the daytime and a little heavier hand playing a part for nights. "We started in the fall with gilding everything, and that's going to continue into spring, with maybe just a little softer version," she says. "Match with that yellow, which is such a big color in fashion right now, because gold and yellow are natural companions. The color of the year for 2009 is mimosa yellow, which is a softer, kind of chamois type of yellow. Then there is also super lemon, which is incredibly vibrant and offers another variation on the yellow theme. One is more subtle, while the other is more of a bold, summery shade."
Eiseman continues, "Lavender is continuing the purple trend that was big in the fall, but it transitions to spring with a softer, more summery hue. It's lightened, and almost has a mystical aspect. And there's also palace blue, which is like a royal blue, but not quite. It's very vibrant and not dark like a navy, so it ends up very classic and with a great bit of sparkle."
Mendelson says, "Strong washes of color like butter cream yellow, plum or aqua blue can be done around the eyes, and then you can contour it with neutrals. The neutrals are strongly toned—violet, brown, earthy greens—and they complement the bright colors." The blending trend is also something Eiseman has caught on to. "The neutral colors in fashion are being used as a background to bounce the other, bolder colors off of," she explains. "One of the colors, a rose dust, is really a beige with rose undertones, so it's not just taupe-y gray, but has a really interesting note underneath. There's also a slate gray, which has very decidedly blue undertones. With cosmetics, you can really build around that undertone, bringing the colors across the face, beautifully coordinating a look and keeping it from being boring."
Dazzling eyes can easily become boring without a great frame, however, and lashes are finally getting a lot of attention after several seasons spent on the fringe. "Lashes are big for the spring—you need a really good mascara," advises Luque. "They need to be separated and pretty. Precise lashes that aren't spidery or goopy can frame the eye beautifully, drawing a lot of attention." Mendelson adds, "Really black, beautiful lashes can detract attention from under-eye shadows."
Colored mascaras are even popping up, Mendelson mentions, and they are great complementary pairings for eye colors. "Use bright wine colors for blue eyes, purple for green or hazel eyes, and blue for brown eyes," he advises. Given the array of beautifully bold options for lids and lashes, there definitely seems to be a color certain to catch the eye of almost everyone this spring.
A pleasing pout
The mouth will be downplayed more for the spring, but that doesn't mean lovely shades of pink, coral and copper aren't giving the lips their own special treatment. "Lip colors are sheerer and lighter. There are some strong colors, such as the reds, that are extending into spring, but it's going to lighten up in terms of the opaqueness," Mendelson observes. "There's a sheerer version of pink I see as being popular, but there's always a range of what women want—everything from apricot to brick." Corey suggests that the perennially popular pinks do have an extra touch this season, saying, "The pink lip colors can be fresh on anyone—it doesn't matter what color the skin is. They are able to move from the lightest to the darkest skin tones."
The bronzes and coppers that were big on the mouth last year are continuing this year as well, Mendelson notes, "And lipstick is definitely back," he says. Additionally, balancing the eyes with color on the mouth is essential. "When the eyes are bold, pair them with a neutral opaque lip in beige or pinkish beige," Wiebelt offers. "When the eyes are kept with a nude pallet, pair them with a vibrant lip." For Luque, keeping daytime lips to a whispery minimum with subtle shades of peach and pink helps give bolder colors an extra punch when slipping into the occasional saturated hue.
An emerging trend in gloss is something Luque is watching, as well. "For lips, it's definitely not heavily glossed—they are a little more matte and sheer—but also look for some black and sheer berry-toned lip glosses that are hitting for spring. Black is a great color to mix with bright feminine hues, such as pinks in soft to bright tones, in order to add a bit of glamour, and I've seen sheer black glosses to full coverage ones, so help your client choose the one that best suits her comfort level."
"Having that gloss on top can still let someone be trendy with the lip color they feel comfortable wearing," explains Corey. "It includes just the right amount of color to be wearable for everyone." So dark or light, matte or glossy, rich lip or with just a hint a gloss, a pretty pout can be as played up or down as you prefer for the sunny spring and summer months.
Rare rouge
Other features that are keeping particularly low profiles for the spring are the cheeks. "I really see the spring inspiration in the skin being so clean and pretty and soft. It's very pale skin, not overly bronzed at all. There is still that touch of bronzer, but its very light," Luque explains.
Wiebelt suggests that color on the cheeks is best used to help pull all the face's features together. "Warm tones complement those with warm golden to bronze undertones in their skin, and cool tones generally complement those with cool undertones in their skin—a pinkish hue. However, any undertone can wear almost any range as long as it coordinates," he says. "Keep it easy. If you want to wear fuchsia lipstick—a cool tone—then keep the blush and shadow in the same family, or vice versa. Mixing warm and cool tones can be done and looks beautiful on all skins, but it has to be balanced and can be tricky if the hues do not have the same intensity of pigment."
Of course, those looking to be a little more adventurous on the cheeks can create a pretty flush with the right colors. "The blush this season can add a little bit more color to the face, with pinky pops on the apples of the cheeks and then blending it into the cheekbone," notes Corey. "That brighter blush signifies a new season and gives an element of freshness for spring." An easy hand should be used to keep things balanced on the cheeks, however.
Keeping the bronzer to a simple sweep or two is also a good bet. Framing the face with a cool-toned bronzer adds a pulled-together touch, Wiebelt says, and Luque notes, "To use bronzer, mix it with a pinky blush on the apples of the cheeks. It'll give a healthy, vibrant glow. I could never throw away my bronzer, but I'm just using it very lightly to contour the cheeks. A soft, pinky-bronzy cheek is fresh and clean and shouldn't be overly done. The cheeks are just very minimal."
The golden age of skin
No matter how many great colors you dust across the face, nothing looks quite right unless the skin is serving as a pristine background. "There is more focus on the skin every season," Luque says. "I tell women, 'If you are going to make an investment, make it in good skin care. The younger your skin looks, the younger you look, and caking on a bunch of foundation and makeup actually makes you look older.' This is definitely a big shift that's been a long time coming, and it just keeps coming and coming—you need that healthy, healthy skin."
Getting the perfect skin palette can be tricky if the complexion is a little rough, but a quality foundation should help you get there. "Of course, a good foundation is a great base for skin and makeup," says Mendelson. "If you get the skin right, everything else will fall into place, and right now, we are living in the golden age of skin and skin care. A foundation that has a quality SPF and is water-resistant can really help you get that Nicole Kidmanesque flawless look without being chalky." Touching up the areas that need extra attention is also sometimes necessary. Wiebelt says, "Conceal under the eyes, around the nose and the mouth to keep a clear-looking complexion when wearing spring's bold statement hues." Once a flawless finish has been perfected, it's also important to urge clients to pay attention to the proper upkeep.
Recommend regular visits to the esthetician in order to keep up skin maintenance, as well as home care tips that can also keep skin lustrous in between appointments, Luque says. "Using a good scrub or microdermabrasion treatment can really help keep skin polished, healthy and glowing," he explains. "And a good moisturizer and sunscreen keep the skin protected against environmental factors." With the fabulous background healthy, fresh skin can offer, cosmetics are really just icing on the cake.
Make it work
If you think creating a cohesive look with this season's bold colors seems to present a bit of a challenge, there are a few tricks you can use to help any makeup look magnificent. One is balancing the face using opposite colors on different features. "There's more of a use of complementary colors together—those colors across the wheel from each other," says Eiseman. "Experiment with opposite colors, blues and purples with the yellows and oranges. For example, if you have purplish lipstick, you can do gold gilding on the lashes, or if your eyes have lavender touches, you can have more of a warm-based color on the lips."
And being bold gives spring's typically lighter fare a little weight. "With the colors being darker, it's sexy," says Corey. "There's a lot of color on the eyes, and it's more color than you would think of for spring. It's not the typical soft, bright colors, but ones that are richer and stronger."
Moving into deeper looks that can take advantage of evening light, Mendelson recommends working in layers. "You may venture into a smokier eye or a liquid eye liner, add some sheen to the lips and a deeper blush of color on the cheeks. It's almost like accessorizing with a scarf and jewelry—you should add shimmer and highlight," he explains. "You can layer a neutral shimmer or gold wash over stronger colors to give that extra something. Mixing shimmer with gloss also helps reflect light, and using a light highlighting product on the inside corners of the eyes really gives them a lift." This trick of highlighter in the inner eye corners can add another eight hours to the face, he notes.
The key is, even if things are tough and makeup's colors seem mismatched to the mood of the country and client, these brilliant hues are actually what you can look to for inspiration. "If the colors are dismal, they can lead to being more depressed, so maybe it's the time to wear something with color to make yourself feel better," Eiseman suggests. "You can't ignore what's going on, but you find ways to keep your spirits up, and colorful cosmetics can definitely help with that."
A springtime frolic
"It used to be hard to get women out of their makeup comfort zone, but more and more are having fun with it and taking it less seriously," Mendelson says.
Now is the time to enjoy brilliant colors, because you never know when they'll be coming back around. "Sometimes there isn't as much color to play with in the spring—the colors usually get softer and paler—but there are so many hues this season; it's a lot of fun to be able to keep playing with them a little longer," Corey says. That leaves potential for women to find something perfect. Wiebelt says, "A woman should experiment and try all the colors until she finds one that makes her feel her most powerful and confident."
Makeup isn't something to be afraid of—it's something to look forward to wearing to help lighten your mood, says Luque. "It's still OK to do glamorous makeup for spring," he notes. "Just because things are a little more serious—because of the economy's influence and such—doesn't mean makeup isn't still there to have fun with." Whether that means indulging in a wine-hued mascara, gold-flecked lip gloss or beautiful new bronzer, tight times and the rebirth that comes with spring can be a boon to makeup offerings. "Get out of the ordinary," Eiseman urges. "That's the beauty of cosmetics. You can try new colors in accents and touches, and it helps create a bridge to using more of that exciting color. And the spring is really the best season to try something new."