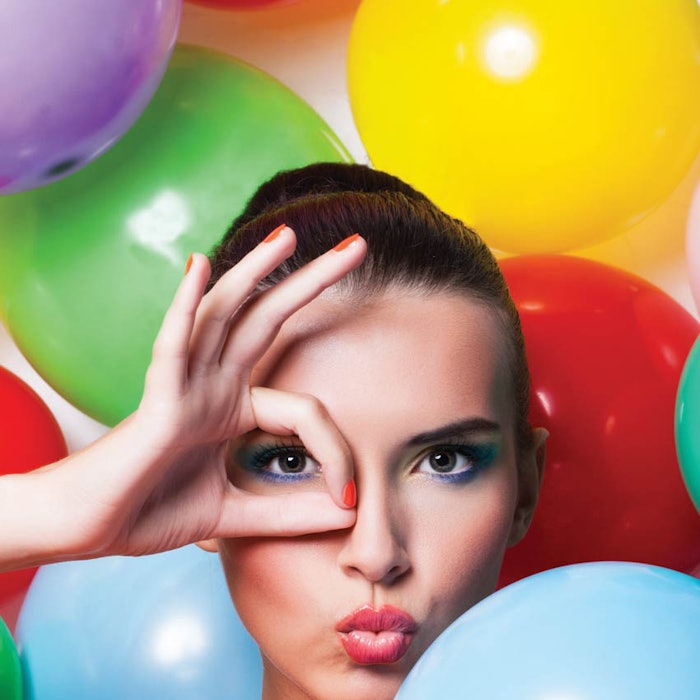 After a rejuvenating facial service, it is customary for many spas to offer makeup consultation and application. This service can be offered complimentary or designated by its own pricing menu. Applying and recommending the right makeup on a client boosts their self-esteem, ultimately boosting the spa's bottom line. Eye cosmetics, in particular, can not only produce a dramatic look on the client but also provide a lucrative retail opportunity for the spa.
Skin care and makeup professionals have been taught to think in threes when applying and recommending products for the eyes. Traditionally, this has included:
Remover, primer and concealer;
Mascara, eyeliner and eye shadow; and
Brows.
This article suggests a fresh approach to "thinking in threes" by basing your suggestions on their eye, skin and hair color. This approach provides your clients with a personalized approach based on their unique characteristics, which makes shopping for makeup at your spa a different experience than at the makeup counter.
The goal is to get your clients comfortable playing with colors. When you guide them through learning something new, you will create a bond with your clients. Clients will start to lean on you to show them new trends, techniques and products that might be a good fit for them. This relationship can be deeply personal and meaningful to both parties and will secure a long-term relationship. Here are some tips for using the science of color to provide eye makeup suggestions to your clients when thinking in threes.
Step 1. Remover, Primer and Concealer
The first step of this process is determining how clients care for their eyes. One of the biggest causes of under-eye wrinkles are traces of makeup left behind due to improper eye makeup removal. Ask your clients to explain their eye care process. Recommend an eye makeup remover that works well for their needs. Waterproof mascara or mineral makeup, for example, need a different type of remover to break them down.
Next, tackle eyelid discoloration as necessary. Ask if they have oily, normal or dry eyelids in addition to determining if they have discoloration issues. Use this information to recommend the appropriate eyelid primer. If their eyelids are reddish, choose a beige primer with green undertones to conceal redness. If their eyelids are purplish, go with a yellow- based eyelid primer. If eyelids are transparent or look bluish, opt for a peach-toned eyelid primer.
The same color rules for choosing primer apply in choosing concealer. However, choosing the right formula is important. Consider your client's skin type under her eyes (crepey, dry, bumpy, thin, etc.). Finding a great concealer for your client is a sure way to have her stay loyal to your product line.
Step 2. Mascara, Eyeliner and Eye Shadow
The idea with eye shadow, eye liner and mascara is to use color that makes the natural eye color pop. Start by assessing their eye color. Do this by staring into the colored part of their iris and note the dominant color. This can be somewhat tricky since there are many different colors prevalent in the iris; however, take note of which eye color is the most dominant.
Blue eyes. Blue eyes are considered cool-toned, and the complimentary color to blue on the color wheel is orange. Straight orange is fine for the adventurous client, but most will opt for warmer shades, such as coral, peach, champagne or a warm brown. Light, warm or neutral warm tones best complement cool blue eyes. Pair the warm shadow choice with a black-brown mascara and a chocolate eyeliner pencil to complete the look.
Hazel eyes. If a client's eyes are hazel—which is a blend of brown, yellow, and green—look deep into her iris to find the dominant hue. If she has mostly gold flecks, the complementary shade would be purple, so choose plums. If the flecks are mostly green, the complementary shade is red, so opt for burgundy. If the flecks are more brownish with little green or yellow, choose metallics like gold, silver and pewter to make the brown in the eyes sparkle. Black mascara is the go-to color, but colored mascara and colored eye pencils can be a fun way for clients to tiptoe into being more adventurous with color.
Step 3. Brows
A Personal Approach
This personalized approach to "thinking in threes" will make clients feel cared for, prompting them to share their experience with friends and family. Invite your clients to take pictures with their phone while in your spa and post them on social media, tagging your business. It is great exposure and a great way to attract clients to visit you for makeup lessons.
Using a color wheel is a fun tool to introduce the science of color to your clients. It helps them understand the art of makeup application, and they can learn it from you. Creating events at your location focusing on their eyes and sending out a newsletter highlighting "the magic of color" or a "how to transform your eyes" might be a great way to get additional traffic through your door. As a licensed beauty expert, you are well-equipped to show clients how powerful their eyes can be when enhanced with color.