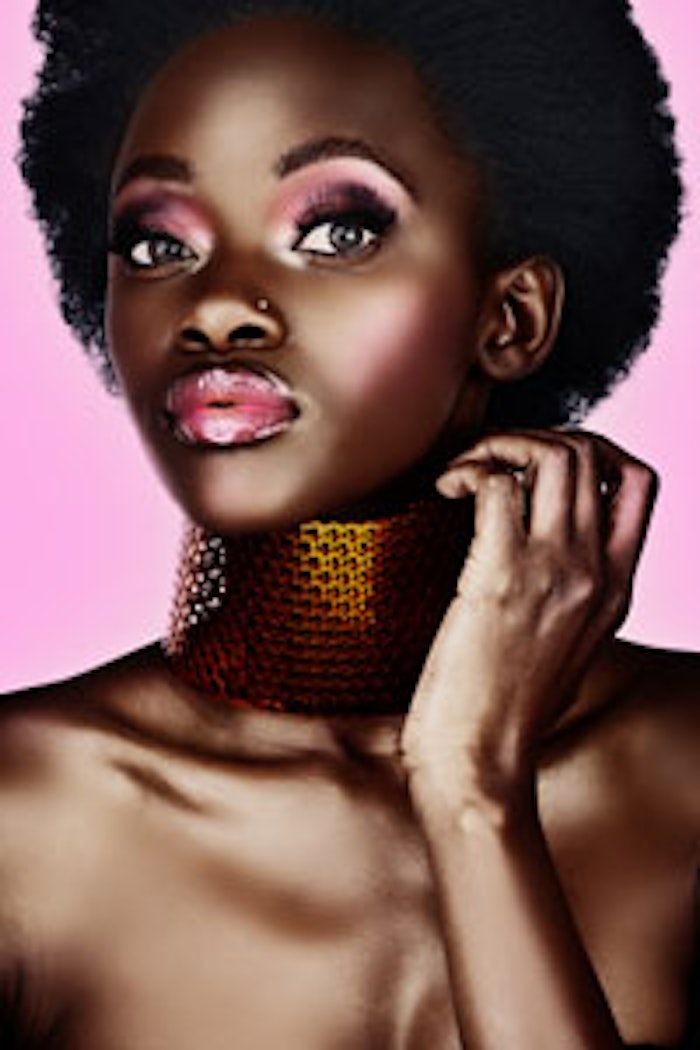 Prepare your spa's makeup offerings for a season unlike the autumns of years past. "This is a season of atypical colors—more reflective of imagination and ingenuity, which makes for an artful collection of colors and combinations not bound by the usual hues for fall," says Leatrice Eiseman, executive director of Pantone Color Institute.1
Emily Katz, award-winning makeup artist and image strategist, notes the lack of traditional fall/winter colors in Pantone's Fashion Color Report Fall 2014. "The thing I find most remarkable about the color palette for the 2014 collection is that the hues are not dark, nor are they specifically gem-toned—shifting away from the traditional darker and bright jewels that are associated with fall and winter." (See Fall 2014 Color Guide.)
Valerie P. Hernandez-Garcia, celebrity makeup and hair artist, calls the Pantone 2014 colors for fall "rich in vibrancy and color," and highlights their versatility. "Most of the colors can be paired or worn alone for a pop of color," she points out.
"In Spring 2014, we saw glowing skin, vivid lips, bronzed cheeks, full brows and lots of mascara. Fall 2014 is still encompassing several of these elements, while taking them to a cooler place," says jane iredale global educator, Shawn Towne.
A grin-and-bare-it complexion
The pared-back beauty seen on spring and summer catwalks is not expected to fade away in the near future2—the trend for skin is what makeup artist Anne Kohlhagen refers to as "natural satin,"—and it's here to stay.
"The big effect that seems to be a lasting crowd-pleaser is glowing skin. Luminosity on the face and body has never been more in style than it is now. We're even seeing the use of metallic shimmer powders in gold, silver and bronze—Pantone colors Misted Yellow, Aluminum and Cognac—on the cheeks, shins, arms and décolleté," says Towne.
Katz explains that polished skin—not matte or obviously covered complexions—offer a fresh look for fall and winter. "The super-shimmery highlights on many [Fall 2014] runways have given way to a lovely fresh complexion, no matter the skin tone," she says. Katz notes that some models appeared to be foundation-free, and cheek color was not heavily applied. "Blush was not a statement this season, although the sculpted cheek does prevail."
On Fall 2014 runways, precise shading, contouring and illuminating were used to emphasize natural light on the face for a flawless take on neutral makeup, a look that's referred to as androgynous3 and even slightly masculine.4
Boyish brows
"Brows are either naturally perfected or are slightly more pronounced—but in a boyish way—which is a bit straighter than having a [feminine] pronounced arch," explains Kohlhagen. The rest of the face benefits from a full, but cleanly sculpted architectural brow, giving balance and weight to the relatively unmade face, according to Katz.
"The strong brow is definitely sticking around, which looks really beautiful paired with a smoky eye," says Towne, referring to another trend this season.
Dramatize the eyes
Smoky eyes are not new, but basic soot-colored shadows aren't the only shades trending this season. "Combining Pantone colors to create rich, smoky eyes is a fresh and flattering look for all skin tones," says Towne. "Create a cool, rich smoke using deep mauves [such as Pantone's Sangria] and shimmering flesh tones [such as Pantone's Cognac]."
Remember the not-so-1980s blue eye shadow from spring? It turns out it wasn't a one-season wonder. Makeup artists used colors resembling Pantone's Royal Blue and Bright Cobalt on the fall runways, confirming this is not a season to fear color.2
Although color was definitely in the spotlight, a gunmetal trend on eyes shined through—however color was generally paired with it.3 "Some of the runway looks had a silvery Aluminum shadow … it could be a bit much if you do not steady your hand. Go easy straight out of the gate, and add more as you go if you need more drama," says Katz. Working Pantone's Cypress as a liner or a contour shadow can make the look more wearable, she adds.
Sixties style. "Sharply lined, 1960s-style eyes that bring back the days of Twiggy and Audrey Hepburn have dominated from the streets to the runways for many seasons now. With this trend, a whole new era of high-tech makeup tools have emerged," says Towne. "Gel eyeliners are quickly becoming a popular method for getting the ever-trendy updated '60s winged liner look, while new liquid pens are giving amazingly defined results on both the top and bottom lash lines."
Lashes—not for the faint of heart. Lashes are not an afterthought this season; instead, they are a major element for creating look-at-me-eyes for clients. Doll-like spider lashes were seen on the runways of major designers, including Gucci, Versace and Prada, with falsies on the top and bottom.2, 3, 4
Defining lines. No matter what the look—smoky or a retro cat's-eye—one thing is for sure: Creating definition is the bottom line.4 And liner wasn't just on top—makeup artists didn't shy away from lining the entire eye for high intensity.3
Lips
Never fear—while eyes are the focus for the current season, lips aren't being totally ignored. Although bright, stand-out lips have been everywhere throughout the past year, the lips are taking on a more supportive role. "For lips, I'm seeing a lot of matte colors that are either nude or natural tones," says Kohlhagen.
Katz offers some tips for working with nude-colored lips—it's about finding the best hues for the client in order to avoid a pasty or zombie effect, she says. "Strong eye makeup still looks great with a nude or pale lip, which prevailed on the runway in direct contrast to deeper-toned lips. Try something in a Mauve Mist tint—it's lighter than Radiant Orchid, which was a great pop for the summer … even a gloss is beautiful [in this shade] with a smoked-up eye," says Katz.
Classic red reimagined. Although bold lips are still present, "... this season there's more of a balance between fiery red, which works well on light skin tones—and cooler tones, such as mauves and burgundies, which are universally flattering, but really enhance olive and deep skin tones," says Towne.
From runway to everyday
Although many clients appreciate trends, they aren't exactly interested in implementing them in their everyday lives, says Hernandez-Garcia. "I find that most women have a comfort zone and use these trends as inspiration, not guidelines for what applies to them," she says. "I like to consider makeup trends and translate them into wearable options for my clients."
New formulations are opening doors to translatable runway trends. "There are lots of innovative new cosmetics that enable women of all ages to sport the latest trends," explains Towne. "For example, luminosity on the skin has often been avoided by women over 40 for fear of looking textural. Now, new primers, light-diffusing lotions and very fine shimmer pigments are making the look wearable at any age. Even shimmer eye shadows are looking smoother than ever, with ingredients that reflect just the right amount of light, and eye primer that holds them in place to avoid them settling into fine lines," he says.
Hernandez-Garcia encourages skin care professionals and makeup artists to ease their clients into what is trending to avoid intimidating women who are not open to change right off the bat. "Anyone can be a makeup artist these days, [but] it takes a certain skill and aesthetic with your clients that helps you become unforgettable."
REFERENCES
(All accessed July 17, 2014)
Show off!
Share your fall makeup looks on clients by posting on Skin Inc. magazine's social media channels. The editors will pick their favorite Fall 2014 look and announce the winner on September 30 on www.facebook.com/skininc. Share your images on Facebook, Twitter or Pinterest.