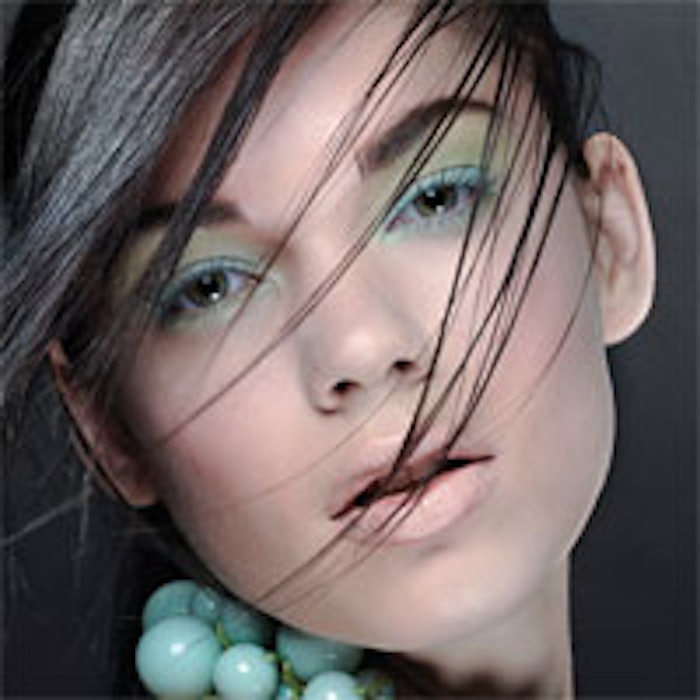 Hair and Makeup: Donna Mee; Photographer: David Nguyen; Model: Aarika Wolf/Vision
Spring always brings with it a feeling of newness; of hope and light and new possibilities. After shaking off the stupor of a long winter's rest, people tend to look with a renewed vigor at their world, and many seek to express this feeling through makeup. This spring, clients won't be hard-pressed to find the exact color to fit their moods, whether it be romantic nudes and pastels or bright, vibrant shades that say "Look out world; I'm out of hibernation!"
Makeup is an easy and relatively inexpensive way for clients to liven up their wardrobes and put a new face to their world. Although many of the hot colors for spring may seem out of reach for the everyday woman, it is your job to work as an advisor to help your clients figure out how to make the colors work for them—that's one thing they won't find at the department store makeup counter. "Remember that runway looks are meant to be theatrical trendsetters, and that women who want to look current may not necessarily want to, or be able to, rock what a runway model can carry off. Employ realistic options while creating a feel for what these looks are now," advises Emily Katz, celebrity makeup artist.
The color palette for Spring 2012, from color authority Pantone, includes a plethora of fun, bright colors, as well as those that are more subdued for a more neutral look. "The colors that will be hot are tangerine and neons and other bright colors, and some of the nudes and softer colors," says Teresa Paquin, makeup artist and owner of Anika Skincare & Makeup Studio in Hudson, New Hampshire. "It will be fun for clients. Spring is a time of renewal, and these colors can be made wearable for every client of every age." Corrective makeup artist Donna Mee of Donna Mee, Inc. has identified which of these colors works best with specific skin and eye colors. See Client Color Recommendations to guide your clients to the correct color choices for their specific needs.
Complexion
"Something those in the skin care world have been waiting for is happening this spring ... skin really is in! Because of this, sheer coverage is key this season," says Katz. Taking a departure from the heavier coverage of Fall/Winter 2011, flawless, lightweight coverage is all the rage for spring. "I'm excited about getting back to the complexion," states celebrity makeup artist, KJ Bennett. "It's all about gorgeous skin again. We're paying homage to skin. Many makeup companies are making foundations that look like skin and not like makeup. It's all about coverage and perfect skin with highlights and gorgeous finishes ... the kind of skin that makes people say, 'How the heck does her skin look that perfect?' "
Kate McCarthy, national artist and educator for glo¯minerals agrees, "Spring will return to having a fresh, no-makeup complexion. This will be achieved with a more full-coverage foundation that has a dewier, satin finish."
According to Tricia E. Campbell, director of education for jane iredale, "People are looking for coverage, but they're also seeking sheer-looking texture. Many want a matte finish on the skin, but they don't like the feel of that heavy foundation." To get that matte-looking finish, Campbell suggests using a primer, followed by an application of loose minerals with a nonlatex sponge in a pressing motion.
Another application suggestion for a clean, perfect-looking complexion involves using a water/gel foundation and a primer. "Definitely use a primer to help smooth those imperfections and then top it with a light foundation and a light dusting of powder to get a natural finish. You want clients to look natural and fresh with as flawless of a complexion as you can get," explains Paquin.
According to Mee, much of makeup success comes from the right foundation, and helping clients identify the right option for them can solidify your role as a cosmetics coach for your clients. "You need to find out what coverage the client needs and what finish she prefers," suggests Mee. "Most people don't know how to match their foundation to their undertones ... they need to compare the shade to the color of their neck and chest. The whole purpose of foundation is to cover surface tones and bring out undertones."
Blushes and bronzers
Once that perfect complexion has been established, color can be added to enhance the bone structure and offer a livelier look for spring. "People are getting away from the spray tanning and are using bronzers more often," says Bennett. "That way, you can give a subtle color to the body and the face. All the colors are more on the rosy side than on the orange side." McCarthy agrees, "Bronzers are going to offer a sun-kissed, warm glow. I've been doing a lot of light contouring, placing the bronzer on the face where the sun naturally hits, like on the hollows of the cheeks, at the hairline and on the sides of the nose. It adds warmth and shape to the face."
Another major player in spring's vibrant look is blush. Whether your client is leaning toward a more natural or a bolder look, blush can play a big part in adding a hint of color. "The cheek is very soft with a sheer pink or peach blush to go with a lot of spring colors," explains Paquin. "If you are going with a nude face, you can do a sheer pink, and if you are doing intense color, you can still do a soft, sheer pink on the cheek and a sheer neutral on the lip."
Katz agrees that sheer pink or peach is the way to go. "A very light beige or rose pink or peach are best to keep blush from looking too clownish." Adding blush to bronzer can really add a touch of sun to the face, says Bennett. "Do a flush of color over the bronzer on the apples of the cheeks," he says. "You get a sunny glow with the bronzer and are infusing it with these beautiful spring colors. It is so fresh; there is nothing murky or muddy-looking." Bennett suggests taking the same blush color and using it on the lips and for a neutral eye application.
Eyes
Dynamic and intense or romantic and neutral, the eyes are always a point of focus for application and color trends. No matter what color palette you and your client choose, it is a makeup best-practice to focus efforts on either the eye or the lip; doing both will result is an overly busy application.
For those clients who prefer a more dynamic and intense look, "A beautiful tangerine-washed gold is a great eye shadow color for spring that can be worn by many different women," suggests Katz. "Stock up on colors in your spa that work on the many, not the few, to keep your inventory moving." Other bold—even neon—colors can be used, including teal, turquoise, purples and ocean blues, according to Katz. Along with intense colors, metallic colors for the eyes are gaining momentum this season. "Metallics are huge right now, but are not what you would expect ... they are not the typical silver, gold and bronze. It's metallic colors, and it's so fresh and invigorating for the spring and summer. It isn't a shimmery, glittery look; it's reflective and shiny in a metallic way, and every color is being done, like pinks, purples and mint tones," explains Bennett. "There is nothing more stunning than a metallic mint tone against bronzed skin. Pair that with a beautiful transparent tangerine glossy lip, and it screams happiness, sunshine, and evokes an unbelievable feeling of the season that it is."
For those clients who prefer a more romantic and neutral approach to spring, there are beautiful options available, as well. "Everyday women really gravitate toward the natural look; women want their natural beauty to come through," says Campbell. Sheer pink is a big eye shadow color for the more neutral look. "Eyes are soft for spring, and there are a lot of pastels being used. It's going to be pretty sheer. For eye shadows, I'm seeing a color wash, where one color is used from the lash line to the brow bone. Rose petal, lilacs, mint greens and a dark black liner are keeping eyes soft, romantic and pretty," says McCarthy.
To incorporate some of the spring colors in a more natural way, Katz suggests using eye shadows in golden tones. "Colors, especially light golden orange, can look beautiful without being harsh, along with nudes, beiges and light taupes. You can add shimmer without having too much shine so it doesn't inappropriately enhance skin texture. There are new formulations that blend well and are sheer, lightweight and easy-to-apply," she says.
No matter which type of color palette your client chooses, liner, lashes and brows play an important role this season. "I like to use liquid liner pens with felt tips. Especially if the client is wearing a bold shadow or lip color, like a hot pink or an intense blue, I like to do a thick line of jet black liner. You can choose an intense color of shadow, a little color under the brow and a nice dramatic line," suggests Paquin, who also encourages the use of some of spring's colors within the eye liner over a neutral eye. See an example of this look in Spring 2012 Makeover.
Another look that has lingered from Fall/Winter 2011 is the winged eye, although to spice it up for the new season, Bennett suggests using a liquid metallic liner instead of black. "Liner should be sharp and neat, especially with an extended wing, if the eyelid is young enough to support it. For more mature women, sometimes the winged-out look sounds great in theory, but in practice, it's best to extend it a tad beyond the edge of the lid with a slight upsweep," explains Katz.
Lots of thick, black lashes are still in vogue for this season, and eyebrows remain a strong feature in this season's trends. "Big brows are coming back. Keep in mind that you want to use the same color as your client's hair or a shade lighter," advises McCarthy. Paquin agrees, saying, "Brows are thick and well-shaped. I like to do the brows with a small angled brush. First, I like to feather it upward and outward with a pencil, and then go over it with a powder and top it with brow wax. There's a lot of attention on a full brow that is naturally shaped this spring."
Campbell reminds that the best recommendations for your clients' eyes should be based on the basics, such as their shape and their color. "You have to look at a client's eye shape, and place colors according to this shape," she emphasizes. "You want someone to say your eyes look amazing, not your eye shadow. You need to look at the eye color. The best way to pop a blue eye is by using warmer tones, oranges and bronzes, and if you have a green eye, you would want to go toward red-browns and purples. You have to take eye shape and color
into consideration."
Lips
Although reds will always be in, the traditional red that graced the porcelain faces of Fall/Winter 2011 is transitioning into the new season. "The beautiful tangerine color can help transition the red lips of last season by taking red and infusing it with the tangerine giving it a warmer edge. It's a gorgeous bridge," exclaims Bennett, who is also inspired by the lavender colors of spring. "A lavender lip is stunning, fresh and unexpected on the lips. Mix it with a natural lip color and it's not jarring. You can do it in an opaque, in a sheer or in a lipstick with a clear gloss over the top," he says.
Although cream lipsticks are carrying over from last season, semigloss is holding its own this spring. "Lips are not high gloss this season," says Paquin. "It's a little more sheen than what was being seen in the fall. A sheer gloss really complements some of the looks this spring." According to McCarthy, "Sheer colors for lips, such as berries and pinks, are in this spring."
Along with semiglosses, lip stains are also a favorite. "People are looking for lip stains that are long-wearing with softer colors in nudes and pale pinks," says Campbell. Bennett also recommends lip crayons. "They have a soft, satiny finish. You're using this chunky crayon as opposed to a lipstick; you get the precision of a liner and the look of a lipstick. It's all about crispness, polished looks and fun colors," he says.
Making it work
As most spa professionals and makeup artists are aware, just because the color and application is trendy doesn't mean that it is the right choice for all your clients. It is your job to customize the look to the client, to help best meet her needs. This is what makes a client's relationship with a professional a step above the Internet or the department store. Because you care about her, you will help her make the right decisions ... and she will thank you.
"At the end of the day, it's good to find colors that really work on the clients; colors they can turn to regularly and some colors they can pick to perk up and modernize their cosmetic wardrobe for a bit of seasonal fun," explains Katz. "Trendy isn't always right for everyone. It's good to go with what really works."
To this end, Paquin suggests that education is key. "The best thing skin care professionals can do is educate clients about what the new colors are and how they can be worn—how they can take those neons and nudes, and make them wearable. Host demonstrations, workshops and special events to get clients and their friends coming in to preview the new spring colors. Make sure it is fun and upbeat, and that they can learn," she says. "A lot of women will look at these colors and be afraid. A 50-year-old with nudes doesn't always work. Consider photographing some of the trends on models and hanging the photos in your spa. Take clients, whether they are 18 or 55, and teach them how to make the colors wearable. That's really what clients are coming to see you for ... the knowledge and keeping it simple."
Every season gives you an opportunity to reinvigorate the relationships you have with your clients by introducing them to the new makeup colors and trends. And this spring offers a colorful reason to get back in touch with those clients who have been missing in action. "Color affects people's moods so much. It's something needed, it's refreshing and people need to be refreshed," says Paquin. "Because of the trying times, when you can use color in people's everyday lives, it brightens their moods. These colors are very wearable and are what people are needing this spring."