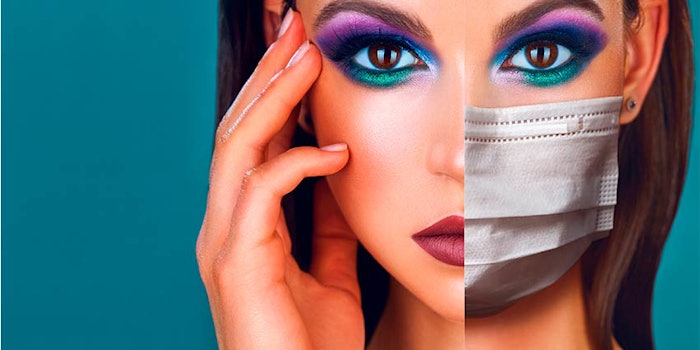 Masks have become the #1 accessory of 2020. Regardless of our opinions, we in the beauty industry must embrace this new fashion trend and "wear it like we mean it." People look to us to set the tone when it comes to fashion and this, my friends, is no different.
Look for the Benefits
For many people, trying to incorporate a beauty routine around a giant piece of cloth covering up their face can be intimidating. While putting on makeup right now might seem unnecessary to some, it can make a huge difference in creating a sense of normalcy, helping to navigate through these overwhelming circumstances. Let us not forget science backs up the saying "look good, feel better."
Not only should we still look the part, but we now have a huge responsibility on our hands to help our clients as they work through "the new normal." We are the experts for all tips when it comes to the world of beauty and now that means how to look your best while wearing a mask.
There are many things to consider when having to wear a mask daily. The pros of wearing masks is you can rock glamorous eye makeup, big bold lashes and sharp brows. The cons, of course, are unwanted breakouts, makeup moving and sweat, among other things.
Remember, it is our job to not only set the tone but to also to educate our clients. This is a perfect time to set up virtual sessions or social distance appointments with our clients and coach them through this process. This is not a problem. This is an opportunity! Think about the old saying, "Give a man a fish, he eats for a day. Teach a man to fish and he eats for a lifetime."
Continue reading about the beauty in masks in our Digital Magazine...
Tara Hill Hanover has spent over 20 years in the media as a host, celebrity stylist, writer and speaker. She is currently owner and publisher of a monthly lifestyle magazine as well as a host on GemShopping.com. She is also a makeup artist for CNN, and many talents have also been featured on TBS, Cartoon Network, The Weather Channel, ESPN, FOX and HBO. She has been featured in 1st Hold and On Make-up and her work is displayed in many well-known magazines. Follow her at @tarahillhanover.