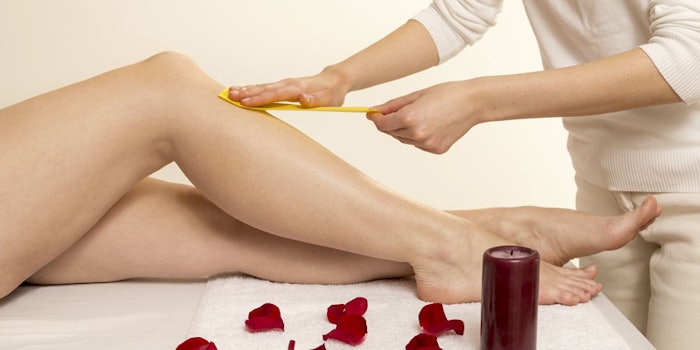 Waxing is a hot and highly demanded treatment that Face & Body is taking head-on with its different education classes. Face & Body Northern California, taking place from August 26-27, 2018 at the McEnery Convention Center, San Jose, California, went as far to even include and Advanced Education Spa Pod for Hair Removal Treatments. If you're adding waxing treatments to your spa, or just learning to expand the education you already have, these are the must-attend waxing classes that will be at Face & Body.
Hair Removal Spa Pod
Waxing: Myths, Tips and a Little Humor
Aug. 26, 1-2 pm, Stephanie G. Laynes
Join Stephanie G. Laynes, owner of Smooth Skin Supply, in diving into different waxing challenges that many estheticians face. Go through how simple information can increase your client retention and educate your clients about post-wax, home-care tips.
5 Steps to More Money and More Clients with Sugaring
Aug. 26, 2-3 pm, Shannon O'Brien
Shannon O'Brien, founder of iSugar University and owner of SugarMama's Skin Studios, discusses basic sugaring theory, proper technique and training and how sugaring can help you grow a loyal client base that keeps coming back.
Hair Removal Classes
Brows to Brazilians With The Latest Waxing Techniques
Aug. 26, 9-10:30 am, Aug. 27, 1-2:30 pm, Deanna Derthick
Learn how to use different waxes, strip and stripless, for facial and body waxing, while avoiding breakage, redness and irritation. Also learn Depilève's 10-minute leg wax technique, full Brazilian waxing professional techniques and three-point sculpting eyebrows method.
A Brazilian Reasons to Take This Satin Smooth Class; Brazilian Waxing Advanced Techniques
Aug. 26, 3:30-5 pm, Galin Ramirez
Learn how to use soft, hard and thin film wax with the Satin Smooth Technique to provide the most comfortable service. Learn how to conduct a confident Brazilian waxing service. (Note: Full-frontal nudity in this class. Professionals only. No photography).
The Benefits of Sugaring Hair Removal - Mastering the Brazilian
Aug. 26, 3:30-5 pm, Autumn Hunter and Tami Blake
In this class, learn how to garner a loyal and appreciative client base by adding sugaring services to your business. A live demo of basic sugaring services will be shown, as well as the most lucrative and sought-after service: Brazilian Sugaring.
Make Money wiht Men's Waxing - Cirépi and Epillyss
Aug. 26, 3:30-5 pm, Cali Van Alest
Add men's waxing to your repertoire and discover advanced hard and soft waxing techniques, product knowledge, contraindications, sanitation and a hands-on demonstration featuring Cirépil stripless and Epillyss strip waxes.
Elevate Your Waxing With ItalWax
Aug. 27, 10:30 am - 12 pm, Tiffany Montalbano
Learn the benefits of different types of waxes and contraindications, as well as how ItalWax waxes can elevate your business. Waxing demonstrations including a Brazilian wax will be shown.
Skin Inc. Live! Stage
Holistic Hair Removal 
Aug. 27, 2-2:30 pm, Michelle Cate
Attend this live demonstration and learn how to apply holistic esthetics to hair removal. In this demonstration, attendees will learn how to prep and work with the body using natural ingredients to achieve healthy smooth skin as well as post-care tips and tricks.
BONUS BROWS:
Would You Like To Know More About The Big Business of BROWS and Retailing
Aug. 26, 9-10:30 am, Kayla Parks
Learn brow mapping, shaping and grooming for all face shapes in a live and interactive demonstration. Also, learn more about how to incorporate retail as an add-on to your brow services.