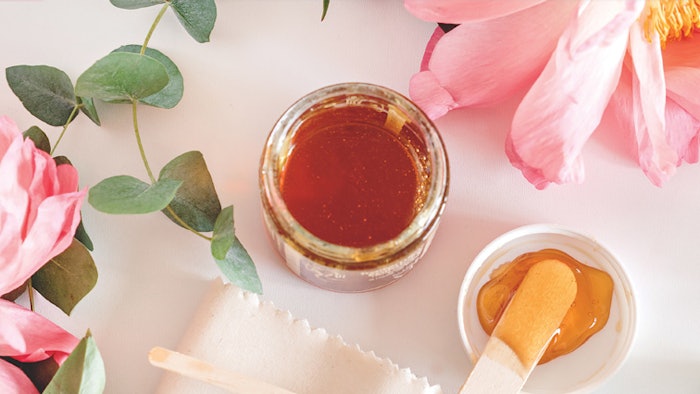 This month we asked industry pros for their input on professional sugaring techniques and equipment. We have gathered expert advice from industry professionals on sugaring, and we are bringing these tips to you. 
Tip 1: Take the Right Precautions
During chemotherapy, a person could become anemic as their hemoglobin level drops. Anemia is a symptom, not a disease, indicated by a shortage of red blood cells. The following symptoms may occur and need to be considered when sugaring: swelling in the hands or feet. Swelling may include inflammation, so removing hair around these areas of swelling may not be an option. Pale skin that is also cool to the touch, plus the inability to stand cold. The skin may present as clammy (feels 'wet' to the touch), so consider that the hair may also be moist and the sugar may not be grabbing it effectively, or prep the client's skin/hair properly by removing any moisture. Proper draping and room temperature are to be considered, as well as shortness of breath, fatigue or extreme tiredness. The client may not have the energy or stamina to be able to handle sugaring or any other hair removal service. Bruising pressure from 'rubbing' sugar onto the skin may occur more readily, particularly if the client also has a low blood platelet count, so sugaring or any other hair removal service may not be recommended.
-Morag Currin, Founder of Oncology Training International
Related: The Key to Microbiome Friendly Hair Removal
Tip 2: Hydration is Key
Sugaring services are so much more gentle and effective when a client is well hydrated! I love to use the metaphor of avoiding weeding in a garden with dry soil to have them ramp up hydration prior to appointment. If any client struggles with ingrown hairs, water intake is the first thing I suggest ramping up, even prior to troubleshooting products. Clients also love a free fix.
—Kyle Alexander, US Education Coordinator, Tamara's Sugar & Founder/Owner, Pretty Sweet Sugaring Studio
Continue reading more sugaring tips in November's Digital Magazine...