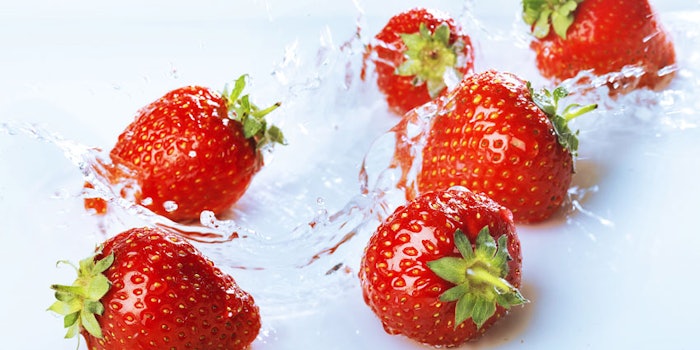 While strawberries may not actually be considered a berry they still harvest a wealth of benefits for the skin when both ingested and used topically. Often considered a fruit of romance and love, strawberries have shown to help aid in weight loss, heart health, regulating blood pressure and reducing inflammation. More recently, this special fruit has been dubbed a trend in the skin care world with its qualities being added into a number of topicals to aid in anti-aging among other skin concerns. 
Aiding with Anti-Aging
Even though strawberries are not technically considered a true berry, they still include numerous antioxidants that help to fight against the signs of aging. More specifically, strawberries have ellagic acid in them, which works to protect the skin against UV damage by stopping the enzymes that contribute to collagen destruction. This helps to prevent wrinkle formation on the skin.1
Strawberries are actually considered to have the third highest potency of antioxidants per serving compared to other foods in the U.S. All of these antioxidants also help to fight free radicals from breaking down collagen and elastin fibers in the skin. Especially the high amount of vitamin C that is present in strawberries.2,3
Big Time Brightener
The high amount of vitamin C found in strawberries also helps to lighten the skin. One serving of strawberries has over 50% of your daily value of vitamin C. When used topically, this amount of vitamin C can help to reduce the appearance of dark spots while also helping to make dull skin look more fresh and radiant.2
Fighting Acne and Inflammation
Additionally, the acidic nature of the strawberries helps to reduce the production of excess sebum and oils on the skin.1 The astringent properties combined with the antioxidants found in strawberries help to treat puffiness in the eye area and reducing inflammation in the skin.2
Bottom line, strawberries are filled with antioxidants that help benefit the skin in numerous ways whether it be with anti-inflammatory, anti-fungal or anti-aging benefits. 
References: