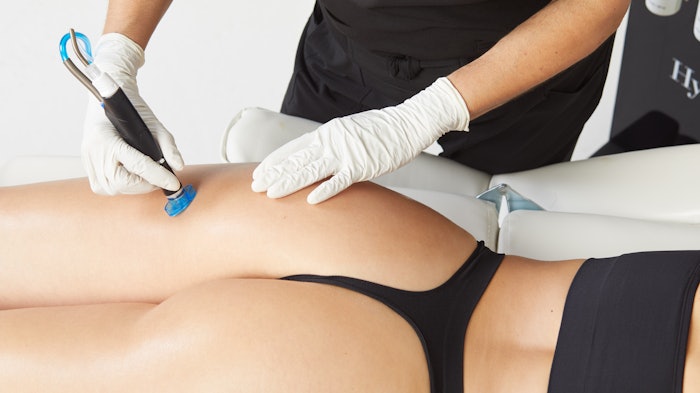 Photo courtesy of Hydrafacial
Hydrafacial has added a new service to its long list of offerings; the Hydrabooty treatment. The Hydrabooty service delivers instant and long-lasting results by gently cleansing, exfoliating and hydrating the skin. 
The treatment provides hydration and smooths the skin in three steps, and takes around 45 minutes to complete. The steps include cleansing, extractions and exfoliation of the skin. Certified estheticians will use the Hydrafacial device to combat dryness, fight acne and even skin tone on the booty. 
Related: Boosted Skin Care: Hydrafacial AHA Booster Collaboration Launches
The treatment can also include Hydrafacial's customized boosters for a personalized treatment for every client. The service will restore the skin by infusing antioxidants and peptides provided through the company's unique technology. 
Clients can brighten and smooth to improve texture, fight dullness, and prevent future breakouts by using a trio of exfoliating acids: glycolic, salicylic and lactic. The butt will feel hydrated, smooth and firm after the treatment is performed. 
The Hydrabooty service will improve skin health by addressing specific concerns that arise from frequently exercising, waxing or shaving, or wearing tighter-fitting clothing. The treatment is available for all skin type and butt-prone skin concerns including acne, loss of firmness, dryness and inflammation.