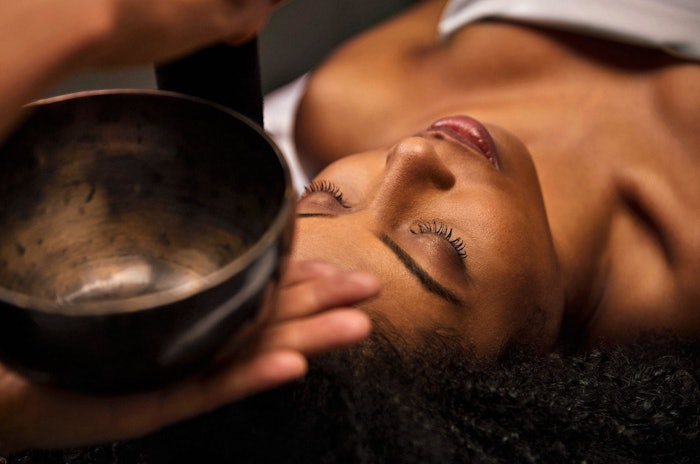 Photo courtesy of Burke Williams
Burke Williams launched their newest treatment offering, the Tranquility Massage. The service integrates massage therapy with the healing effects of sound to create a calming experience. 
Designed to bring the body and mind into a state of deep relaxation, the Tranquility Massage is now available in all 11 Burke Williams spa locations. The new offering utilizes singing bowls hand-crafted by Nepalese artisans who add a personalized touch to each bowl, with the bowl sets tuned in harmony with one another.
Related: Kimpton Charlotte Square Hotel Opens First Sound Wellness Room
The vibrations of these singing bowls entrain the frequencies of the body's natural vibrations as the rhythmic movements of a Swedish massage guide guests into a state of complete relaxation. Within this dream-like state, light touch cranial holds are applied to fully immerse guests into a deeply calming experience.
"Our goal has always been to bring the transformative and healing experience of total body, mind and soul to our guests through the most effective and innovative therapy techniques," says Bill Armour, Burke Williams president and founder. "We are thrilled to share this new offering with our guests and provide a moment of extreme tranquility and calmness."
The experts at Burke Williams work to fuse traditional techniques in a revolutionary way, allowing for a restful massage experience for both the body and mind.