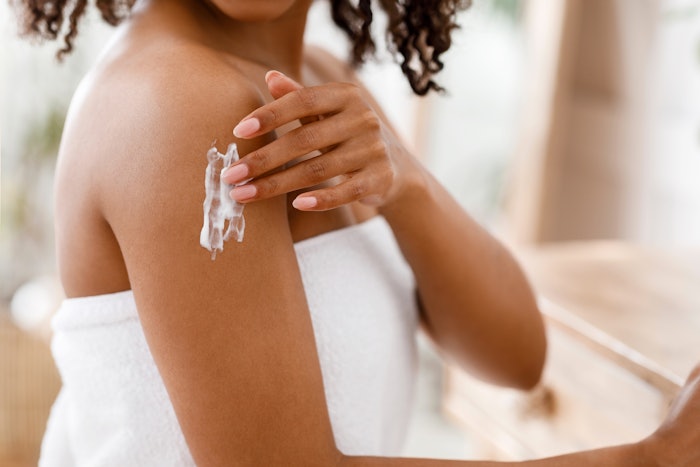 Black children are almost twice as likely as white children to develop atopic dermatitis, a form of eczema, and the effects of eczema tend to be more severe in dark skin tones. Along with the typical eczema symptoms of itchiness and flakiness, darker skin can experience temporary changes in skin color due to inflammation.
Sarika Manoj Ramachandran, M.D., an ABMS board-certified dermatologist and medical director of Yale Medicine in Branford, Connecticut, and associate professor of dermatology at Yale School of Medicine, discussed the prevalence of eczema in darker skins and treatment methods in an article from Healthline.
Related: How to Treat Acne Client's Dealing with PCOS
In dark skin, eczema may be darker brown or gray or have a purplish hue and it is typical for darker skin to have less redness than lighter skin types. It is also common to see fine scaling and bumps around the hair follicles.
Ramachandran suggests the disparity in eczema prevalence among darker skin could be due to environmental triggers, socioeconomic status and healthcare access. There is also the chance of genetic and biological influences, but more research on the subject is required. Ramachandran said it is important for healthcare professionals to learn to recognize the changes in eczema symptoms in darker skin types to avoid delaying treatment or misdiagnosing.
Chronic scratching of eczema patches can lead to thickening of the affected skin and patches appearing darker or lighter than the rest of the skin, according to Ramachandran. Hyperpigmentation or hypopigmentation can take months of eczema treatment to reverse.
It is common to treat eczema with topical corticosteroids, as well as calcineurin inhibitors to prevent long-term effects of topical steroid use, including decreased pigmentation, stretch marks and fine blood vessels. When used appropriately, topical corticosteroids don't affect skin pigmentation.
If topical steroids don't work, a healthcare professional may recommend treating eczema with ultraviolet light (phototherapy) and systemic medications, including dupilumab, JAK inhibitors and other immunosuppressive medications, according to Ramachandran. It is also important to use moisturizer regularly and take lukewarm showers.