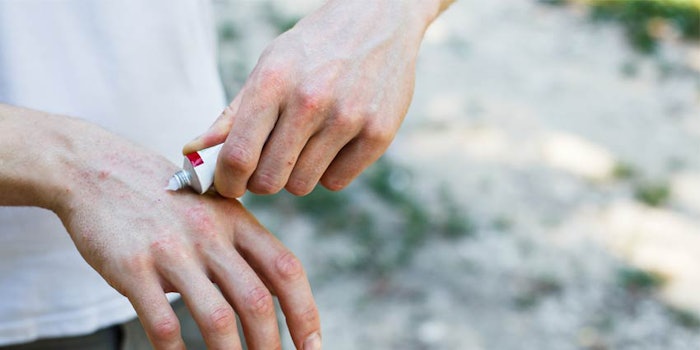 Anthralin is a topical medicine typically used to treat psoriasis, a common skin disease that causes dry, raised, colored patches to develop on the skin, sometimes covered in silvery scales.
Anthralin has been used to treat psoriasis for over 80 years. It is extremely effective, but comes with some side effects, as discussed in an article from Medical News Today.
Related: Psoriasis Linked to Mental Health Disorders
Anthralin is a synthetic version of a natural substance that is present in goa powder. Goa powder is a type of dried tree sap. The medicine contains no corticosteroids or coal tar, which are two other common psoriasis treatments.
It is common to use anthralin as a short contact treatment, where a doctor will apply treatment for 10-30 minutes before washing it off the skin. It is also common to leave the topical on affected areas overnight.
Anthralin works by slowing down the growth of skin cells. This can help reduce psoriasis symptoms. It can also help reduce any swelling that may occur in conjunction with psoriasis symptoms. It commonly comes as a cream, a shampoo or an ointment, depending on the area of the skin affected.
There are several side effects and precautions to consider when using anthralin to treat psoriasis.
Only use anthralin as directed by a doctor. Avoid using it more frequently or in larger amounts than recommended. Misuse of the treatment can increase the chances of experiencing side effects like severe irritation and discoloration.
Avoid getting the medicine in the eyes, mouth or the inside of their nose. It can cause any irritated or injured skin to worsen.
It is recommended to generally avoid using anthralin on the genitals or in the folds or creases of the skin. If a person has psoriasis symptoms in these areas, they should speak to their doctor.
Severe allergic reactions to anthralin are very rare. However, if someone has a serious allergic reaction they should seek emergency medical help. Symptoms of an allergic reaction can include the development of a rash, itching sensation, swelling—particularly of the face, tongue or throat, severe dizziness or difficulty breathing.