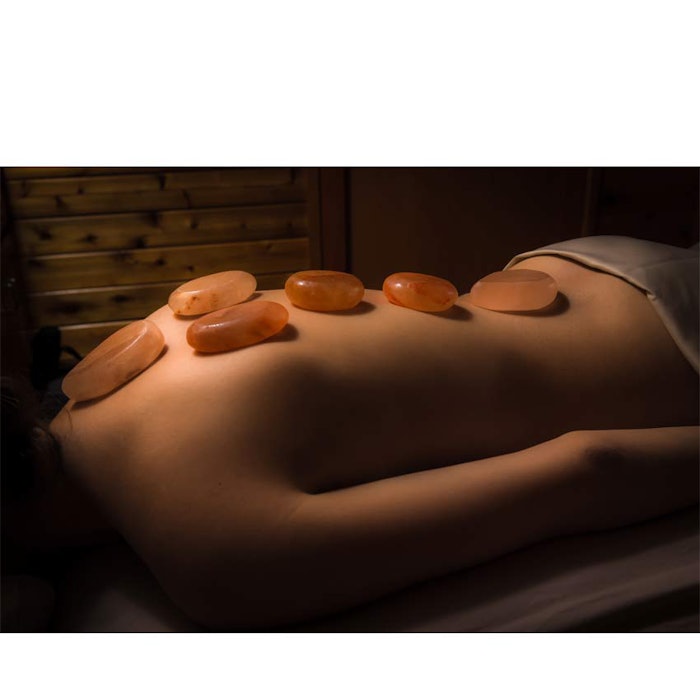 Ska:ná The Spa at Turning Stone Resort Casino in Verona, New York, is seasoning its treatment menu by incorporating Himalayan salt stones into its hot stone massage. The spa believes this will be the new way of performing stone massages in the spa industry. 
Eco-friendly is No Longer Just a Trend 
Specifically, the spa has added the Himalayan Salt Stone Massage from Saltability to its menu. Himalayan salt stones add an added health benefit to hot stone massage, rather than the traditional basalt stones used. Also, Saltability's eco-friendly, LED light salt stone warmer uses little electricity and no chemicals, while emitting negative ions to reduce oxidative stress in the treatment room.
"With the use of an eco-friendly warmer and all of the benefits of Himalayan salt, this is more than just a 'latest trend'—this is the new way of performing stone massage for the spa industry," said Shane Bird, director of spa operations at Turning Stone Resort.
A Natural Treatment Inspired by Ancient Therapies  
Saltability's pure salt stones, mined from the Himalayan Mountains, contain 84 naturally occurring minerals and elements. Inducing deep relaxation, Ska:ná said its Himalayan Salt Stone Massage balances the central nervous system and nourishes depleted cells in the body, stimulating circulation, detoxifying, improving sleep, reducing inflammation and calming the nervous system.
Ska:ná's new treatment uses a warmed Himalayan salt stone massaged over the body using a specific sequence of massage to balance the body's meridians or energy channels. Drawing on traditional Chinese medicine therapy, the spa said its Himalayan Salt Stone Massage grounds and balances the body's electromagnetic field, and the pressure, motion and thermal effects used during the treatment work to replenish nutrients in the connective tissue while creating deep relaxation. 

"I have long been an admirer of Ska:ná Spa and their dedication to preserving and sustaining the environment," said Ann Brown, Saltability's founder. "We are thrilled they have chosen to add Saltability to their spa, adding our green and eco-friendly warmers to the environmentally positive environment found at Turning Stone Resort."
This is just another example how you can add environmentally friendly treatment options to your spa. Read more in Skin Inc. on how to reduce your carbon footprint.