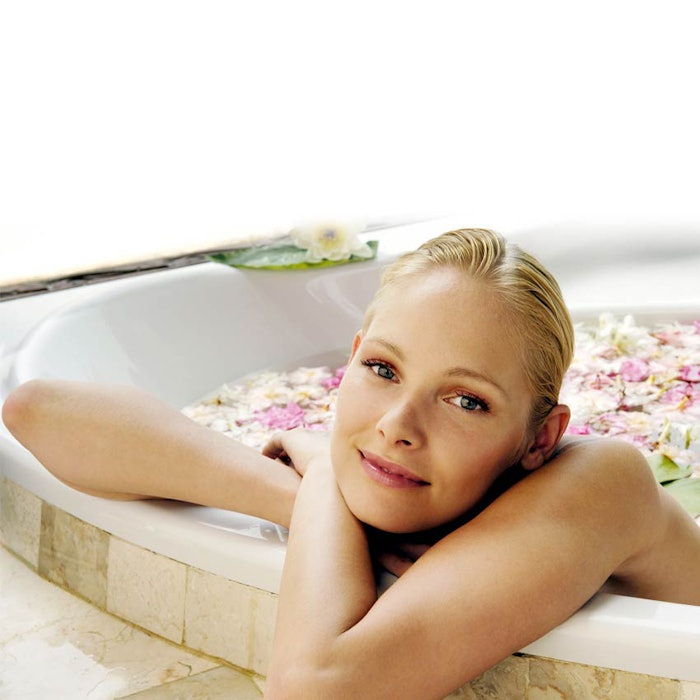 "When overloaded by toxins, the body is not able to successfully filter out impurities," as Kathy Xydis explains in an article about helping clients with detoxes, from the October 2013 issue of Skin Inc.
While new nutritional detoxes are continually popping up, they are not the only detox clients can take part in. April Maguire, HealthySkinPortal.com, outlines the detox bath trend.
Detox Bath Benefits
Proponents of detox baths insist they offer a number of benefits for skin and overall health. Along with relaxation benefits, detox baths are reported to cleanse the body of toxins while lending support to various systems, says Maguire.
Popular Detoxing Ingredients
By including a few drops of an essential oil or a bit of powder into a client's bath, you can help provide them key benefits of a particular ingredient.
Frequently used ingredients include:
Peppermint oil helps boost circulation and alleviate headaches.
 
Eucalyptus oil helps increase immunity.
 
Montmorillonite helps remove toxins and reduce radiation levels.
 
Salt blends can reduce swelling and aid in digestion.
 
Apple cider vinegar helps reduce inflammation and treat a variety of conditions including arthritis and gout.
 
Ginger aids in raising energy levels and boosting the immune system.
Detox Bath Critiques
Maguire explains that many doctors and skin care professionals criticize detoxification drinks and pills for being composed largely of laxatives and diuretics—offering no significant health benefits.
She continues: "While many people are skeptical of the power of detox baths, experts agree that this practice isn't harmful to the body in any way.
"Even if detox baths don't eliminate toxins or cure bodily ailments, hot baths can improve skin texture while aiding in overall relaxation. Lowering stress and anxiety can ultimately help boost the immune system and ensure the body continues to function effectively."