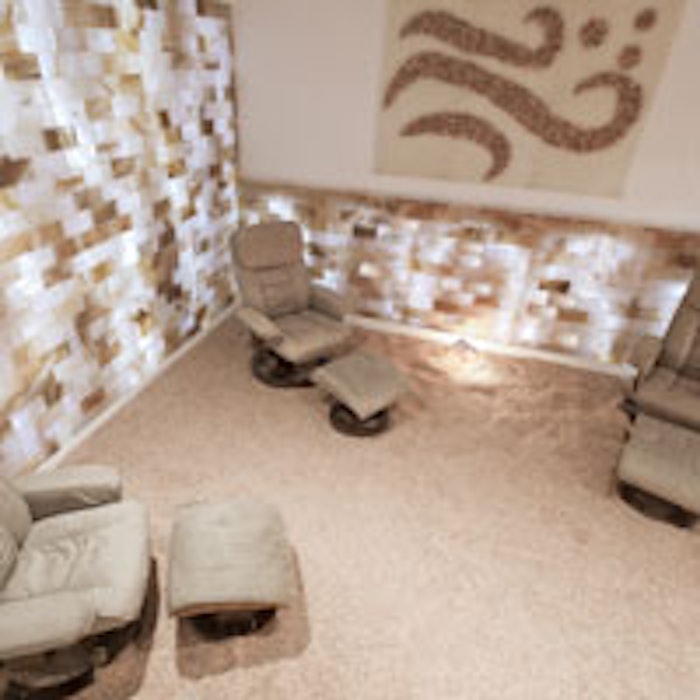 Breathe Easy's Wellness Center has officially opened at One Park Avenue, providing thousands of adults and children Dry Salt Therapy, a holistic, drug-free treatment without side effects, that helps to relieve respiratory and skin issues while promoting relaxation.
Breathe Easy was founded by Gary Patrick, senior vice president of advertising for Skechers, and his wife, certified yoga therapist and breathing expert, Ellen Patrick, both New York City entrepreneurs.
Salt is a natural and effective antibacterial, antiviral, antifungal, and anti-inflammatory mineral.
After exploring several of the dry salt therapy rooms in Europe and learning about their extensive positive aspects, the Patrick's wanted to offer Manhattan a natural alternative to relieving the symptoms of respiratory and skin ailments. Ellen Patrick, COO, notes, "Our mission is to provide a holistic, drug-free, natural therapy to adults and children to promote better breathing, healthier skin, sounder sleep, improved physical fitness and endurance, while increasing overall health and wellbeing."
Dry salt therapy, also known as halotherapy, simulates the beneficial effects of salt caves which have been used for centuries to improve health and one's overall wellbeing. Salt is a natural and effective antibacterial, antiviral, antifungal, and anti-inflammatory mineral.
Adults and children suffering from a multitude of respiratory and skin conditions as well as allergies, asthma, sinus infections, eczema, psoriasis, colds and flus, report that dry salt therapy is an outstanding effective addition to their overall wellness regime. It also has been shown to decrease stress, decrease snoring and ease sleep apnea.
Gary Patrick says, "I have had allergies since I was a kid, three nasal surgeries, sinus infections and took Z-Paks three to five times a year. Dry salt therapy has been a big boost for my breathing and skin. It stopped my sleep apnea and reduced my snoring."
Visitors can come in their street clothes and relax while breathing micro particles of dry salt for 45 minutes. The salt is ground into tiny particles by a state-of-the-art halogenerator and then infused into the salt rooms. The One Park Avenue location also houses a salt bed for private, individual treatments.
Source: Beauty Press