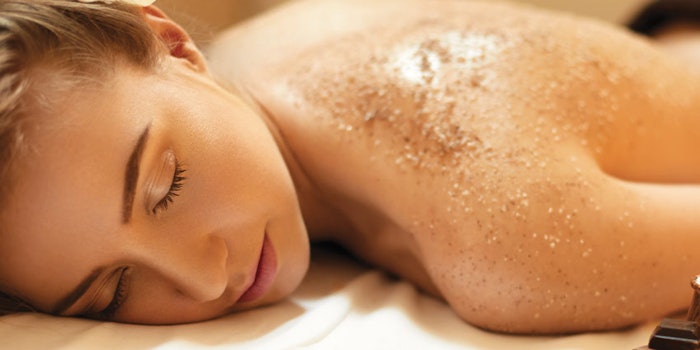 Who doesn't love a good scrub? Whether we've been working out, or spending long hours in boots and leggings, mid-winter is the perfect time to get it all off—flaky skin, that is. Exfoliation, whether through manual manipulation or by using chemicals to loosen dead skin cells and debris, is a form of deep cleansing that can be an important step in maintaining a healthy-looking complexion as well as a well-functioning protective skin barrier.
Exfoliation in one form or another has been practiced literally for ages. Ancient Egyptians used abrasive tapes of alabaster, honey and sour milk to loosen cells, then followed with a good scrub of finely ground sand. While methods of exfoliation have become more sophisticated, the goal still remains the same—soft, smooth skin.
You can exfoliate the body to get rid of the outer layers of dead skin cells using a host of different methods. The key is to use the right method or tool for the skin type. There are three types of exfoliation: manual (implements or devices), granular (scrubs and abrasives) and chemical (acids and enzymes). This article will review body protocols for all three, which you can bring into your spa to give clients glowing, beautiful skin.
Before You Start
Despite all the advances in treatment, we still see people going overboard on exfoliating, whether by scrubbing too hard or using overly harsh, inappropriately formulated chemicals. The result is the opposite of the goal: irritated skin with a compromised protective barrier that can be left permanently damaged and scarred.
In all cases, proper consideration of the skin barrier restoration must be part of the protocol. That is why it is of the utmost importance that skin care experts and clients educate themselves on the skin physiology, particularly on the importance of maintaining a healthy skin barrier before exfoliating.
Manual Exfoliation
You can exfoliate the body using a brush, a loofah or even a simple washcloth. Loofahs, washcloths and body brushes can be used in the shower with a body cleanser. One spa method that can be done both in the salon and at home is dry brushing. This is a vigorous form of manual exfoliation that helps loosen dead skin cells on the face and body, while it feels stimulating and invigorating. Use a dry body brush that has a wooden handle and is comprised of all natural boar bristles. This fiber is softer on the skin, and it can be cleaned and maintained between treatments. Just be sure to keep the wooden handle dry. When you perform a dry brushing, be sure to use light pressure. If skin becomes the least bit red or irritated, the treatment is too aggressive.
Dry Brushing the Body
Step 1. When dry brushing the body, start at the feet and move upwards, toward the heart.
Step 2. Stop at the breast area and dry brush arms, again in a soft, gentle circular motion going upwards toward the shoulders.
Step 3. To exfoliate the delicate décollettage and neck, use a smaller face brush, being sure not to be aggressive.
Step 4. It's always great to follow a dry brushing with a shower or bath to wash away the loosened material.
Step 5. Follow with a hydrating oil or body lotion, and skin will feel soft and smooth.
Note. Dry brushing legs is a great pre-wax treatment to prevent ingrown hairs. Don't dry brush areas that were shaved that day, exhibit a sunburn or have been chemically exfoliated recently.
Granular Exfoliation
Granular exfoliation is the use of a granular product that removes the dead skin by manipulation with the fingertips. There are several ingredients that are beneficial for this, including rice bran wax, almond meal, oatmeal and Dead Sea salt.
Ground almonds can also be moistened with sweet almond oil to replenish the oils lost from the skin during the cleansing process. Oatmeal contains natural whole protein and lipid material. Known for its soothing and conditioning effect on the skin, it also helps absorb oils. Dead Sea salts are best for tougher skin on the body. These salts are famous for their reviving, toning and exfoliating qualities.
Exfoliating Foot Treatment
Step 1. First, sanitize feet with antimicrobial hand wipes.
Step 2.. In a foot bath, prepare hot water with seaweed and five drops of peppermint essential oil for an invigorating foot therapy.
Step 3. Remove feet and place one scoop full of the Dead Sea salt mixture into a bowl. Massage mixture into the feet and calves in upward movements for approximately 3-5 minutes.
Step 4. Place feet in tub and soak for 5 minutes.
Step 5. Remove one foot and dry. Then continue with a regular pedicure.
Step 6. Proceed with a massage using a moisturizing foot cream for 5-7 minutes. Wrap legs and wrap feet with a warm, wet towel. Finish with an application of nail polish.
Honey, Almond, Oatmeal Exfoliation
This 55-minute body treatment is recommended for all ages to remove dead skin cells, hydrate and make skin look and feel soft and smooth.
Step 2. Prepare the bed with a flat sheet, an electrothermal blanket over the flat sheet, another flat sheet over the electrothermal blanket and a Mylar sheet.
Step 3. Ask client to lie on top of the Mylar sheet face down. Begin massaging the client with the body polish, starting on the back, buttocks, legs and feet. Turn the client over and massage the legs, stomach and chest area. Total massage should last about 20 minutes.
Step 4. Cover the client with a Mylar sheet. Then cover with a towel and wrap client with the electrothermal blanket. Leave the client wrapped for 20 minutes.
Step 5. After 20 minutes, unwrap the client and ask them to shower off the product. Remove the Mylar sheet from bed and replace with fresh towels.
Step 6. After shower, proceed with a 15-minute massage using a body oil with seaweed extracts combined with rich natural butters and oils, such as mafura, carrot seed, olive, jojoba, sweet almond and wheat germ to restore moisture.
Note: For a more intensive granular body exfoliation, use Dead Sea salts in the above scrub combined with seaweed extracts, aloe and peppermint oil to stimulate the senses while softening the skin. This is for drier, coarser skin types. Delicate areas such as the décolletage and chest should be avoided. Do not perform on anyone who has just shaved. Sugar can can also be substituted, which combines granular exfoliation with chemical exfoliation, as a natural form of glycolic acid. Sugar is also a natural humectant and works well with seaweed, cranberry, apple and citric acid.
Chemical Exfoliation
The use of chemicals such as alpha-hydroxy acids (AHAs) or enzymes to break down the upper layer of dead skin cell debris can be a safe and effective method of exfoliation if done correctly. This type of skin exfoliation (especially facial exfoliation) will generally cause some mild irritation. The esthetician must be careful not to exfoliate excessively, as it can cause inflammation and potentially damage. Over-aggressive exfoliation or improperly performed chemical peels can cause more damage to the skin than good, and this damage can be permanent.
Back Cleansing Facial
Step 2. Apply cleanser to the back and begin cleansing with an effleurage movement under steam. You may incorporate an electric brush for deeper purification.
Step 3. Remove cleanser with a hot towel infused with calming oils. Keep steamer on.
Step 4. For deeper treatment and resurfacing, apply glycolic peel, following directions above. Leave on 5-7 minutes, then wash off thoroughly.
Step 5. Take a spatula full of the water-based massage cream and massage the cream onto the back with effleurage movements for 10 minutes. Remove massage cream with a wet towel.
Step 6. Saturate two pieces of cotton squares with astringent and apply to the entire back.
Breast Treatment
The breast area can benefit from mild exfoliation followed by a hydrating mask and cream.
Step 1. Apply a mild glycolic peel for 5-7 minutes, or massage in a honey/almond/oatmeal polish, avoiding the nipple area.
Step 2. Remove with wet towels.
Step 3. Apply a rich cream and massage the area for five minutes, followed by a softening seaweed mask. Leave on for 5 minutes.
Step 4. Remove mask. Remove excess with damp cotton pads.
Step 5. Finish with a rich facial serum to smooth, soften and tone the skin.