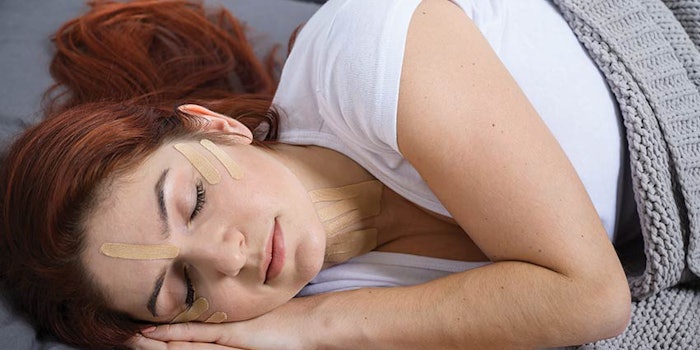 Esthetic taping, commonly known at DermoTapinga, is a taping application on the skin that when adhered to the skin correctly, helps to decompress the tissue below to pull compressed tissue away from the microcirculatory and lymph system to allow for better flow (dilation). This modality is used with massage therapists primary focusing on muscles for different purposes. Estheticians focus on skin health, so how can taping help with the skin?
A Complementary Practice
It is important to mention from the start that esthetic taping should not be used as a replacement of your primary treatment services such as esthetics, massage, nail care and other modalities. Rather, it is best implemented as an add-on service and is particularly effective in supporting services that include manual lymphatic drainage, microcurrent, LED and other esthetic equipment. This further complements and prolongs the outcomes of your work for your client.
If the client is purchasing a package of six manual lymphatic drainage services for the head/neck quadrant, there needs to be six add-on taping services for the client to get optimum results from taping. This can be included in the overall cost.
Training
Just like it is important that you have a solid understanding when using equipment like high frequency to remove benign skin lesions, especially if you plan to be successful in the practical application (and theory) of it, the same consideration should be given to using tape on the skin. Once you have an understanding of how the tape can have an impact through its ability to provide sensory input, you will be able to properly 'adjust the settings' (cuts and direction) to accommodate your client's individual needs.
Correct application is necessary and is based on a thorough knowledge and understanding of the integumentary (epidermis, dermis and subcutaneous tissue) system.
Learn more about esthetic taping for better skin health in our Digital Magazine...