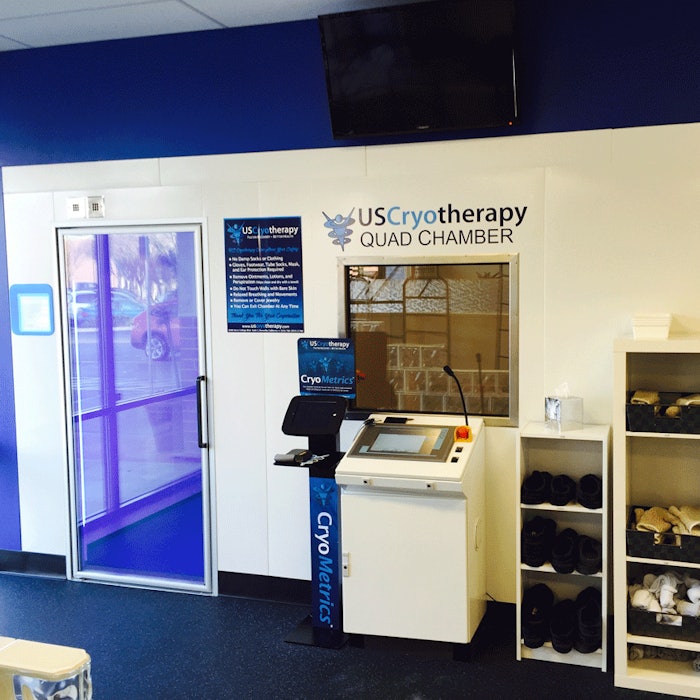 Cryotherapy has great benefits for health and skin, but recent reports have the public questioning its safety. When used properly, the treatment is completely safe, but precautions must be taken. Skin Inc. was able to chat with Kevin Kramer, chief operating officer of US Cryotherapy, to learn about the benefits of cryotherapy in addition to some of the safety precautions.
Liquid Nitrogen vs. Electric Equipment
The electric equipment Kramer's company utilizes is an ambient room, averaging a temperature of -166°F to drop body temperatures up to 35-45°F. What makes this equipment unique is it does not use any liquid nitrogen or gas to control the rooms, said Kramer.
"In our equipment, you are in an ambient, fresh air environment," explained Kramer. "It's a refrigerated cold room, exactly like walking into a walk-in restaurant freezer, the difference being that it's obviously much colder."
With over 220 studies done, electric equipment is the most clinically studied product in the world. The US Cryotherapy rooms help shock the body into a central nervous system reaction so skin temperatures tell the brain to move blood throughout the body to protect the core, explained Kramer.
Skin and Health Benefits
Better blood flow benefits skin by decreasing inflammation and improving cellular issues, he added.
"At the site of an injury or at the area of the skin level where you have dermatitis or other issues, that's all inflammation based as well," said Kramer. "If you're flushing that with nutrient-enriched blood you can push metabolic waste out of that area and drag in oxygenated blood, which helps it essentially regenerate. That's where you're getting the recoveries."
Cryotherapy started as a medical piece in Europe until 2011 when it was introduced to the United States and began to evolve. In addition to helping skin, cryotherapy can be used as a performance enhancement tool, which includes benefits such as:
Becoming energized,
Elevating moods,
Reducing pain and
Safety Risks and Precautions
With any type of treatment, clients with certain health issues should be aware of potential interactions. For example, individuals with cardiovascular or circulatory deficiencies should not be exposed to the cold, said Kramer.
Some safety tips US Cryotherapy follows include:
Maximum amount of time in a chamber of 3 ½ minutes;
Measuring the regulations to avoid over-cooling and potential frostbite; and
Keeping clients comfortable with gloves, socks and slippers, ear headbands and face masks to breathe in warm air.
Growing Benefits for the Future
As cryotherapy begins to grow in popularity, more high-end spas, hotels, gyms and other locations are purchasing cryotherapy equipment.
"At this point it's become a word of mouth awareness," said Kramer. "You see a lot of athletes and celebrities doing it. We want to move into more of the clinical realm with proven benefits for particular conditions. I think that's the direction the industry will be going."