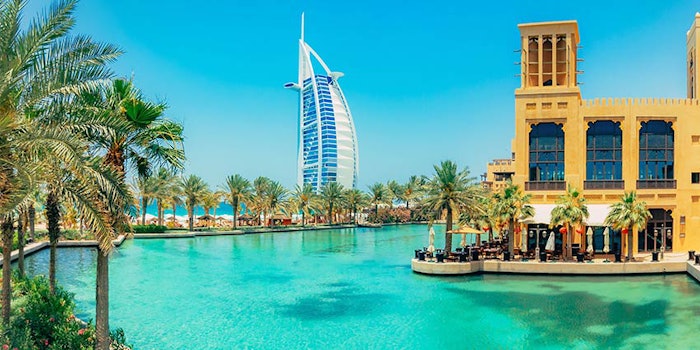 The Middle East-North Africa wellness tourism market can't be stopped: from 2015-2017, it grew 13.4% annual, reaching $10. 7 billion—and ranking #1 in the world for pure percentage growth.
This per the latest research from the Global Wellness Institute (GWI), presented at the Arabian Travel Market (ATM) in Dubai. The research also found an explosion in the region's spa industry, which grew 15.4% and was valued at $2.8 billion during the same period.
Other key takeaways:
Wellness trips across MENA grew increased from 8.5 million in 2015 to 11 million in 2017; wellness tourism revenues jumped from $8.3 billion in 2015 to $11 billion in 2017 and will grow another 75 percent to reach $18.7 billion by 2022
MENA wellness travelers are big spenders, spending 44% more on inbound wellness trips ($1,305) than average travelers to the region (domestic wellness trips average at $599, a 65% premium)
The top five MENA wellness tourism markets are UAE, Morocco, Israel, Jordan and Bahrain
Spa locations jumped from 4,465 in 2015 to 6,057 in 2017, while spa revenues grew from $2.1 billion to $2.8 billion (15.4% annual growth versus 9.9% for the average global spa market)
When it comes to spas the UAE is in the lead, ranking among the top 20 spa markets in the world with $873 million in yearly spa revenues, followed by Saudi Arabia ($347 million) and Morocco ($295 million)
For recent percentage growth, MENA's thermal/mineral springs market ranks #1 worldwide: revenues grew from $240 million in 2015 to $410 million in 2017 (30.4% annually versus 10 percent for the average global market)
Hot springs establishments across MENA grew from 324 to 416, with Tunisia in the lead ($190 million market), followed by Israel ($66.5 million) and Algeria ($45.4 million)
Among the trends to keep an eye on:
Medical tourism, particularly in the Gulf region: "The UAE now accounts for an astounding 20% (207 medical facilities) of all Joint Commission International-accredited hospitals and clinics worldwide," said CEO Josef Woodman. "This represents a huge calling card for promoting medical tourism to the UAE, and Middle Eastern destinations, like the UAE, are now actively vying for the outbound wave of Chinese patients."
Comprehensive wellness resorts, such as the soon-to-open Six Senses Shaharut in Israel's Arava Valley (which will feature wellness programming with indigenous "spins," like authentic hammams and overnight camel camping) and the UAE's Alma Retreat, which focuses on providing affordable back-to-desert-nature experiences
Hot springs are, well, hot: In Tunisia, plans are underway to privatize historic thermal centers and build 54 new ones by 2020, while in Algeria, 70 springs have been granted to private investors, 13 new facilities have opened, and $100 million is being invested to modernize eight publicly owned thermal centers and 40 traditional hammams. Saudi Arabia is pushing investment in hot springs to create all-new medical-wellness resorts.