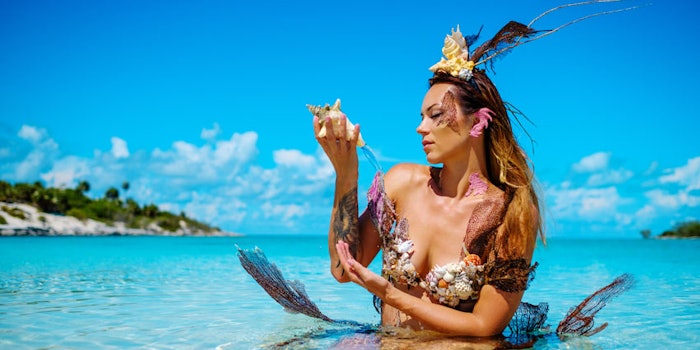 Calling all mermaids! From children to adults, the beautiful colors and patterns from the mermaid craze has been incorporated into everything imaginable, and the spa industry is no exception to this. Recently, mermaids have blown up to a whole new level with treatments, services and products making their way into the spa world.
Swimming Into Spa Treatments
Apart from the fun colors and patterns, incorporating mermaid treatments into your spa can give you the opportunity to use some great sea-based ingredients like seaweed, algae, sea salt or caviar, among others. This mermaid-theme is adding some fun spunk to the spa while still providing beneficial treatments to your clients.
Recently, one spa in particular created a mermaid treatment that has gotten a lot of love. Haven Spa in New York jumped on this fishy trend with their Mermaid Life treatment (1 hour 45 minutes, $125), which combines a body wrap treatment with a mermaid pedicure. "We love the benefits of sea-based ingredients like seaweed and algae...we wanted to incorporate products that included these ingredients into our summer themed pedicure," explained Gabrielle Ophals, co-founder of Haven Spa. 
Another unique way to incorporate "mermaids" into your treatment would be to do what VOYA did and name a small part of the treatment after a mermaid. VOYA created their "Mermaids Purse" (pictured above), which is a nourishing and hydrating face mask that they use in their treatments only. Emma Roberts, head of Sales and Business Development at VOYA, explains how when marketing the treatment as a whole, their key selling piece is mentioning or incorporating the mermaids purse.
Whether it's a facial, pedicure, fully body treatment, or even just a small piece of an overall treatment, everyone can agree on the benefits that ocean-based ingredients have on the skin. 
"It is no secret that mermaid facials are trending in the beauty industry as well, and for good reason when spas actually use the highly beneficial ocean ingredients in those facials. Facials with results and a theme make the mermaid facials more than just a name." Sally Lancaster, owner OceanLove Day Spa.
However, if you're not ready to incorporate the mermaid theme into your spa through new packages or treatments, there are plenty of brands that can help you give your clients a taste of this trend through their mermaid-themed products.
Getting Fishy With Brands
Many brands have started incorporating this fun theme into their products as well. From holographic packaging to ocean-based ingredients, there are numerous ways that mermaids can be used in your spa.
Soapy Bliss is one such brand who has introduced a mermaid cupcake bath bomb, sugar scrub and body butter. "Besides the fun colors and holographic scales, these products include ingredients like black Tahitian sand, coconut husk, sea kelp and coconut milk, which are good for your client's skin and helps give them beach vibe," as Cindy Brunetti, CEO and founder of Soapy Bliss, explains.
Andrew Glass, global brand manager of LaTweez gave some further insight on the brands decision to create a mermaid collection saying, "As LaTweez continues to differentiate ourselves from the competition, we've put our focus on creating limited edition collections based on viral trends happening in beauty. We're incorporating these trends into our tweezers, which is typically seen only in color and skin care." (Photo Credit: OceanLove Day Spa)
"The ethereal trend has taken the beauty industry by storm over the last two years, with mermaid as the current leader." Gina Katherine, associate brand manager for Body Drench.
Start big with a whole new treatment or start small with some mermaid themed products. No matter what, this is definitely one trend you want to get on top of before it's too late.